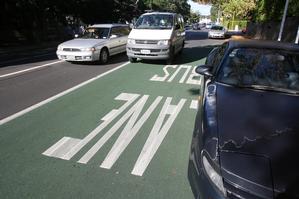 Q. One recent Sunday I was ticketed on Symonds St, along with a number of other vehicles, for parking in a 24-hour bus lane. Clearly none of the other drivers were aware that parking there could lead to a fine. Given that there were no yellow lines in evidence, and no signs that said no parking, how were we to know, where is this information published, and do we have any defence?
Jim Ashton, Auckland.
A. This raises an interesting point. If it is a 24-hour bus lane, you may not drive a private vehicle in this lane at any time. If you cannot drive in it, how did you manage to manoeuvre into a parking spot?
Auckland City Council bylaws state that driving, parking or stopping on bus lanes is prohibited during the times they operate; in this case that's 24 hours a day, seven days a week. If you are parked or stopped on a lane at the wrong time, you will receive a ticket and may be towed.
This information has been widely advertised in the press by the council, and is readily available on websites.
I do not think you have any defence.
While travelling north to Paihia I've come across different cat's eyes colours on the centre line. White and yellow are the common ones and everyone knows what they mean. I've now seen blue, red and green ones. Can you find out what they signify?
Frits Schouten, Waiuku.
A. The white and yellow cats eyes mark the centre of the highway, as we know. The other colours are being trialled by the Transport Agency, to help contractors and emergency services find important stuff at night. The blue ones indicate there is a fire hydrant nearby, the green ones show there is a drain crossing under the highway, and the red ones on the outside of bends mark the edge of the highway.
In April it was announced the new Mangere Bridge will have four lanes, so that when it is finished there will be four lanes in each direction. Why then have the approaches in each direction been built with only three lanes each way? Surely it cannot be three on, four on bridge, and three off? Imagine the lane changing.
Allen Grainger, New Windsor.
A. The Transport Agency explains that the three lanes in each direction between Walmsley Rd and Queenstown Rd are designed to cater for present and future traffic volumes on the motorway.
There are a lot of short trips between Onehunga and Mangere. To provide for this, there will be a dedicated fourth lane in each direction on the bridge, between the Rimu Rd onramp and Neilson St offramp northbound, and between the Neilson St onramp to the Mahunga Drive offramp southbound.
This fourth lane should reduce lane changing and also relieve the problem of merging traffic, especially from Onehunga on to SH20.