Ian D. Robinson dresses in traditional clothes to watch equally traditional Japanese theatre.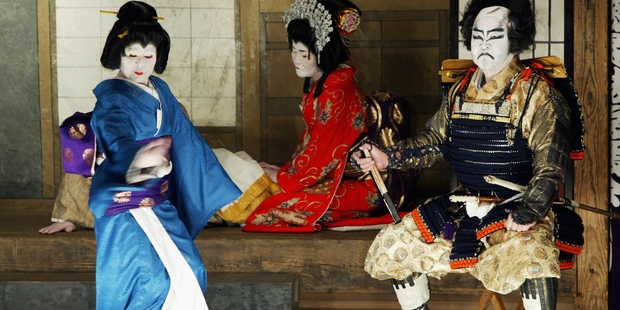 I've been practising my samurai swagger all week.
I've been told I'll be wearing yukata, the traditional Japanese light summer kimono, to see a performance of kabuki, the equally traditional Japanese theatre. However, once dressed, the length of the tight-fitting garment restricts my steps to more of a geisha-like shuffle as we head off to the station for the train to Osaka.
The origins of kabuki go back some 400 years and it is seen as the first incarnation of Japanese pop culture. The first performers were all women, a complete reversal from today's all-male troupes.
And what women they were. Many of the early performers were attractive misfits and outcasts who were also available for prostitution after the shows. The short plays, dances, songs and skits they performed were usually based on humorous aspects of daily life and in particular those between illicit lovers and ladies of the night. Storylines were saucy, sexy and loaded with erotic innuendo.
Over time the plays became more and more raunchy, leading to the banning of female actors amid concerns of moral degradation. The ladies were replaced with young boys who were soon also eventually banned due to the services they too offered after the curtain fell, and by the mid-1600s kabuki came to be the domain of adult men.
At the Bunraku Theatre in Osaka, I settle into my seat armed with a downloaded English translation of today's play; The Courier for Hell. Written by the acclaimed bard Chikamatsu Monzaemon in 1711, the plot follows very Japanese themes; forbidden love, disapproving parents and death by suicide.
Lavish costumes with yards of silk, clip-clop sandals and elaborate wigs make up for me not really understanding what's going on most of the time. Twangy tunes are played on vintage musical instruments by vintage musicians. Even the stagehands seem to be in traditional ninja garb. The archaic prose is sung in sing-song rhythms, comically exaggerated expressions and over-acted voices in an often howling pitch.
"Many people see kabuki as something from the past but the themes of love, death, disagreeing with parents and so on are still relevant today," one of the actors tells me after the show.
CHECKLIST
Getting there: Air New Zealand flies direct to Osaka (Kansai) four times a week. Tickets to kabuki can be purchased through the Kansai Tourist Information Centre.