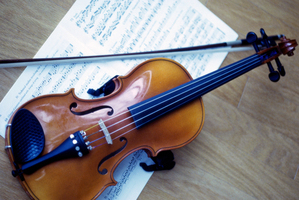 Auckland Philharmonia Orchestra can be justly proud of being just two seats short of a full house on Thursday for the first concert in its Bayleys Great Classics Series.
The evening opened with the strings offering Bach's Air on the G String as a poignant tribute to cellist Claudia Price, who died recently.
Then conductor Nicholas Kraemer took the stage to take us through the "Heroic Classics" promised.
Haydn's 85th Symphony is nicknamed La Reine, having received the royal nod from Marie Antoinette. Kraemer's finely gauged take made one realise the French Queen certainly knew her music better than her politics. The delights were in the details. A small woodwind contingent at the side of the orchestra provided piquancy, from Sami Junnonen's flute solo in the second movement to Ingrid Hagan's bassoon tracking the first violins a few pages later.
The conductor added his own signature with dynamic swells in the introductory Adagio and by boldly pulling back the tempo at the end of the Minuet's Trio.
Ilya Gringolts was soloist in Mozart's D major Violin Concerto K 218. The Russian violinist caught every nuance of Mozart's lines in the shapeliest of orchestral surroundings.
Gringolts' original cadenzas varied in success. In the first movement, his solo hinted effectively at more brooding emotions, capped by a playful hint at Beethoven.
After a gracefully styled Andante cantabile, his cadenza was too tortuous and out of character with the serenity that had preceded it.
Similarly, a manic Paganini encore was rather brutal after the poise and wit of Mozart's Finale.
Kraemer and the orchestra uncovered new worlds in Beethoven's Eroica. The opening Allegro unlocked dances that can remain a mystery to some conductors and, among Kraemer's many daring touches, a dramatic rubato in the movement's second subject stood out.
There was a barely suppressed anger in the second movement's Funeral March, punctuated by the chilling timpani of Vadim Simongauz.
If the pulsating, sinewy Scherzo reminded us of Beethoven's amazing originality, then, in the Finale, the musicians also made us aware of just how single-minded the symphonic pursuit can and should be.

Review
What: Auckland Philharmonia Orchestra
Where: Auckland Town Hall