Ateed and Auckland need to stop believing Wellington's Big Lie about being the nation's cultural capital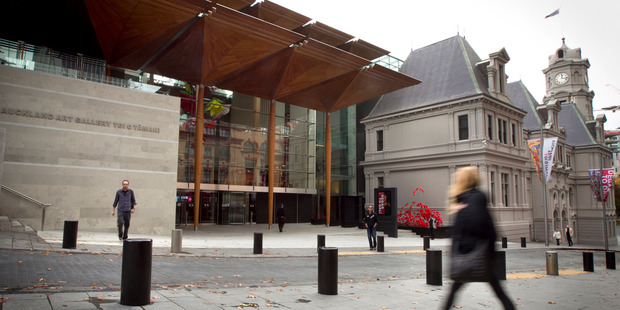 With a staff of 276, doesn't Auckland Council's "economic growth agency," Ateed have someone on hand to check the facts, before releasing the major report it commissioned in conjunction with the Government, on New Zealand's Competitiveness.
I'm not suggesting the questionable claims that Wellington is, and "pre-earthquake Christchurch" was, a more liveable city than Auckland, should have been censored. But surely factual clangers used to help support this opinion, such as Auckland "has no art museum of international importance," should have been queried. If only to spare the author's blushes.
True, the council-owned Auckland Art Gallery lacks the Rembrandts and the Van Goghs of a major European or American gallery. But even if it had a few, they're hardly going to be the bait to attract overseas tourists to Auckland. What does single Auckland Art Gallery out from the rest of the world, is its contemporary and historic New Zealand art, which is by far the best collection in the world.
Also, up the hill at the Auckland Museum is housed what the museum modestly claims is one of the two most important collections of Maori carvings in the world. In the same building is the world's most important collections of ethnic musical instruments and Maori cloaks, along with a major fleet of "obsolete" Pacific canoes and other Pacific holdings.
Obviously New Zealand and Pacific art and artefacts don't rank high in Hong Kong-based report author economic guru Michael Enright's world vision. But surely the whiz kids at Ateed, who are supposed to be facilitating Auckland's economic growth explosion by encouraging tourism and the like, should have highlighted his blinkered vision with their marker pens, and called on him to explain himself further.
Still, when it comes to major events Ateed is just as bad when it comes to culture. It is totally obsessed with sport. If there's not a ball to kick, petrol to burn, or oceans to play in, the Ateed blinkers can't see its economic value. That's why it resolutely ignores the Auckland Arts Festival, which bursts back to into life again on Wednesday for 19 days of concentrated fun and culture of the non-sporting kind.
Elsewhere in the world, arts festivals are a mainstay of city tourism plans. But the best Ateed can manage is to gently flirt with ethnic celebrations such as Diwali, Pasifika and the Lantern Festival.
It's as though Ateed goes along with the nonsense expressed in the Enright report, that Auckland is little better than a cultural desert.
Cultural activity has enjoyed a steady blossoming over the past 20-odd years. True, for the artists the financial insecurity lives on but for consumers of theatre, music, dance and the visual arts, Auckland is the capital of the country's artistic world. Enhancing this development is the security that comes with steady Auckland Council funding, guaranteed by the Auckland Regional Amenities Funding Act.
What Auckland's cultural scene does lack, when it comes to Ateed and Aucklanders in general, is a true appreciation of the goodies that are on offer on their doorsteps.
From time to time, I've gently mocked Wellingtonians for perpetuating the Big Lie that they live in the cultural capital. What I didn't appreciate was how deeply ingrained the myth has become, both in Wellington and Auckland.
The recent Nielsen Quality of Life Survey, funded by the big six city councils, asked residents whether they agreed they lived in a culturally rich and diverse arts scene. In the case of Wellington, 90 per cent agreed, 39 per cent of the total, agreeing "strongly". But only 7 per cent of Auckland strongly agreed the same was true of their city, while another 32 per cent just "agreed". Only the residents of the Wellington dormitory town of Hutt were less enthusiastic.
It's as though Wellington's Big Lie has brainwashed not just its own citizens, but the majority of Aucklanders as well. Of course Auckland Council and its agencies like Ateed don't exactly help. At Festival time in Wellington, the streets are alive with banners and lamp-post decorations promoting the upcoming event. Successive mayors talk it up. Here, the only promotional banners I've spotted so far, are a few fluttering away in Aotea Square.
As for Mr Enright, and the handsomely rewarded bosses at Ateed - seven on salaries between $150,000 and $240,000 - it's time they got out over the next three weeks and discovered the artistic oases in the so-called cultural desert. Then get promoting.