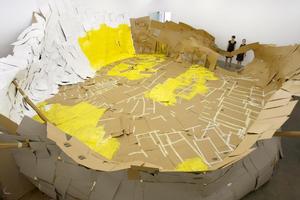 Art can have its basis in observation or in theory. This week artists with big reputations offer work from both sources.
In a country obsessed with sport it is surprising few artists have given attention to it as a subject. The exhibition You Can't Win Them All by Richard Lewer at the Orex Gallery is therefore unusual and welcome. He shows a cast of characters in various sports but the focus of his interest is in the intensity of emotional reactions to sporting situations.
His subjects are simplified and plain, his attention concentrated on a few figures. The painting which looks primitive and rough is highly sophisticated in the way it strips away all extraneous detail.
Furthermore, the concentration is not on those moments of intense exhilaration, grace and joy that sport can confer on its participants. All these figures, heroic or bitter, are losers.
They range from a large work called Beaten Man, a huge bloodied head with flattened nose and pounded eyes and, for all the massive weight, a mouth that trembles. This huge face may be too crudely blunt but far more subtle is a netballer, eyes turned imploringly upward, in Please God; and another from the same sport, alone, in tears, bruised and even a little bloodied in I Am So Sorry. Our heart goes out to her.
All these works are based on a sharp observation of situation and participants, and clear establishment of the situation. It is not pretty but it is true.
The raw simplicity of the design can be strong as in It Wasn't Supposed to Be This Way, where two massive bowed and defeated shapes of rugby players are given touches of white that add to the pathos. The white is on the headbands, wristbands, the curious binding on the thighs that helps lifting in lineouts, and even the touches of white on the boots. It makes a splendid if melancholy painting that powerfully expresses the other side of winning.
In complete contrast to this show is a work based on the theory that flux and change is virtue in itself. Artspace is home to the last week of an 85-day installation by Auckland-based artist Richard Maloy.
The main gallery is filled with a huge bowl-shaped sculpture made from cardboard boxes which reaches up the walls as high as the windows. Access around the room is beneath flying buttresses that connect the work to the wall. The whole thing is held together with tape and staples and at this stage it is splashed with yellow paint.
The sculptor changes the work at night and in gallery downtime so if you were a regular visitor you would notice changes and be aware of the process of making. In keeping with Maloy's practice, the photographic record of the process of making and unmaking is the important outcome: the work is ephemeral. More hits on the website are expected than visitors to the gallery.
The work is called Raw Attempts and its various attempts combine sculpture, installation and performance. The publicity includes that fashionable art world word, "playfulness" and the work is described as "having an odd suggestive perversity".
Also at Artspace is a series of short videos by Campbell Patterson where he sets up a camera and documents his squeezing through a narrow space, or pulling on a rope in the shower.
In the small gallery a Japanese artist based in Germany, Hito Steyerl, makes sad use of a giant aeroplane junkyard in the desert as well as footage of crashes to suggest obliquely the current economic crisis.
There is a sense that too much exposure to theory in Berlin has in some ways corrupted the talents of Mladen Bizumic, whose work is showing in the Sue Crockford Gallery.
He made his reputation with work filled with amazing detail from architectural plans through contour maps and apposite quotations from a multitude of sources, all bent to the purposes of a surreal imagination that conceived projects for the ultimate Guggenheim Gallery or to shift islands. Architecture, ambiguity and irony played a large part in these inventions but there was also a huge amount of fascinating visual detail.
The present work, called enigmatically From Cube to Ball (Chapter 1), is a homage to Ernst Plischke, a Viennese architect who came to New Zealand in the 1930s to escape the Nazis and who was responsible for many state apartments, state and private houses and commercial buildings. He translated the cubic ideas of Viennese architect Adolf Loos and the functionalism of the Bauhaus to New Zealand.
What form does Bizumic's tribute take? A rubbing of a foundation stone, incomprehensible out of context, and the major work is the outline of a 1:1 floor plan of an apartment designed by Plischke done in satin with white bits for the windows and striped bits for the doors. It hangs limply on the wall.
The theory is that this is the reality of the apartment transformed into art that is open, spacious and free and can be folded up and carried away. Somewhere in all of this the energy of his early work has been lost.
A much more modest show than any of these is Biomorphs, paintings in watercolour by Natalie Tozer at the Satellite Gallery. These exploit the possibilities of the medium by allowing the transparent colours to bleed into each other and by manipulating them while they are still wet. The results are intricate works, often symmetrical, which have the stains and shapes of microbiology. The colours are delicate and a hint of menace in some images suggests lines of development.
AT THE GALLERIES
What: You Can't Win Them All, by Richard Lewer
Where and when: Orexart, Upper Khartoum Place, to March 6
TJ says: Lewer distils the emotional tensions of sport into stark images that touch the heart as well as the conscience.
What: Raw Attempts, by Richard Maloy
Where and when: Artspace, level 1, 300 Karangahape Rd, to Feb 27
TJ says: For more than 80 days Maloy has been making and unmaking a vast sculpture made of cardboard boxes with the outcome a photographic record of the process.
What: From Cube to Ball (Chapter 1), by Mladen Bizumic
Where and when: Sue Crockford Gallery, 2 Queen St, to Feb 27
TJ says: An exhibition inspired by the architecture of Ernst Plischke who brought Jungendstil Vienna to New Zealand state apartments. His work here is boiled down to tape, photos, rubbings and birdsong.
What: Biomorphs, pictured above, by Natalie Tozer
Where and when: Satellite Gallery, cnr St Benedict St & Newton Rd, to Feb 27
TJ says: Delicately coloured work in watercolour manipulated into strange organic forms that might be seen through a microscope.
For gallery listings, see www.nzherald.co.nz/go/artlistings