Gallery curator Danae Mossman shares her love for contemporary art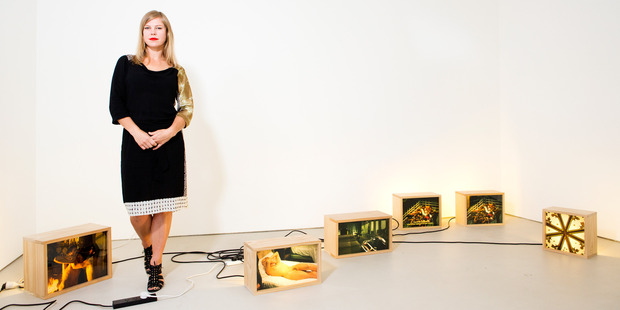 Danae Mossman would move mountains for contemporary art. Or, more specifically, islands. The New Zealander was in a team who literally shifted a new island - the result of glacial melt - from Norwegian territory to Bristol, for the Olympic Games celebrations.
The collaboration with British artist Alex Hartley is just one of many challenging and, in some cases, outrageous, projects Mossman has undertaken during her five years abroad. In that time, the 34-year-old has been a gallery manager, curator, artist liaison and "policy analyst" (part of her work for the island project involved a little diplomacy).
One of the most experienced and exciting curators of her generation, Mossman has worked with international art stars such as Ayse Erkmen, Cerith Wyn Evans and Runa Islam. So it's no wonder her return to New Zealand last year, after the birth of son Otto, now 18 months, was a difficult transition.
"My partner and I had very different lifestyles there. I was working at [London art gallery] White Cube, travelling through Europe a lot, which was difficult with a young child anyway. Missing access to that life is new to me as I got to see all the international shows. I got used to it."
Not that she's lamenting the lack of inspiration back home. Even while away from New Zealand she stayed in touch with what was going on. And she's wasted no time getting stuck into her next big role, joining Sarah Hopkinson as co-director of Hopkinson Cundy, a gallery she says works with some of this country's most exciting young artists, including Walter Prize-winner, Kate Newby.
Until November the two-year-old gallery was in Auckland's Cross St. They've since moved to an old sewing machinists' space in Arch Hill's Putiki St, freshly renovated with the help of expat architect Jason Whiteley and interior designer Katie Lockhart.
We meet in the pale green office, Mossman in a navy Miss Crabb romper, her lips blood-red and eyes ablaze as she discusses the work of exhibiting artist Tahi Moore. He's one of the many Kiwi talents she's found herself reconnecting with since her pre-OE days as director of The Physics Room project space in Christchurch, and co-curator of Scape, a public art exhibition.
Far from the cliche of the high falutin', pretentious art snob, Mossman has an affable, relaxed manner and a way of putting things that makes it easier to grasp the complexities of Moore's work, an intriguing abstraction of light boxes, provocative text and short films. It's clear she's passionate about ideas, and is keen to create "critical discourse" around the art.
"That's what I think our distinction is from other galleries. [Sarah and I] are both writers and curators. For us, it's a real passion and interest in communicating about the work."
"Danae is great with people," Hopkinson tells me later. "Relatable, charming, funny, but also very serious about the things that are important to her."
You could also say she's something of a nomad, what with two international curatorial residencies (in Melbourne and Berlin) under her belt. Born in Cambridge and raised in Tauranga, Mossman spent a few years in Auckland before heading to Dunedin to finish her undergraduate art history studies. She then went to Melbourne before finally finishing her Masters at Victoria in Wellington. Towards the end of her studies she travelled to Europe to see everything she'd studied in context.
"Visiting all these galleries in Rome, I was like, 'Oh, that's how I thought it was going to be'. Whereas, if you go to a contemporary space, you might be completely blown away by something that's just so surprising and challenging."
A stint at Wellington's Adam Art Gallery gave her insight into the curating process. Then it was off to Christchurch to take over the directorship of The Physics PICTURE / BABICHE MARTENS
Room, where she worked for several years. While the role opened her eyes to what was possible here, the frequent trips to art shows and bienniales in Venice, Istanbul and Santiago meant it made more sense to relocate once again.
So she moved to Canada with her partner and, after a short time, again to New York. Her first job was at Foxy Production, a gallery where talking about the art was just as important as viewing it. After 18 months there she was itching for more responsibility and a yearning to be closer to the European art scene. That's when she was offered a maternity cover at London's Situations, a public art initiative that commissions innovative works. She arrived in the middle of a treacherous, snowy winter, a sign of what was to come.
"It was very challenging. I don't think I really knew what I was getting myself into, but in the best possible way."
Her first assignment was to get Alex Hartley's island concept under way, a complex job that meant engaging with councillors, politicians and scientists. She was also involved in a scheme to revitalise British seaside towns with thought-provoking permanent artworks.
"At the start it was very nerve-racking. I'd sit in council meetings and describe very abstract ideas and try to make them relevant and accessible. Often they'd be completely resistant to the idea. They'd want a giant boat sculpture made in bronze that sits on the beach and you're proposing a laminated pathway that glows by night with phosphorescence. I didn't get much sleep that year - but in a great way."
Because many of the projects took so long to realise, Mossman started craving the immediate dynamic of the exhibition environment. It was then she landed the plum job of artist liaison at London's prestigious White Cube, which represents the likes of Damien Hirst and Tracey Emin. She was the first person hired at the gallery in 15 years. They, too, threw her into the deep end, a collaboration with Norway's Bergen Kunsthall Gallery and Welsh artist Cerith Wyn Evans, who'd created an evocative sound installation.
"I don't think I fully understood how beautiful it would be," says Mossman. "And I'd missed that ability to work really quickly, to take a few risks."
Her dream, now she's home, is to continue to challenge people's perception of art, to support her stable of artists and to get people talking critically about the works. What excites her most?
"It's a sensation an artist offers. A really stimulating experience."
- VIVA