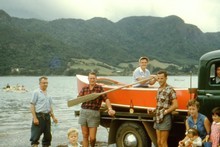 When Julie Benjamin arrived at the opening of the exhibition of slide photography by her late grandmother Gladys Cunningham, she was carrying a cushion. Though it looked odd to be entering a gallery with such an article, it was a wisely considered accessory.
"I recall many a slide evening at my auntie's house in Mangere - kids on the floor on cushions, adults on the window-seat. Grandma Cunningham sat behind at her projector and commanded the performance while the men chucked down beers," she recalls. "Of course, Grandma would try and keep control of the raucous affair and threaten to 'shut it down' until silence descended. I've realised this was the folklore of our family."
On opening night, Benjamin spoke of the Kiwi lifestyle so poignantly captured by her grandmother's 1953 purchase of a then-expensive £69 Voigtlander 35mm camera.
After years of tutoring and making documentaries on early 20th century women of stoic character and remarkable ability, it dawned on Benjamin to write her doctoral thesis on the visual culture her own grannie had bequeathed to her. During her oral examination, Laurence Simmons, head of the Department of Film, Television and Media Studies at the University of Auckland, encouraged her to exhibit some of the work.
At the Lopdell House space, kitted out like a 1950s front room, Cunningham's images are embedded with a post-pioneering West Auckland spirit. The deep grey and aqua waters are defined by rough terracotta and stony cliffs, the panorama viewed from behind the small shoulders of a child. It is a gently arresting experience.
Around a rock pool or mussel bed, children play, wearing hand-knitted jumpers where sleeves don't quite meet the wrist. A man frowns with exertion, pulling a dinghy from the foamy lips of the incoming tide at Foster Bay where boats lay a stone's throw from the tightly plotted baches. Photos taken during blustery August holidays show girls with skirts tucked into knickers for winter paddling "en masse" while toddlers potter in tartan home-made dungarees.
For Cunningham, the didactic element of that life was intentional.
"Gladys was not just intent on documenting her world for personal reasons," says her grand-daughter. "With the hindsight of 50 years it becomes clear that her transparencies not only memorialise the microcosm - family events staged in front of a scenic Huia backdrop - but also signify the macrocosm - the cultural, social and economic impetuses occurring throughout New Zealand."
Cunningham photographed Lower Nihotupu Dam in 1956, Karekare in 1957, the rugged landscape of Whatipu in 1960 and the Heads in 1967. From her native Onehunga she snapped the old Blockhouse and famous "first" Auckland Floral Clock.
We see the immaculately conceived floats at the Christmas Parade and down at the Onehunga wharf small fleets of fishing and cargo vessels jostle for space on a choppy sea. Kids hang over the bridge dangling fishing lines into the water. Post-coastal reclamation, the maritime bustle has been replaced with a glum and silted foreshore.
Cunningham joined the Onehunga Photographic Society when enough of her six children had left home to give her some "spare" time. The woman whose "work ethic meant that sustained inactivity was unthinkable, even while supposedly relaxing" began with a Box Brownie before moving to colour work. The latter slides not only offered an alternative to dark-room isolation but also introduced an intimate community element to the viewing; one that appears to be coming back into fashion.
Lopdell curator Kate Wells had no hesitation in accepting Benjamin's suggestion for the exhibition to mark the Auckland Festival of Photography. "It's a real slice of history for West Auckland. Offering a 25-minute continuous slide show also means people can come and go from the room and interact around it at their leisure" she says.
Adds Benjamin: "In speaking to other reputable galleries and museums round the country it's apparent that until recently slides were not revered. So it felt great to get a warm initial welcome in this area, where Gladys spent so much time taking pictures."
Exhibition
What: Transparencies: Huia's Foster Bay in the 1950s & 60s by Gladys Cunningham (1902-98)
Where and when: Lopdell House Gallery, to June 26
By Sally Webster