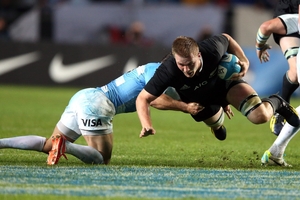 Sam Cane's try broke much of the tedium which had gripped the All Blacks.
For 50 minutes they lacked any great rhythm as they struggled to blunt the Pumas' aggressive resistance and scrum which had the visiting unit in regular reverse. Those troubles seeped into the team bones as their usual fluency disappeared at La Plata.
A series of driving plays 10 minutes after the break snapped that plight as the ball was spread wide for the waiting Cane to smash through several tackles to score.
Midfield back Ma'a Nonu held midfield defenders in that move to gain a little more space, and minutes later did it again with a deceptively laid-off pass to put Ben Smith in for the first of his brace.
That was class, vintage skill from the man who is too often painted as a battering ram. It was a reminder of his subtle skill range and value to the team.
In an international of unrelenting physical inquisition where hard minds had to deliver the horsepower, Cane delivered a performance to admire for his waterboy mentor Richie McCaw.
A knee injury meant the All Black skipper was running the messages and a close-up clinic on his heir apparent. After this test, more rugby observers will drop the apparent in their descriptions of Cane.
He stood out in the last match with a seeping head wound and scarlet bandage, and yesterday it was his intent at the breakdown, defence and link play which demanded attention.
At times, the Pumas tried to roll through him but were barred or driven back. There was no thoroughfare when Cane was up in the line and if there was a debate about the ball on the ground, Cane was asking questions. He kept his poise, just as he did for his try when his instincts would have been to join his mates on the other side of the stadium. He kept his width and depth on the other touchline to take the final pass and put the icing on the move.
When he needed to be in support, Cane's speed was very evident. His compass and instincts were regular weapons as the 21-year-old showed us more about why Steve Hansen and co have promoted him.
Before the test, impressive Pumas captain Juan Martin Fernandez Lobbe said the game would be about "detail and pressure". After it ended in a 33-15 win for the visitors, Lobbe said his side lost discipline and that was why the All Blacks were so good.
Cane stood up on all those counts. He kept his composure and was accurate under intimidating pressure.
His loose forward contribution was essential because McCaw was injured and replacement skipper Read had one of the unspecified multichoice - illness, leg or back problems - which spluttered out of the team bulletin.
McCaw remains the modern benchmark for the All Blacks with his breadth of experience, range of qualities and leadership. He is rugby wealth for the All Blacks but Cane has pocketed all the loose change and is now adding fistfuls of dollars.