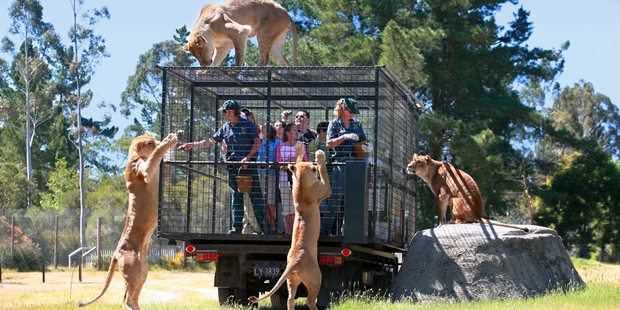 A Christchurch zoo has been left stunned, and delighted, with major international news outlets promoting its lions experience, where its the human visitors who are caged and the wild beasts that roam free.
The experience has been at Orana Wildlife Park, on the western outskirts of the city, since 1976 when visitors would drive through the lion reserve and see the animals up close from behind the car's glass.
It was a popular attraction until 1995.
Since 1999, the open range zoo has got up to 20 tourists a day up close and personal by taking them through the sprawling 'African Lion Habitat' in a cage on the back of a flatbed truck.
Eagle-eyed British news reporters this week spotted photos of the unique experience posted on a private tourist's Facebook page, and pursued a story, which has since gone global.
One of the world's busiest news sites, Mail Online, headlined: "The zoo where the HUMANS are kept behind bars: Tourists locked in cage for close encounter with hungry lions."
Other major news outlets included the Scottish tabloid, the Daily Record, fellow UK 'red top' paper, Mirror, as well as sites in America and India.
"We've been doing this for years, but if they want to tell everybody about it, then it's great free advertising for us. It's great," zoo spokesman Nathan Hawke said today.
The big cats are fed from within the safety of the vehicle and often climb onto its roof.
"It's the reversing of the roles - with the humans being in the cage - which has got the foreign media so excited," Mr Hawke said.
"The Lion Encounter provides a wonderful opportunity to appreciate the size and power of these awesome predators.
"It's a great conservation tool, as the visitors can learn about these magnificent animals by getting so close to them. Although lions are top of the food chain, they're still very vulnerable."
He believed Orana was the only zoo in the world which conducted lions tours where it's the visitors who are caged.
The Lion Encounter runs daily at 2.30pm, with an additional cost to park admission of $30 per person.
- APNZ