Pigs didn't fly, but dogs did get behind the wheel of a car. Matthew Backhouse and Teuila Fuatai look back on a year of extraordinary pet antics.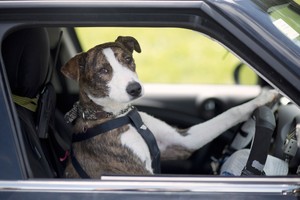 The idea was barking mad, but that didn't stop three New Zealand rescue dogs from becoming some of the most publicised pooches in the world.
After eight weeks of intensive training and plenty of treats, Porter, Monty and Ginny became the first dogs in the world to drive a car.
News of their exploits went viral online and featured on the Late Show with David Letterman in the United States.
First up was 10-month-old beardie cross Porter, a former Auckland stray who looked like he was having a blast as he steered a specially rigged Mini around a hairpin turn on a racetrack.
He was followed by Monty, an 18-month-old giant schnauzer cross, and Ginny, a 1-year-old beardie whippet cross.
Their steering skills were rudimentary enough to terrify even the most hardened driving instructor, but Auckland SPCA had proved its point - that rescue dogs are just as intelligent as any other pet.
The celebrity canines weren't the only smart dogs to make headlines this year. Jack the 8-year-old border collie impressed his owners after he jumped a metre-high fence near Tauranga to let them know the house next door was on fire. Owner Chris Gubb said the arthritic dog "was the hero of the day".
English cocker spaniel Izzy was also lauded for her heroism, after she sniffed out another dog trapped for four days on a sheer cliff face in Wairarapa. A volunteer firefighter abseiled 3m down the cliff to rescue Australian terrier Fergie, who was worse for wear but "very happy" for the ordeal to be over.
Also lucky to be alive was a soggy moggy who endured 55 minutes in a washing machine - including a rinse and two spin cycles.
Gisborne woman Adele Law was unaware that 6-month-old kitten Possum had crawled into her top-loader until she opened the lid to find the grey moggy stuck to the side like "a flattened starfish".
Sodden, shaking and looking like a "half-dead skinny rat", Possum miraculously survived after vets put her on a drip and warmed her with an electric blanket.
Cats also pushed the limits of their nine lives by letting their curiosity take them on some unexpected journeys. Three-year-old Chiefie hitched a train ride from Christchurch to Auckland after he crawled into a shipping container. When he was rescued five days later, he turned up his nose at milk - but scoffed down some cat biscuits.
Two kittens even earned their names by hitching rides inside the wheel hubs of cars.
Axle, the month-old tabby, went on a 13km ride down Auckland's Southern Motorway, while Airtrek, the fluffy grey kitten, clung on to the axle of a Mitsubishi Airtrek for a 1km journey in Rotorua.
And a Kaitaia police officer showed a whole new set of skills in January when he went to the rescue of a small Siamese cat at Awanui. The cat, which he initially mistook for a ferret, was acting furtively, he said, and appeared disoriented, "possibly thanks to the plastic peanut butter jar it had on its head".
The constable managed to remove the jar without injury to either party, and the puss was last seen heading north as fast as its legs would carry it.
Aquatic animals also made headlines. A seal on the Otago peninsula became famous after being found with material resembling a red G-string around its neck in July.
The story of the seal, which was found near lookout Lover's Leap, made it to media outlets in Britain and America. The red material, which was removed from the seal's neck by the Department of Conservation, was sold on Trade Me for $135 with proceeds donated to charity.
Animals also did their fair share of bullying and intimidation.
Lines company workers were attacked by aggressive magpies in New Plymouth; dogs launched attacks on children and the elderly, and respected vet Dr Helen Schofield was killed by former circus elephant Mila at Franklin Zoo, south of Auckland.
But there was romance too - in the form of an unlikely pairing between a Bay of Plenty boxer dog, Romeo, and baby paradise duckling called Juliet. At one point, the young pair could have taken out New Zealand's cutest couple of 2012. However, like their Shakespearean namesakes, their tale of puppy love ended tragically.
It turned out Julie was actually a male duck. Now known as Frankenstein, the bird has grown territorial and can no longer stand his former four-legged companion.
Sadly, it was also a year marked by bizarre acts of animal cruelty.
In January, Dannevirke farmer Grant Teahan was fined $5000 after he was caught trapping and painting harrier hawks. And last month, Nelson police said they were disturbed that a group of teenagers apparently forced a kitten to smoke cannabis from a makeshift bong. Animal cruelty claims also caused headaches in the lead-up to The Hobbit premiere, after former wranglers on a Wellington farm alleged neglect and mistreatment of animals used in the film. Director Sir Peter Jackson and the SPCA rejected the claims.
And not all animals survived the year. Writer Wendyl Nissen said one of her chickens was killed and another mauled by a terrier, while actress Keisha Castle-Hughes' chickens were killed by a neighbour's dog.
The year also marked the end of an era, with the passing of Cody, the black horse that featured in National Bank marketing campaigns.
News of the 17-year-old horse's death came in the same week the bank's owner ANZ announced it would axe the National brand.
But it was also a year of happy endings, with many families wanting to adopt the SPCA's driving dogs. Maybe it wasn't such a barking mad idea after all.
- APNZ