While some secrecy over performance remains, the likely battle between Team NZ and Oracle will hinge on a few key areas, writes Paul Lewis in San Francisco.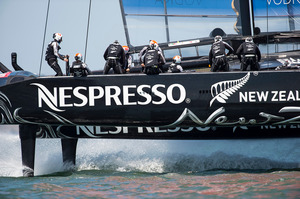 Put the date in the diary. Tuesday, September 8, 8.10am. That's the time of the first America's Cup race, looking increasingly likely to be between Team New Zealand and defenders Oracle Team USA.
It's also the date when, for the first time, a direct comparison will be able to be made between the two boats. You might think, in a best-of-17 (first to nine) series, there is plenty of time for cut and thrust - Emirates Team NZ wins one, Oracle wins one and so on.
That might well happen. But, in the history of the America's Cup (particularly when a new class of boat is racing, as here), the first race usually tells the story of who has the fastest boat. There are even two races scheduled for that day - the second at 9.10am.
There are some areas where one boat has a slight advantage but the overwhelming feeling building up to the Cup finals is that they are evenly poised - and the Cup could be in for some of the heart-stopping action we have been promised but have rarely seen so far.
By that stage, there will also have been some conclusion to the international jury hearings on whether Oracle cheated by stowing lead weights in AC45 yachts - possibly leading to tough penalties against individuals and/or the team. It could even lead to an unprecedented situation where the defenders are docked a race or two (or three), if the jury finds wrongdoing.
But let's focus on what might happen on the water. Crew work will be a key element but it is boat speed that is the big unanswered question right now - that and what Oracle might have up their sleeve.
So where are the areas where one team might get an advantage? It's impossible to know for sure right now - boat development continues apace - but there have been some clues so far.
Foiling
This has been a Holy Grail of sorts for this Cup. Foiling enables the seven-tonne boats to be lifted clear of the water, connected only by surfboard-size pieces of carbon fibre which bear the whole load. They also make incredible speeds possible, sometimes three times the wind speed. Team NZ led the way at first and persuaded Oracle and Artemis to change to a foiling boat after they originally plumped to follow a non-foiling path. Now both boats are foiling consistently, stably and quickly.
Best guess: Even
Downwind speed
The best (and only) clue to this came a few days ago when Dean Barker squeezed his AC72 between the two Oracle boats trialling together on the Bay. For a short time, the three boats raced downwind in about 16 knots of breeze.
There was nothing to tell between them. According to some reports, both crews felt they were faster, as you'd expect. There's no information on whether one or other boat was "sandbagging" (not going flat out) but one report said Team NZ gained about a boat length in the time before they pulled out and headed off to Alcatraz.
The Kiwis may have hitherto unseen cards to play here (as may Oracle). They have, for example, a second wingsail which they have not raced yet but which is reputed to be faster than the first one. At present, the Kiwis are not outdistancing Luna Rossa by much downwind in the Louis Vuitton Cup finals, though they seem able to squeeze some startling acceleration out of their boat when needed.
Best guess: Even, possibly a slight advantage to the Kiwis, if they have not played all their cards yet.
Upwind speed
This could be the Holy Grail within the Holy Grail. Foiling upwind is rarely seen, particularly in boats this big. Up until now there has been some scepticism about the efficiency of foiling upwind - you go faster but often have to cover extra ground to get the speed up, negating the effect.
However, both teams have been working hard on upwind foiling; evidence to date suggests that both have managed to foil and retain a decent ability to stick close to the course. In yachting, it's all about VMG (velocity made good) which is to do with the balance between speed and the angle that a boat can be sailed into the wind to stay close to the mark.
Interestingly, the two teams are showing slightly different styles. Oracle, in a recent training run, foiled high upwind - and went fast. Team NZ have so far mostly adopted a semi-foiling style, just skimming their hulls over the top of the water, presumably minimising drift and windage and keeping closest to the shortest way to the mark. They attained 29 knots yesterday into a decent breeze; very quick. Watch for one or both teams to use this technique if a burst of speed is needed.
Best guess: Even but maybe a slight lead to Team NZ.
Gybeing
The Cup will hinge on who pulls off manoeuvres like gybeing and tacking best. Unquestionably, the Kiwis lead in this field. Of all the teams so far (including Oracle's training on the Bay), Team NZ have shown the most consistent use of the foiling gybe, rocketing round marks at high speeds on their foils. Oracle have admitted in the recent past they are not at Team NZ's level yet - but they still have time to work on it.
Best guess: Advantage Team NZ, Oracle closing fast
Crew work
Everyone has made a lot of the polish of the New Zealand crew. Fair enough, they have been the best on view so far; mistakes have been minimal although they will not want a repeat of that chilling nose plant. Dean Barker has been Captain Cool, tactician Ray Davies is as smart as a whip and wing trimmer Glenn Ashby is simply the best in the world in multi-hulls. Oracle also have a world-class unit and any team that can call on the expertise of Russell Coutts (though he is not in the sailing crew for this regatta), Ben Ainslie, Jimmy Spithill and Tom Slingsby are phenomenally well served. Oracle are catching up fast.
Best guess: Advantage Team NZ but not much in it.
Mental Strength
The answer to this also lies in races 1 and 2 on September 8. The winners will be bursting with confidence. Right now, however, there is pressure on both teams. Oracle are having to watch a well-drilled Team NZ unit with more time on the water than they've had.
There is no question they will be benefiting from the close racing their two boats provide. Team NZ are having to make do with Louis Vuitton racing that has not been close and they were obviously pleased to have been pushed harder by the Italians in race 4 of the Cup final this week.
However, the American-based syndicate will also not really know how fast they are until they line up against the Kiwis. Oracle are having to deal with the considerable weight of the cheating allegations. They will be seeking to separate on- and off-water matters but this could be one of the biggest scandals in Cup history. Team NZ are a solid, welded unit. Oracle - maybe not so much; they are still rotating their crew ahead of selection. The winners could be the team that handles the pressure best - it may be so close it comes to that.
Best guess: Advantage Team NZ.
Equipment failure/accidents
Both have suffered gear failures recently after long periods of reliability but seem to have their boats running well and reliably overall. Team NZ's failure was caused by a battery pack. One rumour doing the rounds was that someone forgot to charge it overnight, in which case someone will have had their hand held in the blender. Team NZ's face plant the other day, burying the bows while bearing away at nearly 41 knots seems to be an aberration.
Best guess: Advantage Oracle but who really knows?
Weather forecasting/set-ups
Knowledge of the weather and of the currents that make sailing in the Bay tricky are vital. Oracle have lots of local knowledge now and so do the Kiwis. Just as well - decisions on setting up the boat need to be made early on race day. It takes dozens of people just to put these huge cats in the water and there is no time to change your mind.
Best guess: Even.