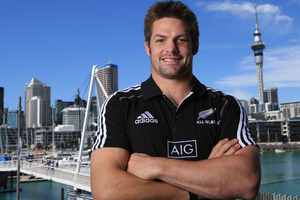 Great news to hear of the new AIG sponsorship of the All Black jersey and a coup for the NZRU to snare, after Adidas, the next biggest sponsorship deal in all of rugby.
I doubt there will be much controversy over this, even from the diehard conservatives who regard the All Black jersey as sacrosanct.
I think most rugby people realise these days that the modern game needs revenue, and a lot of it. There has been a lot of publicity in recent years about the difficulty of keeping professional rugby afloat in this part of the world, compared to the big money that sloshes around in the northern hemisphere where they have the population base and the big financial numbers that go with it.
Deals like the one done with AIG will help a lot - and from what I can see, this is a deal which respects the All Black jersey anyway.
It is a highly traditional icon but I think sponsors realise that. They want an association with the jersey - not to try and take it over or overwhelm it.
They want what they can get from the jersey too; they like the credibility the association gives them, just as they did when they sponsored Manchester United.
So that leaves one question - what's the best use of the money by the NZRU?
For me, the answer is simple - the ITM Cup and Heartland rugby.
I think the ITM Cup has done a fine job this season of proving that it is an excellent breeding ground for talent for Super Rugby.
When it was going through those difficult years while being re-formed, there was a lot of talk about money, making ends meet and financial imperatives. All relevant, even if the NZRU wasn't decisive in re-shaping the competition all that well at first. There's a lot of people who don't like the compressed format of the ITM Cup, but I do. I think it helps prepare young players for the rigours and set up of Super Rugby.
So I think a lot of that AIG money can be channelled into the ITM Cup - not to try and make it a bells-and-whistle competition with enhanced player payemnts but to make sure it has a financial base that can support it at its current level, continuing to identify and introduce young players for Super Rugby.
We have seen examples all season of how this competition is working in its new role and it needs to have the assured future that extra money can buy.
I saw the other day, in an Otago match, they fielded a Canterbury player on loan. Fair enough - such moves can throw up players who end up playing better for their adopted province than their home mob and they can get into higher levels of rugby that way. Good for them and good for the game. But that costs money and, if they are going to buy into players from one province turning out for others, they will need to make sure that is financed properly so unions don't suffer.
Heartland rugby is a very different story. I understand several of the minor unions are struggling and, for many, it's a case of survival. Some are trying to do so by going out a bit on a financial limb to attract outsiders to their team.
South Canterbury, for example, are said to have about 15 Island players/other imports but are still not winning a great deal.
Extra finance to help unions that are the heart and soul of the grassroots of rugby in this country would be another worthwhile use for the AIG millions.
I know some will say the All Blacks should play more games in Fiji, Samoa and Tonga but I don't think that's the way. The real issue is the choice that can be made by Pacific Islands players on whether to play for their home nation for small sums, say $20,000 a year, or to hang their hopes on becoming an All Black and getting $200,000 a year.
That's the reality and underwriting test matches in the Islands won't change that dynamic. It still comes down to individual countries finding ways to beef up the attraction of playing for their national side. It's not that simple, of course, we all know the problems facing those nations. But, in the meantime, I think it is better to allow them to get players into the ITM Cup sides and then Super Rugby and help build up the quality of their international sides that way.

Play Jimungo Virtual End of Year Rugby Tours
Compete for prize money and bragging rights in Jimungo Virtual Rugby Tours - our game for all of the end of year international rugby matches. Simply choose the winning team and margin. Sign up now.