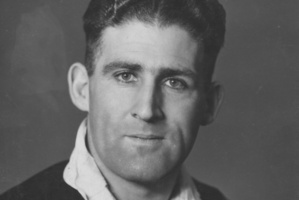 Visiting Fred Allen always brought a rugby lesson.
While the years might have dimmed his ability to attend a full season of matches, his mind was as inquiring and definite as it had been during the years he coached Auckland and the All Blacks.
His memory was good enough to recall watching Bert Cooke, just the once - but that was enough to convince Allen he had seen rugby genius.
He praised George Nepia as classy, too, and a magnificent defender. But Cooke was a bundle of brilliance, the artist and the assassin in one package.
Another man Allen never tired of watching was Bob Scott, a teammate on the 1949 tour to South Africa who is now the oldest living All Black.
Allen captained the All Blacks in 21 matches and six tests as a five-eighths, but it was his coaching prowess which delivered his legendary status.
He was born in 1920 in Oamaru and played for Canterbury before shifting to Auckland after World War II, where he set up a clothing business.
He coached Auckland from 1957-63 during a period when they defended the Ranfurly Shield 25 times from 1960-63, a record which remained for several decades.
Later he became All Black coach from 1966-68 when they won all 14 tests under his command.
Allen's style was dictatorial and he had a biting turn of phrase which spared no player if he wasn't concentrating.
Those traits earned him the "Needle" nickname, a title he thought was bestowed by Neil Wolfe.
Auckland had played Taranaki the day before, and the visitors were watching Allen at work training his side.
"They were watching us from the stands and I was giving them a bit of a hard time. The name didn't worry me, it gave me a bit of ammunition when I wanted to make players believe in themselves," he said.
While Allen was massively successful as a coach, he quit the job in 1968 when he felt undermined by a Wellington faction on the NZRU.
He returned to rugby in an official capacity as president of the Auckland union from 1972-74, became a life member in 1981 and of New Zealand in 1996.
Two years ago Allen was knighted but was saddened his wife, Norma, was not alive to share that honour.
He would sit in her chair and entertain visitors with his ideas. His coaching concepts were clear and precise.
The game, he would say, was simple. If players were fit, understood their roles and used possession properly, they were well on the road to success.
He hoped the All Blacks would win the World Cup again and he saw it happen in October, sitting beside one of his greatest students and buddy, Colin Meads, in the Eden Park grandstand.