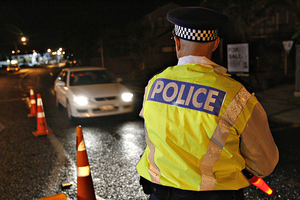 A new study on the burden drunken rugby fans place on emergency medical services has prompted a call for an anti-binge drinking ad campaign.
Rugby matches in New Zealand have long been linked with spikes in alcohol-related disorder and injuries, with Wellington's annual IRB sevens tournament particularly known for partying fans.
But the study, published in the Medical Journal today, is the first in New Zealand to look specifically at the impact of ambulance triage and treatment zones at major rugby events.
Otago University emergency medicine expert Dr Andrew Swain analysed patient data from ambulance treatment centres set up at the 2011 Rugby World Cup and the 2011 and 2012 sevens tournaments in Wellington.
He and his co-authors from the Wellington Free Ambulance and a local district health board found alcohol was involved in 80-90 per cent of all attendances, as a cause or contributor to a patient's condition.
They also also found the treatment centres reduced the burden on hospital emergency departments, at a saving of $70,000 over the last two events.
Of the 121 patients seen at the treatment centres, 60 per cent would have needed treatment at hospital emergency departments if the centres were not available.
The study also gave insight into the rugby fans getting into the most trouble.
It found half of the patients were New Zealanders, with an average age of 25. Just over half were female, while 30 per cent were students.
The research has prompted a call for an advertising campaign to target binge drinking.
In an editorial, also published in the Medical Journal, Wellington Hospital emergency medical specialists Brad Peckler and Mai Nguyen said the relationship between sporting events and binge drinking was "very clear".
They said research showed anti-binge drinking campaigns had been successful when directed at specific audiences.
"Campaigns against drinking and driving, promoting safe driving practices, and violence against women are visible parts of our society.
"It would be hard to argue that alcohol is not part of rugby culture. As a medical community can we help to curb that culture with an anti-binge campaign? Would a media campaign prior to the Sevens help change that culture?"
The editorial said the study's economic analysis spoke for itself - but it only scratched the surface, and the actual cost could be far greater.
"The savings described in this study are modest but enough to justify a campaign to reduce binge drinking that could benefit the public good.
"Alcohol at rugby events is a given but moderation in consumption is a reasonable thing to strive for."
- APNZ