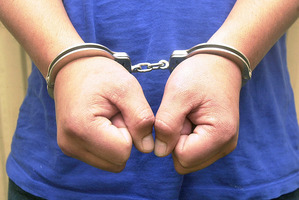 An Auckland man spent most of a flight home from San Francisco in handcuffs after allegedly abusing and threatening crew.
The 54-year-old man, whom the Herald has chosen not to name, was arrested at Auckland Airport and charged with disorderly behaviour. He will appear in the Manukau District Court tomorrow.
A police spokeswoman said the man was a passenger on Air New Zealand flight NZ7, which landed about 5.30am on Tuesday. He was apparently intoxicated and became "abusive and threatening" to other passengers and staff.
After a "physical confrontation" he was restrained and handcuffed.
Another passenger on NZ7 said that about three hours into the flight the man started yelling and swinging his arms around.
Two "burly" passengers restrained him and a flight attendant handcuffed him. The passenger said people sitting near the man were alarmed.