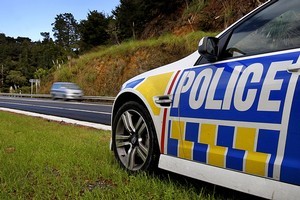 A drunk mother drove into a truck, killing herself and her 6-year-old daughter, despite police receiving a lengthy *555 call from a motorist about her erratic driving earlier on the same night, an inquest has heard.
Philippa Jane Manning, 43, and her daughter Rebecca Coulter, were killed in the crash on State Highway 1, near Milton, about 9.30pm on February 8.
Her other daughter, Abigail Coulter, 2, survived. Manning was nearly four times over the limit.
Police say they treated the *555 call as requiring urgent attendance, but did not respond as Manning had turned into her home street, and was considered no longer a risk.
However, she did not return to her home and instead visited another house before getting in her car again an hour later - and then crashing.
Yesterday, Rebecca's father, Donald Coulter, said he was shocked to learn of the phone call at the inquest hearing on Wednesday in Balclutha.
Ninety minutes before the crash, police received a 25-minute-long *555 call from a motorist driving behind Manning, but they did not send an officer to check on her.
From Kaitangata to Waihola, the driver behind Manning described her weaving, speeding up and slowing down. At one stage, she nearly drove into the path of a truck-and-trailer unit.
"One call would have saved our Becs," said Mr Coulter.
When the driver provided police with the car's registration number plate, they would have been able to see she had previous drink-driving convictions, Mr Coulter said. As it was, the call was ended when she turned into the street where she lived, as it was assumed she was going home.
"This is the shock we are in. And what must it feel like for that person who makes a call about a car weaving all over the road? Imagine seeing that in the paper the next day, after you made that call, thinking help is on its way," added Mr Coulter.
Sergeant Martin Bull, of Balclutha, gave evidence at the inquest that all available South Otago staff were busy with other matters when the *555 call came in, and normal police procedure did not require *555 calls to be followed up.
Mosgiel police had been told to look out for Manning's car in case it headed north.
A spokeswoman said police received more than 285,000 *555 calls every year, which were responded to on the basis of a priority assessment. This particular event was coded as a Priority 1 - the most urgent.
The coroner has yet to deliver a verdict into the deaths.
- Otago Daily Times