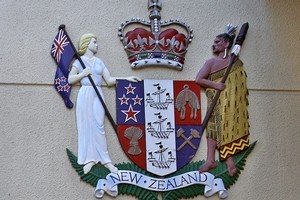 A Bay of Plenty teenager has admitted killing another young man and seriously injuring three others after crashing a car while drunk.
Richard Emery, 18, of Te Puke, 23km southeast of Tauranga, pleaded guilty in the High Court at Rotorua today to the manslaughter of 18-year-old Judas Witeri.
He also pleaded guilty to separate counts of dangerous driving causing injury to Jonah Ahomiro, 15, Paoroa Rota, 17 and Te Ahomiro Emery, 20, at Te Puke on May 27 last year.
A summary of facts read to the court indicated Emery had left a function near Te Puke at 8.05am with six others in his car. None wore seat belts and one was sitting on a fellow passenger's knee.
Emery drove at speeds reaching an estimated 140km/h, overtaking other traffic while his passengers were seen with their arms out the windows making Mongrel Mob gang signals.
As Emery approached a railway bridge over a stream he lost control, narrowly missed two vehicles and smashed through the bridge into a valley below. All the occupants were thrown out, with Mr Witeri falling under the car as it landed.
Jonah suffered a fractured skull, Paoroa was left with a paralysed arm and Mr Emery's scalp was lacerated. The remainder of the passengers escaped with minor injuries.
A breath test showed Emery was over the legal alcohol limit for an under 20-year-old. He had also been driving with a restricted licence, meaning he should not have been carrying passengers and the car was neither registered or warranted.
Justice Timothy Brewer convicted Emery and remanded him for sentencing on April 20.
- NZPA