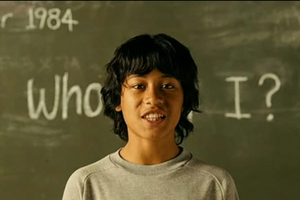 As a natural extension of the joy I feel when American movies mention New Zealand, I find American reviews of Kiwi movies fascinating.
With Taika Waititi's Boy finally garnering a release (of sorts) in America, I have been lapping up the reaction by American critics.
The film hasn't received the kind of wide release it deserves, but many major publications have published a review, with some notable exceptions.
The Chicago Sun-Times' Roger Ebert, who was an early champion of Boy antecedent Whale Rider, is conspicuously absent from the group. It's a shame, as he has such a wide penetration, and it's not difficult to imagine him warming to the film.
One of my favourite outlets for American film reviews is The AV Club, the arts and culture arm of satirical website The Onion.
Head writer Nathan Rabin reviewed Boy for The AV Club and celebrated the way in which Waititi was able to "recapture the vulnerability and optimism of childhood without becoming twee or maudlin in the process".
He also describes the film as a "funny, bittersweet, tonally assured coming-of-age story". I am with you on this one, Nathan.
No less an authority than The New York Times also heaped praise upon the film, with critic David DeWitt having this to say: "This unpretentious comic tale of a youngster's growing relationship with a long-absent father has a surprising rhythmic genius: joy juxtaposed with humiliation, silliness with sadness, fantasy with reality, and none of it formulaic. The editing feels fresh, as does the film. The rustic Kiwi feel of Boy will still grow on you, and deservedly so."
Couldn't have said it better myself David.
The New York Daily News' Elizabeth Weitzman sees the film as a step forward from Waititi's previous film Eagle vs Shark: :"Waititi retains his quirky style, but it feels meaningful here, a valid effort to explore the difficulties in coming of age during tough times."
One of the aspects of Boy I really responded to was all the pop culture referencing. It often seems like New Zealand films exist in some sort of cultural vacuum, as if mentioning other movies or TV shows will suddenly yank everyone out of the reality. I appreciated Boy's willingness to step beyond this.
Unfortunately, TimeOut New York critic Eric Hynes didn't: "Boy needn't be pop-culturally fluent to be relatable; believable human characterisations would have sufficed." Erm, you can have both, Eric.
As a commenter points out, Hynes seems to miss just how true to life the characters in Boy are.
Hynes also cites the film's surfeit of Michael Jackson references, an element of the film I feared would be misinterpreted following Jackson's death (which occured after the film was made, but before it was released): "Even the decision to make Boy gaga for the King of Pop, initially sold as a character trait, ends up translating as little more than a cheap universalizing ploy." Now you're just sounding like a stick-in-the-mud.
The Los Angeles Times' Gary Goldstein also proved glibly dismissive: "Waititi never builds much momentum for his largely uneventful if sometimes inventive story. What's missing is the narrative focus to keep it all percolating - and the viewer invested."
I can see where Goldstein is coming from, but I felt like the lack of major events in the film was kinda the point - you spend your entire childhood waiting for big stuff to happen, but it rarely does.
One of the best reviews of the film came from James Greenburg writing in The Hollywood Reporter: "Filled with colourful music by the Phoenix Foundation and lots of carefully observed local details, Boy has the cartoon-like feel of reality seen through the eyes of a promising and utterly disarming 10-year-old. No one here is completely evil, just not what they were cracked up to be."
It's a pity Boy couldn't enjoy the wide release of Eagle vs Shark (which had the might of Disney-owned Miramax behind it) - it's just the kind of movie that could have built on such personalised endorsements.
* Do you enjoy reading overseas reviews of New Zealand films? Or does it get your back up?