Greg Dixon finds fine food, wonderful views and rusticating luxury at one of New Zealand newest luxury destinations.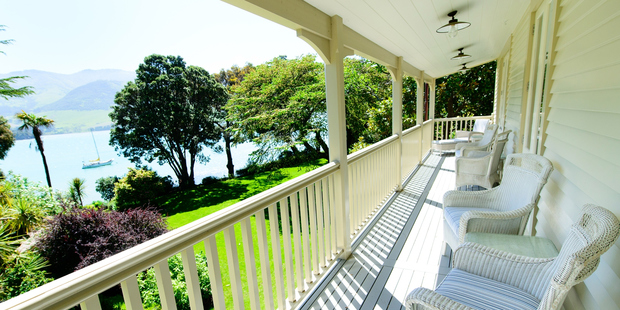 Under an inky sky, I lay back gently in the steamy spa and let the night's light drizzle cool my face.
In the close distance, past the infinity pool and the tennis court, and beyond the carefully floodlit forms of two or three ancient trees, I could sense rather than see the still, black waters of Pigeon Bay.
Soon I would make the short walk back to this bay's luxurious restored homestead, Annandale, to sleep off one of the best meals I'd ever eaten. But for now I decided I'd soak a bit on my final night here, disturb the peace a little by pushing the button marked "bubbles" on the spa's controller and ponder briefly on what luxury travel means.
Banks Peninsula's Annandale, a "coastal farm escape" that opened for business this month, is pure luxury, from its gorgeous gardens to its fine cuisine to its award-winning architecture to its premium rates.
But if luxury was simply a matter of how much you spent - and it will cost you thousands a night to stay in either the beautifully renovated 19th century homestead or one of the two beachside villas, though not in the cute shepherd's cottage - then luxury travel would simply be the opposite of backpacking.
And, of course, it isn't.
Nor is luxury travel simply a matter of where you are: it's not just in Monaco or Palm Beach but off the beaten track in Banks Peninsula. And, I thought as I towelled myself off before padding quietly back through the fernery and across the Annandale homestead's north lawn to my room, deluxe travel isn't a mere matter of flaunting your spending power: you might fly in and out by helicopter from Annandale without anyone other than the homestead's small staff and your accountant ever knowing you'd been there.
It might just be, I thought as I slid between my four-poster bed's creamy cotton sheets, that luxury travel isn't a matter of how much or where, it's about something else ...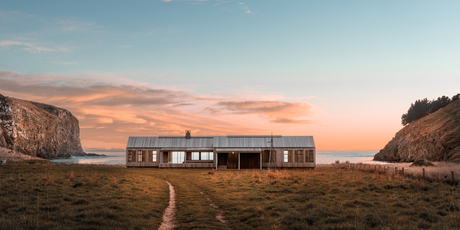 Two mornings before, a chopper had swept me from Christchurch over the deep blue of Port Levy, across the green hills above Big Bay and into Pigeon Bay before circling over Annandale's grounds, which include stables, glasshouses, tennis court, orchard, pavilion and pools, croquet lawn and rose gardens.
"Make sure you move to the front of the helicopter," Mark the pilot told me as we dropped on to a grassy knoll behind the homestead, "I'll get your bag."
Head down, I ambled as instructed from the helicopter toward a smiling bloke standing next to a big 4WD.
"Welcome to Annandale," he said, "I'm Mark Palmer."
Welcome, too, to the Annandale estate which, at just over 1600 ha, is one of the most idyllic coastland farms you'll find in the south and one of the oldest too.
Settled by the Hay family in the 19th century nearly a decade before Christchurch was founded - the Hays named Annandale for the valley in lowland Scotland from which they'd migrated - it has been a going concern for 130 years, well since the family's patriarch Ebenezer and his family cleared the totara to create a cattle and dairy farm in 1843.
Lying as it did on the old main road from Lyttelton to Akaroa, the Hays' place has offered hospitality since its earliest days and, in fact, the homestead that stands today was actually built in 1884 as a 24-room hotel, though two years later it became the farm house.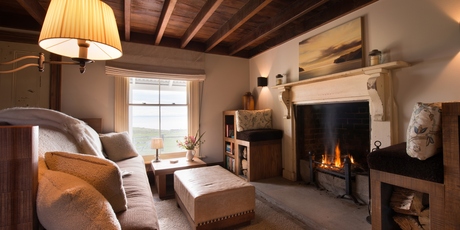 Palmer, who despite his vowel sounds is a New Zealander who's lived in the United States since the early 1980s, bought Annandale in 2005 - it had long been this son-of-a-farmer's dream to own a farm too.
In the eight years since, this successful commercial property developer added his family's name to the Annandale story, he has spent millions - he won't say how many - restoring the homestead, its magnificient gardens and an old shepherd's cottage as well as building, at the end of Annandale's peninsula, an ultra modern, concrete, stone and glass hideaway called "Seascape" at Whitehead Bay (which opens this month), and an unbelievably beautiful family retreat (it will take three couples and eight kids from next spring) at Scrubby Bay.
All the architectural work has been done by Auckland architect Andrew Patterson, who late last year won heritage and sustainable architecture awards for both the homestead and the shepherd's cottage.
Palmer, a 57-year-old who, with his wife Jacqui, divides him time between New Zealand and Austin, Texas, restored Annandale to offer its guests what he calls a relaxed informality.
"I enjoy creating things," he tells me.
"And I love bringing people to Annandale and seeing their reactions to this wonderful place."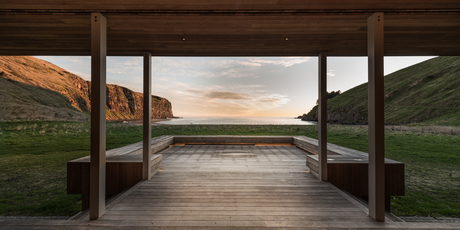 Walking the farm road along Pigeon Bay, the descending cloud promised rain and soon delivered it. The first afternoon I decided to ramble to Shepherd's Cottage, which sits behind the bluffs facing the bay. The still waters, which even under slate-grey cloud have a hint of turquoise, look like they run deep.
The cottage lies just over the top of "Zig Zag" a 318m-high point (the highest point on the Annandale farm is Haytor, at 594m), which has a switch-backed track that is a wee bit of a slog in the heavy drizzle. But once I'd made the hut, which sits in a copse of pine, and pull off my boots, I step inside a magical mix of the old and new.
The cottage has been used by shepherds and musterers since the 19th century and, as I lay resting on the cottage's couch with my head on a lamb's wool cushion, I could see that some of them had carved their names into the ceiling boards and into the mantelpiece too.
While this old cottage has been lovingly preserved it's also been carefully enhanced with mod cons, including an electric stove and dishwasher. The roof has been lifted too and an upstairs bedroom created.
After a meal at the homestead - Annandale's excellent chef Bradley Hornby served a vialone nano and cauliflower risotto and Port Levy groper with surf clams, parsnip puree, asparagus and kale, plus pudding - I returned (Palmer ferried me there and back in his 4WD) to stay the night, lighting a fire against the cool evening, reading the early chapters of a first edition of Barry Crump's Good Keen Man I found on the cottage's shelves, then drawing a bath in the tub which sits - what a wonderful idea - outside. Just as I would the next night I lay, under a pitch-black sky, in the steaming bath and let the drizzle cool my face.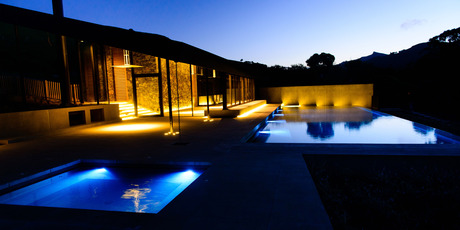 From the tip of Annandale's peninsula you might see, on a cloudless day, the Kaikoura Ranges to the north and the Christchurch surburbs of Brighton and Southshore to the north-west. However, this final morning, under cloud and after a breakfast of spiced apple and buckwheat granola, fruit toast and plunger coffee at the cottage, I saw only fields of tussock and grass, moany sheep and wary cows as out in Pegasus Bay, as showers fell on ships waiting to enter Lyttelton harbour.
I might have done many things that morning: just like Akaroa harbour (which I cruised later in the day on one of Akaroa Dolphins' boats), the bays around Annandale's 16km of coastline are home to Hector's dolphins, seals and penguins, and cruises (with the same company) are offered as activities along with mountain biking, kayaking and farm experiences. All can be arranged by Annandale's general manager (and chef Brad's wife) Liz Buttimore.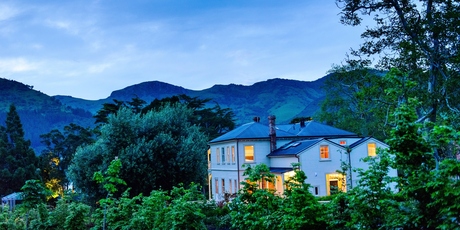 However, I spent the morning walking the fields before returning to the homestead via lunch with Palmer at Seascape. Set into the hill at the head of Whitehead Bay, Seascape looks like a place Ian Fleming's 007 might holiday, with floor-to-ceiling windows looking out to Pegasus Bay, it is a private, modern couple's hideway.
Scrubby Bay, over the hill, is its opposite: an enormous cedar-clad bach designed to look like a farm building, it is a place for three families - or one large, extended one - to chill in the most beautifully appointed accommodation you're likely to find in such an isolated spot. Either of these would have done me.
However, on my second and final night at Annandale, I was given a magnificent suite in the double-storeyed homestead. The homestead is truly the jewel in this farm escape's crown, with rugs made from Annandale wool (Scrubby Bay and Seascape features these too), a small but excellent library, formal dining and sitting rooms and a kitchen that you can use yourself or - better - have chef Brad make you a tasting menu (mine included the most delicious steam buns filled with barbecued brisket, plus a sort-of Asian take on pork and puha, and the slow-roasted Annandale lamb loin).
The key thing about the homestead is that when you take it, you have the place to yourself; it is not a lodge. For the period of your stay, it's yours.
And so, too, is the fine food, the grand walks, the wonderful views and, yes, Annandale's unique rusticating luxury.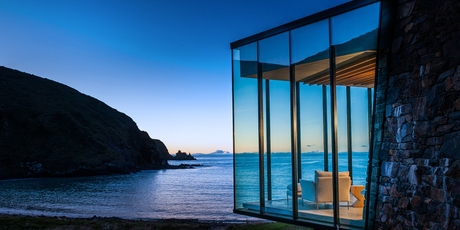 CHECKLIST
Accommodation: Annandale is located on Banks Peninsula, south of Christchurch and can be reached by road, boat and helicopter. There is a minimum two-night stay for all accommodation.
Homestead (exclusive use): From $4800 (high season)/$3800 (low season).
Shepherd's Cottage: From $650/$550
Seascape: From $2200/$1800
Scrubby Bay: Opens in spring.
Greg Dixon travelled with the help of Garden City Helicopters, Corporate Cabs Limousine Service and Akaroa Dolphins.
- CANVAS