On February 7, 1963, 15 people died after a bus crashed in the Brynderwyn Hills. Fifty years on, families tell of how the tragedy still affects the survivors - and how the driver came so close to averting disaster.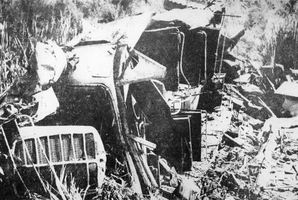 The Kidwells
Edwin Kidwell cannot remember his mother. But her death when he was 3 has had a "dark" impact on his life.
Levia Kidwell died in the Brynderwyn bus crash, with her daughter Celia, mother Miriama Nathan and grandmother Beryl Abraham-Paenganui. Two of her four sons were on the bus but survived.
Mr Kidwell was at home, being cared for by eldest brother John.
"Nobody told us much, it was all too painful for them to speak about. It has been a big darkness in my life, and will be forever," Mr Kidwell said.
"I don't remember anything. I don't remember my mum, or my sister. I don't have any recollection of them which is a bit sad. They went on this coach trip and just didn't make it home. It was awful, a horrific blow to our family."
Mr Kidwell said his brothers suffered physically at the time, but for the rest of their lives they had terrible emotional problems, struggled with alcohol and chain-smoked.
Byron died of leukaemia last month and Pute was not up to speaking about the crash.
"Pute won't speak about it, he's a bit of a mess and he has been since the crash - which is understandable. Both he and Byron both had terrible lives, they couldn't settle, they just never came right," Mr Kidwell said.
"Nobody ever talked about the crash, Byron and Pute were always in such pain, but they never spoke of it. They kept it all under wraps.
"Byron was totally lost without his mum, but that's not to say he felt more pain than anyone else."
He said the crash destroyed his family.
"It had a terrible impact, me and my siblings were never close. Everyone just seemed to struggle along by themselves.
"Dad struggled to keep everyone together. The older ones moved away, and us younger ones grew up by ourselves. Dad had us, but my sister who was 7 when the crash happened basically raised us. I didn't even know until I was about 13 that I had three older brothers, we were very disjointed, a very dysfunctional family. It was awful."
The Tapenes
John Tapene also grew up without a parent after his father Peter was killed in the crash. His mother Annie and sister Valma were badly injured. John, then 8, did not go on the trip and was rushed to Whangarei Hospital by family friends to see his remaining family.
"Dad had talked about this flash bus they were going to be travelling to Waitangi on. But there was a mistake in the booking and the bus they ended up going on was an old wreck, it basically wasn't roadworthy. When we got the news there were a lot of adults walking around the house, there was a lot of confusion."
Mr Tapene asked his sister if she wanted to speak about her experience. She is one of few survivors still alive.
"Valma finds it difficult to talk about it. The only person she could really talk about it with is our cousin, who was sitting on the bus with her but sadly she passed away two years ago. It still affects her.
"For us as a family, it was a huge loss. It was really hard on mum, she had to be mum and dad and bring up seven children with an age gap of about 14 years. What an effort from mum, she did a pretty good job."
Mr Tapene said that when he was a child there was not much explanation given for his father's death. "It wasn't mentioned. Dad is gone, we've now got to get on with our lives and do what dad would have wanted us to do - be successful at school, get a good career and raise grandchildren. So, that's what we did.
"When I think of what could have been if dad had been around to nurture us ... his loss affected all of us. He had a short life, but he did a lot in it."
Former Herald deputy editor Don Milne, now 77, was one of the first reporters on the scene of the crash
There are some sights you never forget, even after 50 years.
It was an ordinary day in the office, not much happening, until the call came through: bus crash on the Brynderwyns, many dead and injured.
I was the Herald's science correspondent, not usually covering such stories.
But there were only two of us, senior reporter Geoffrey Lee-Martin and me, available to climb into a car and head north.
The scene, at the foot of Pilbrow Hill, was horrific.
This wreckage, lying on its side by the stream, did not look like a bus. The body had been torn away and all the seats were wiped off, except a few at the front.
But worse was the bodies laid out in a line beside the stream, covered with grey blankets. Fourteen of them.
I climbed up the hill to where the bus, its brakes failed, had ploughed through the fence on the last bend to fall 30m into the gully.
Had the driver been able to negotiate that bend, there might have been no deaths - injuries, certainly, but nothing on the scale of this tragedy, the worst on our roads.
Later, there were more comforting scenes to cover - the wonderful effort at Whangarei Hospital, where a special ward was set up to cope with the 21 injured; Minister of Maori Affairs Ralph Hanan and his small team working tirelessly on identification of the dead and injured, and the sad task of notifying relatives. Few slept that night.
Later it emerged that the dead, mainly from the Helensville area, included four generations of one family - matriarch Beryl Abraham, her daughter, granddaughter and great-granddaughter.
Covering the tangi at Reweti Marae three days later reinforced for me the terrible impact the accident had on that family and so many others.
But the abiding image is of that awful, heart-rending scene by the stream. It never fails to come back, every time I drive over that road.