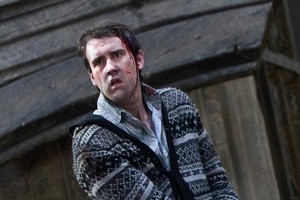 Neville Longbottom. It's hardly a name to inspire confidence or conjure up images of heroic deeds - especially when confronted, face-to-face, by Dementors, Death Eaters or Voldemort himself.
It's no wonder that Harry Potter's loyal - but hapless - sidekick has been the butt of jokes since his arrival at Hogwarts.
However, in the latest instalment of the Potter franchise, The Deathly Hallows, Part 2, the perception of Longbottom, played by Matt Lewis, will change forever.
That's because he finally has the chance to prove his mettle, as he wields the famed Sword of Gryffindor during the crunch battle for Hogwarts.
"Neville's always been there in the background and he hasn't always been taken seriously," acknowledges Lewis.
"He's had his moments and even come up trumps a few times, like with the gillyweed for Harry. But everything changes in this film because Neville suddenly becomes Rambo and is transformed into a hero figure."
That's never more evident than when he stands up to Voldemort's hordes and eventually sends them spiralling to their doom on the Covered Bridge of Hogwarts, during a spectacular battle scene.
"The whole bridge sequence was incredible," grins Lewis.
"When I read the script, I thought; 'Wow, that's pretty cool, but they won't actually do all that stuff, with the explosions because it's a pretty big deal.' But then I got on set and they'd actually built that bridge! They had a camera on a quad bike and told me, 'okay, you're going to run along here and we'll have explosives going off...' It was absolutely fantastic. I really did feel like James Bond doing it and remember thinking 'this is what I got into acting for..."'
For Lewis, that scene completed Longbottom's transformation from zero to hero, and delivered on a promise that J.K. Rowling had made to him many years ago about his character.
"She came up to me at the premiere for the fifth Harry Potter film and said, 'I've just finished Deathly Hallows and there's a great bit in there for Neville, which I think you're going to enjoy.' She didn't tell me what it was, just that I'd love it," he recounts.
"But when it came up I was so stunned, because she'd been so blasé about it. I really didn't think it was going to be something as epic as that," he admits, shaking his head in disbelief. "It felt majestic playing that scene and the one where I get to use the Sword of Gryffindor during another scene that's so crucial to the storyline.
"You know, it's a fantastic character that Jo's created and I'm very honoured to play him," smiles Lewis.
"Also, I think a lot of people can relate to Neville and the message that he carries, because he shows that you don't have to be perfect, you don't have to be Brad Pitt or be on the school football team to become somebody, or become a hero and save the day. I just think that's a really nice, positive message to send out to people."
*Need more Harry? Check out our special section celebrating 10 years of Harry Potter films, including stories, trailers and reviews here.
-TimeOut