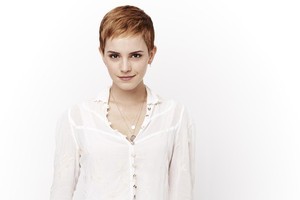 After J.K. Rowling's boy wizard, Harry Potter, became a publishing phenomenon, the success of the spin-off movies was almost guaranteed. The first film of the first book, Harry Potter and the Philosopher's Stone, lit up the international box office in 2001.
This week, the seventh and penultimate film - Harry Potter and the Deathly Hallows, Rowling's finale having been divided into two parts with the second due mid-2011 - marks the beginning of the end of the most successful book-to-film franchise in history.
For Daniel Radcliffe, as Harry, Rupert Grint as trusty sidekick Ron Weasley, and Emma Watson as the pretty, precocious Hermione Granger, the films have defined their adolescence. As they stood meekly on Platform 9, ready to board the Hogwarts Express in Philosopher's Stone, the three were also on their way to becoming the most-recognised child stars in a generation.
"Oh, my God, that scene feels like a lifetime ago," admits Watson, wide-eyed, as she recalls her first moments boarding the Harry Potter juggernaut.
"At the very beginning, when everything was new, I was just full of wonder and amazement because it was such an exciting time in my life. But now I feel weirdly disconnected from that - it feels like another person, because it was so long ago. It's so hard to even remember back to then."
Her hazy recollection is understandable. After all, she was just 9 when she was cast as Hermione and the past 11 years have been a blur of eight films, countless premieres, press, publicity and photo shoots.
In fact, she's crammed more into a decade than most adults - or actors - do in their whole career. No wonder those days are such a daze.
"There have been times when I've wanted to throw my hands up and go: 'take it all away, give it to someone else; it's too much, I can't cope; I can't deal with it, I don't want it,' because it has been pretty overwhelming," admits Watson.
"But, now it's coming to an end, I can step back and really start to appreciate it. Now it feels good - it feels so satisfying - to have completed all seven of the books, all eight of the movies and seen Hermione through from beginning to end," she beams, proudly. "I can't believe I've actually managed it. What Dan, Rupert and I have done is unique. To inhabit these characters for 10 years, through a period of our lives when we've changed so much, feels like such an achievement."
Perhaps Watson's biggest achievement is that she's managed to fulfill her ambition while remaining a straight-A student, both at school and, more recently, at Brown University in the United States. She's also remained seemingly unaffected by her fame and fortune, as she's evolved from ingenue to seasoned pro, despite growing-up in the spotlight during one of the most difficult times of anyone's life - the transition from child, to teenager, to adult.
"Sometimes, it wasn't the easiest thing to cope with, growing up in public," she sighs.
"It's strange meeting people who think they know you, just because they've seen and read all about me. People will also say very personal things to me, which is weird. It's as if the normal boundaries that exist, when you meet someone you don't know, just vanish. That can be lovely, sometimes, but it's also very disconcerting. I've had to learn to adapt and put myself on guard a lot more than I would, because I'm quite an open, honest person."
An example of the intense interest surrounding her every move has been the reaction to Watson's recent hairdo, a gamine crop which she reveals was modelled on Mia Farrow's hairstyle in Rosemary's Baby.
"I can't believe the fuss over it," she giggles. "I did it because I love it and wanted it [like this] for such a long time, but wasn't allowed to. I guess it's just my way of trying to get my head around the fact that I'm entering a new phase of my life as me, not Hermione.
"I was actually beaming when it was cut off, because I've spent more than half my life with someone else's haircut and now I just want to be me and have my hair how I want it," she adds, smiling. "It's very liberating; it feels like a fresh start, a new chapter."
Although she's excited by the prospect of life after Harry Potter - and her new hairdo - Watson admits that filming the last few scenes for The Deathly Hallows were distressing.
"I felt really sad and there were a lot of tears, because I'll miss playing her," she says. "Hermione feels like an old friend and I couldn't have asked for a better role, because she's so complex and interesting.
"But part of me is also relieved, because I've been playing the same part for 10 years now and I'm ready to do something new," asserts Watson. "I'm excited to see what comes next and just to have time to daydream, make mistakes, figure things out and try different things that I maybe missed out on during my teenage years."
Not that Watson will be resting on her laurels, or taking it easy, as she's set to return to university to complete her degree, is designing ethical clothes for Fair Trade label People Tree and has recently signed-on to film My Week With Marilyn, alongside big names stars like Dame Judi Dench, Michelle Williams and Kenneth Branagh.
"I just want to do everything. I want to model, keep learning, continue to act and maybe even write a book, because I'm interested in lots of different things," she asserts, explaining her helter-skelter, post-Potter schedule. "I still haven't figured out what to do with the rest of my life because I'm only 20. I think people forget that - and that most people my age don't know what they want to do, either. That's the dilemma I'm facing at the moment - what to do with my future.
"But one thing I know is that I will definitely keep myself as busy as possible because I'm actually I'm a bit of a workaholic," Watson concedes, blushing. "I go absolutely berserk if I don't do anything for a single day. So, the idea of not ever doing anything, ever again, is my worst nightmare."
Ironically, Watson admits that the one thing she's had the most doubts about is whether to continue with acting - until she watched herself in The Deathly Hallows and realised that she could hold her own with seasoned pros like Ralph Fiennes and Helena Bonham-Carter.
"I really wasn't sure if I wanted to carry on with acting, or that I could even do it. But then I saw this film and changed my mind," she acknowledges.
"I'm really proud of my performance in it and that's given me a lot of confidence that acting is something I should be doing.
"You know, being in Harry Potter has really changed me. It's made me a lot stronger person than I used to be," concludes Watson. "After this experience, I feel like I can do anything - and deal with anything - that life throws at me. Maybe that's why I'm not scared about the future?
"If anything, I'm just excited to see what comes next," she insists.
"I mean, I'm sure I'll feel very nervous when I step on set for my next film - part of me will be saying; 'God, can I do this?' because I've played the same role for 10 years. But that's just self-doubt. I know, in my head, that I love to act and love to perform. It's what I've always loved to do. So, yes, there will be more to come from me, definitely."
If Watson has her way, you know that she - more than anyone else - will surely be the one to escape from the child star syndrome and Harry Potter's death eaters unscathed, to live and act another day.
Who: Emma Watson as Hermione Granger
What: Harry Potter and the Deathly Hallows
When: Opens at cinemas Thursday