Maddison Williams is sitting barefoot on a stool with the tips of her long blond hair touching a stripy hairdresser's cape.
Behind her, Monica Veamatahau, a Barber Town hairdresser who volunteered her services free of charge asks just how short she should cut the nine-year-old's hair.
Watching from the floor cross-legged in anticipation are Maddison's classmates, who are surrounded by family members and Carlton School staff.
"All off. A number zero," Emma Williams says as Veamatahau switches the clippers on and the buzzing begins.
Brian Williams crosses the room with a box of tissues that Emma gladly accepts as tears stroll down her face while their daughter's hair drops to the blue carpet below.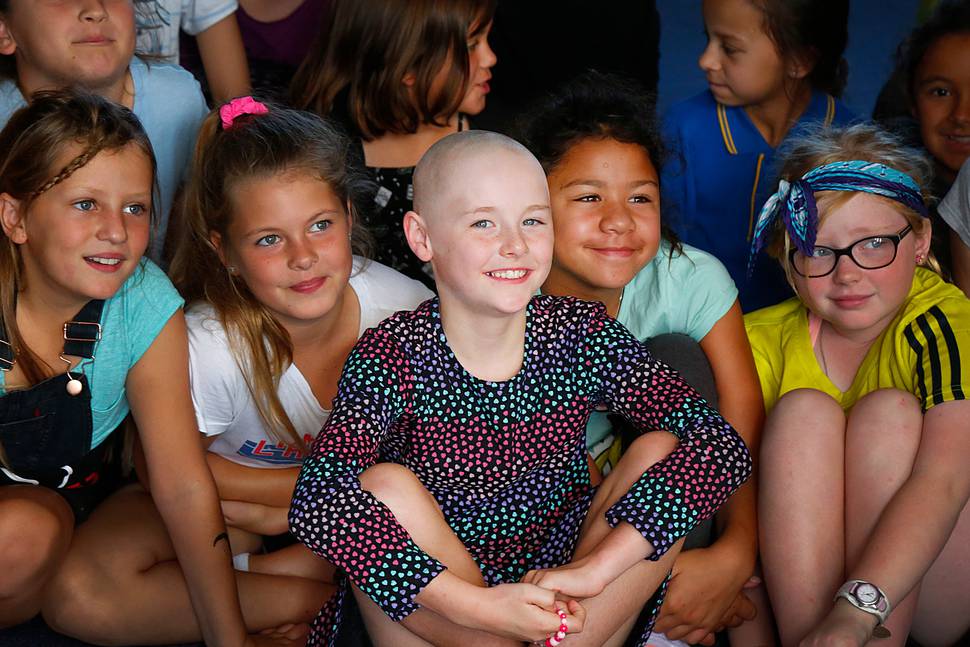 Maddison's sister Lacie turns her head away, placing it down on a blue desk, however the mood is anything but blue as brother Korban watches his smiling sister.
Maddison has been raising funds as part of Leukaemia & Blood Cancer New Zealand's Shave for a Cure in memory of her gran Derene Mardon who died from cancer in 2016.
"To do something so big for a girl her age is phenomenal," Brian Williams says.
"It hits hard because she was very close to her great grandmother and knowing that she was doing it for her was very cool."
Earlier on Maddison could be seen running towards her dad after her mum told her she had passed her goal of raising $1000 with $1090.
"I'm over my goal, I'm over my goal," Maddison yelled.
She raised funds through a Givealittle page and Carlton School also donated $300 to her cause.
When all of the hair was gone, there were plenty of hugs shared, encouraging words and pictures taken with Maddison.
Brian said he was very proud of his daughter.
"It was so surreal to see her go through that, especially with everything that happened on the weekend.
"She's very driven. If she wants to do something, she sets her mind to it and does it. She is definitely wise beyond her years."
Maddison's classmate Andi-lee Duncan will have her head shaved for Cancer Society as part of Relay For Life at Cooks Gardens at 12.45pm this Saturday.