The Tasman Tanning Premier table had a noteworthy makeover on Saturday as Dave Hoskin Carriers Marist have rejoined the semifinal ranks for the first time in nearly two months and former table leaders Waverley Harvesting Border are now on the outside looking in.
McCarthy's Transport Ruapehu picked up probably their most important win of the competition with a conclusive 26-12 victory over Border on their own ground, handing the three-time grand finalists an unprecedented second loss in two games, as well as their second defeat this season at the Dallison Park fortress.
Ruapehu's success takes them a point above Black Bull Liquor Pirates at the head of the table and leaves them in good stead for securing a home semifinal despite tough opponents in Marist and Pirates to finish the round robin, given both those games will be in Ohakune.
Playing in drizzling conditions in Waverley, after a physical opening quarter it was the home side who scored the first try, before Ruapehu struck back with two quick scores in the five minutes before halftime through flanker Jamie Hughes and winger Shaquille Waara.
Ruapehu's other flanker Jack Kinder then pressed the advantage with a converted try in the 50th minute, as the visiting pack had gained ascendancy, forcing turnovers and negating Border's attempts to free up their speedy backline.
Cameron Dee then scored to make Ruapehu safe at 26-5, despite a quick reply from Border, whose tryscorers were winger Harry Symes and fullback Nick Harding.
Border are unquestionably missing departed enforcer prop Tietie Tuimauga, while perhaps they will reconsider their kicking tactics, given Ruapehu's Mitchell Millar and Craig Clare are on-point in that area behind a solid country forward pack.
Nonethless, Border don't need to push the panic button yet, as they have finally completed "murderers row" of facing all five other teams who were in playoff contention, and are now the side most likely to secure the maximum 10 competition points remaining as they play the lower tier Harvey Round Motors Ratana and Settler's Honey Ngamatapouri.
Marist still have a power of a lot of work to do if they want to keep that precious playoff spot, given Ruapehu and Byford's Readimix Taihape are their last two games, but they have the momentum after they pulled away from a desperate Wanganui Car Centre Kaierau to extinguish the home side's semifinal dreams with a rugged 20-10 win at the Country Club.
Playing for their season, Kaierau were still in it at 10-all at halftime, with flanker Alex Mulipola scoring their try while fullback Shandon Scott landed two kicks.
However, Marist carried on with it in the second half, adding another 10 points and protecting their line, as second-five Josiah Bogileka scored two tries while winger Luke Foster got the other, with Ashton Coates switching from first-five to fullback and adding two kicks.
There would have been a lot of singing on the ride back down the Waitotara Valley as Ratana finally did themselves some justice for 2018 with a 31-26 victory over Ngamatapouri in the bottom of the table clash, becoming the last team in both Premier and Senior rugby to register a win.
The season's MVP leader Shade Tuaine-Whanau was one of Ratana's five tryscorers, along with their other leading names like Marius Joseph, Aaron Paranihi and Isaac Fonotoe.
Ngamatapouri's standout fullback Sheldon Pakinga-Manhire scored a double while adding three conversions.
While the victory was the shot in the arm that Ratana desperately needed, they are unlikely to avoid the wooden spoon at the end of the round robin, given Ngamtapouri have picked up a handful of bonus points this campaign, including two in this match.
In the Senior Championship grade, Border kept hold of the Stihl Shop Wanganui Challenge Shield they swiped off Marist Celtic the previous week with a comfortable 36-7 win over Taihape at Dallison Park.
Celtic rebounded with an important 17-7 win away from home over Speirs Food Marton, while Kelso Hunterville got revenge for their shock loss in the first round of games by putting down Counties 45-17 at home, staying unbeaten in the Championship grade with two games left.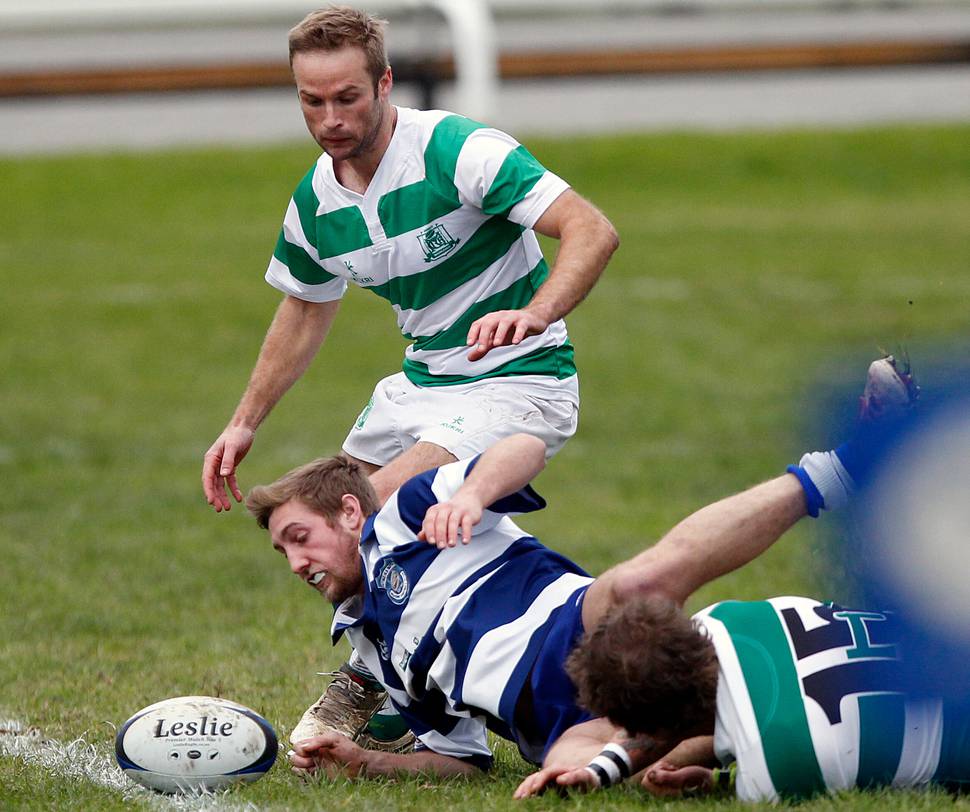 There was a thriller in the Senior Consolation grade as Marist Buffalo's held on by their fingernails to beat Utiku Old Boys 19-17 at Spriggens Park.
Utiku had lead at halftime, before Buffalo's came back, and then Utiku regained the lead with an uncoverted try inside the last ten minutes.
But Buffalo's hit back immediately with a converted try and then defended a Utiku ruck right on their tryline as time ran out.
That surprise result let Kaierau move to the top of the table after a convincing 48-10 win over Ruapehu at the Country Club.
Results, June 23
Tasman Tanning Premier, Week 12.
Black Bull Liquor Pirates 23 (Raymond Salu, Fa'alele Iosua tries; Iosua 3 pen, 2 con) bt Byford's Readimix Taihape 15 (Kampeli Kuruyabaki, Te Rangitapu McLeod tries; McLeod pen, con). HT: 13-12.
Dave Hoskin Carriers Marist 20 (Josiah Bogileka 2, Luke Foster tries, Ashton Coates pen, con) bt Wanganui Car Centre Kaierau 10 (Alex Mulipola try, Shandon Scott pen, con). HT: 10-all.
Grand Hotel Challenge Shield: McCarthy's Transport Ruapehu 26 (Jack Kinder, Shaquille Waara, Jamie Hughes, Cameron Dee tries; Craig Clare 2 con, Mitchell Miller con) bt Waverley Harvesting Border 12 (Harry Symes, Nick Harding tries; Harding con). HT: 12-7.
Harvey Round Motor Ratana 31 (Marius Joseph, Aaron Paranihi, Apolosa Regede, Isaac Fonotoe, Shade Tuaine-Whanau tries; Matiu Webber 3 con) bt Settlers Honey Ngamatapouri 26 (Sheldon Pakinga-Manhire 2, Jim Seruwalu, Cory Furness tries; Pakinga-Manhire 3 con). HT: 12-10 Ngamatapouri.
Senior Championship, Week 3.
At Dallison Park - Stihl Shop Wanganui Challenge Shield: Border bt Taihape 36-7. HT: 18-0.
At Marton Park: Marist Celtic bt Speirs Food Marton 17-7. HT: 10-7.
At Hunterville: Kelso Hunterville bt Counties 45-17. HT: 26-5.
Senior Consolation, Week 3.
At Spriggens Park: Marist Buffalo's bt Utiku Old Boys 19-17. HT: 12-5 Utiku.
At Kaierau Country Club: Kaierau bt Ruapehu 48-10. HT: 33-0.
Bye: Seales Winslow Pirates.