Kamo's Katie Rood has enjoyed a whirlwind 12 months where she made her Football Ferns debut and helped Juventus Women to the Serie A title in their first year in the competition. Northern Advocate sports editor Andrew Johnsen caught up with Rood to talk Juventus, pay equity, Northland roots and veganism.
From Kamo to Turin, Auckland to San Pedro del Pinatar, Katie Rood's footballing journey has taken her around the world.
The 25-year-old striker has finished a 10-month stint at Juventus, one of the world's most prestigious clubs, leaving with a Serie A title and an international debut under her belt. Now leaving the club - by mutual agreement - Rood has her sights set on more international representation for New Zealand.
Rood was surplus to requirements in Juventus' penalty shootout final over Brescia to take the title, completing a club double, but said the nerves were still at a premium.
"The build up to the game was intense. Our men's team were celebrating their championship title the day before and for us having lost to Brescia the previous two times we played against them, everything we worked towards this season came down to this one game and it was anyone's to win," she said.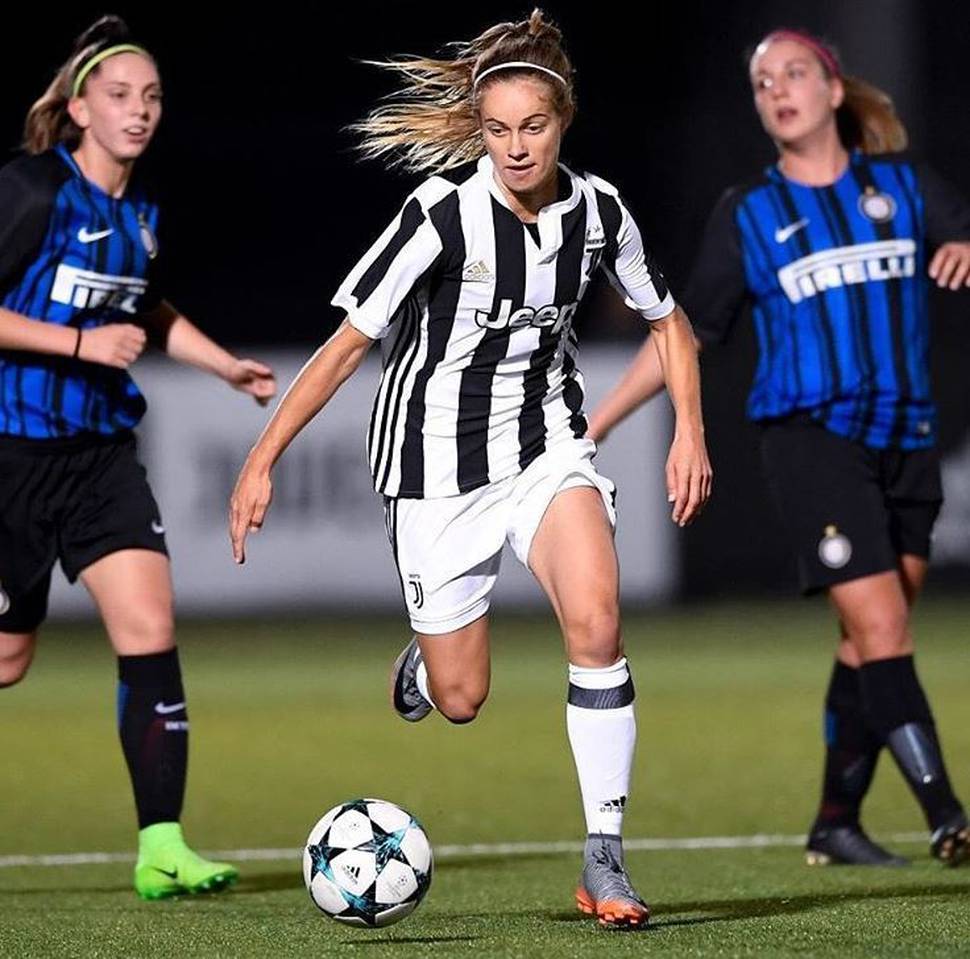 "To have it go to penalties was just crazy and when it was all over I had the biggest sense of relief and then soon after came the elation."
Juventus had just made the jump to the top flight as the women's game continues to develop in Italy. After initially thinking they'd have more time to set up the team, an opportunity arose and they grabbed it with two hands.
"It didn't leave them much time to figure out the logistics around developing a new squad and before we knew it the season was under way," she said.
"Female football is still in its infancy in Italy (although growing rapidly) so I think that many people didn't quite know how to go about the whole situation."
After a season yielding just 53 minutes of playing time across six matches, Rood and Juventus made the decision to dissolve the partnership.
For Rood, it was a choice made to increase playing time so she can impress selectors ahead of a busy two years for the Football Ferns.
"I wasn't getting enough game time to really show what I can do so it was a mutual decision to part ways. My goal for next season is to get plenty of game time, net some goals and make a big impact for the Football Ferns at the World Cup in France."
Despite the lack of playing time, Rood's experiences in Italy will be cherished. The difficulties of learning a new language and set of sensibilities were offset by a welcoming squad and staff.
The move did reassert Rood's beliefs about New Zealand's beauty however.
"Knowing virtually no Italian upon arrival it took a long time to get the hang of it. I'd say after three months I could understand the basics and now after 10 months I can understand a lot and hold reasonable conversation but I'm still a long way from fluent," she said.
"Luckily the team and staff were really friendly and helpful towards us foreigners.
"You realise how many things you take for granted when you understand everything that's going on. There's many cultural differences too and little social rules and expectations that you might not be aware of until you break them.
"The fan base is incredible. It's awesome to see supporters embrace the team and the players with such enthusiasm.
"There were a few times throughout the season where we socialised with the men's team and we would often go as a team to watch them play.
"I missed the wild nature of New Zealand. Italy has so much history so almost everything has been shaped by the hands of humans.
"We have such a special environment here in NZ that simply doesn't exist elsewhere, especially not in a big Italian city so that was tough at times."
Now with her club future uncertain, her focus switches to regaining selection into the Football Ferns. With their recent defeat to Japan and the ensuing controversy surrounding New Zealand Football and coach Andreas Heraf, a switch to a more attacking philosophy could be on the cards.
This would be hugely beneficial to the Kamo striker.
The new collective bargaining agreement, confirming equal pay for women footballers, was a landmark moment for New Zealand football. Rood wasn't convinced of its reachability but is excited for what it means.
"It's fantastic. I think it's great that young players can now see that the team is treated with the same respect as the men by the national body," she said.
"I also think it opens up even more pathways towards a pro career in football. I always knew I wanted to be a professional but I wasn't entirely sure how attainable it was.
"It feels as though a whole world of opportunities is beginning to open up in women's football at the moment and it's a great time to among it all."
Her Football Ferns debut came as no surprise to her supporters as her goal scoring ability is tough to teach.
Given New Zealand's struggles to put the ball in the back of the net, a player of Rood's skillset is increasingly valuable.
Rood went through the Football Ferns Development Programme and while it allowed her to be scouted a bit more, there were also negatives in the experience.
"I was only involved in the program for a few months but it enabled the Ferns coach to see me play more regularly and for me to get some good footage together to send out to overseas clubs which was a huge help," she said.

"I get a little disheartened that it pulls players out of the local club environment as I think it's a really important space to play in and express yourself.
"It can be a lot for a young player to always be in a competitive, high performance environment and also the value that these players bring to the clubs shouldn't be undervalued.
"I hope they can find a way to balance it in the future but I totally understand the concept behind it and I think there are positives to be taken from it."
Rood is now spending some time back in Northland, a region that moulded her as a footballer. She said the area built character.
"I cherish the upbringing I had in Northland. It's such a sport centred community and I flourished in that environment. I'm also a total nature/adventure junky so I'm not sure there are many better places to grow up," she said.
"Being from the North though, we often had to make the two hour trip to Auckland and back three times a week for trainings and, while difficult, it helped build a lot of character and great bonds between Northland players.

"I have to credit my parents and some of my teachers, coaches and mentors throughout my years in Northland, playing various sports and attending Kamo Intermediate and Kamo High School for helping me develop through those years."
Rood is playing in an era where nutrition has become an incredibly important part of professional sporting life.
Changing to a vegan lifestyle was a big decision for Rood, but one that has garnered countless benefits that she is not afraid to extol onto others and provide help around.
"I'm pretty confident I wouldn't be where I am if it were not for the change in lifestyle. I used to be injured constantly and could never play a full season," she said.
"Since becoming vegan that has changed drastically. I'm healthier than I've ever been, fitter than I've ever been and I feel as though my mind is clearer.
"It's been such a positive life change for me that I would love to encourage everyone to give it a go. There's many high profile athletes using this lifestyle to enhance their careers now but it's not just for the elite.
"It can bring so much health and vitality into the life of anyone who's willing to try it. Just do a bit of research beforehand and then dive right in. If anybody is genuine about trying it and has any questions or concerns there are some great resources online and I'm always available on social media too."
Like it is for most athletes, national representation is still at the apex for Rood. After making her international debut against Scotland in March, Rood was unlucky to be overlooked for the one-off friendly against Japan.
Rood's drive has not been diminished because of this bump in the road and has big hopes for the next couple of years.
"Missing out on selection for the home game in Wellington was a huge disappointment but I'm still so eager to be involved with the Ferns and get more experience in the big competitions," she said.
"I've been working towards my Ferns debut for the last eight years and it was great to finally get past that first stage but there's a lot more that I hope to have the opportunity to achieve with the team.
"The 2019 World Cup and 2020 Tokyo Olympics are certainly in the forefront of my mind and that dream drives my intentions each day.
"Alongside that, my aim is to keep evolving as a person and a player and hopefully by setting a good example I can inspire others as much as possible to take responsibility for their own lives, follow their passions and do what they love."