Most able-bodied citizens often take the five traditionally recognised empirical, or physical senses of smell, hearing, touch, taste and sight for granted, but for many people in our communities the diminishing abilities of these functions can cause difficulties with normal daily activities.
Blindness, for example, or vision impairment can create adversities in quotidian actions such as driving, working, reading, socialising, and walking.
A century ago was not dissimilar. People suffered loss of vision either from birth, or later in life and there were facilities as there are today to offer services and support to those affected.
One institute established to aide in overcoming barriers caused by vision loss was the Auckland Jubilee Institute for the Blind, founded in 1890, and Whangārei Museum is fortunate to have a remarkable piece of furniture crafted at this facility.
The hand-made child's wicker chair was obtained by the Museum in 2016 and had belonged to Margaret Attwood, great grand-daughter of Dr Alexander Clarke.
It is uncertain who exactly gave Margaret the chair, but donor Athol Attwood recalls it is likely from a relative of Dr Clarke's wife and was given to his late wife around 1930 when Margaret was only a child aged 4 or 5 while living on their family farm at Tahere, Whareora.
The organisation which produced the chair however is in no doubt, originally existing under the auspices of "The Association of the Friends of the Blind", it soon merged into the Institute.
With the object of providing the blind with support, education and instruction, a house and land were purchased in Parnell adjoining the Auckland Domain. In 1909 the two storied "Jubilee Building", designed by architect Edward Bartley, was officially opened, housing a school, library, dormitories, dining hall and kitchen.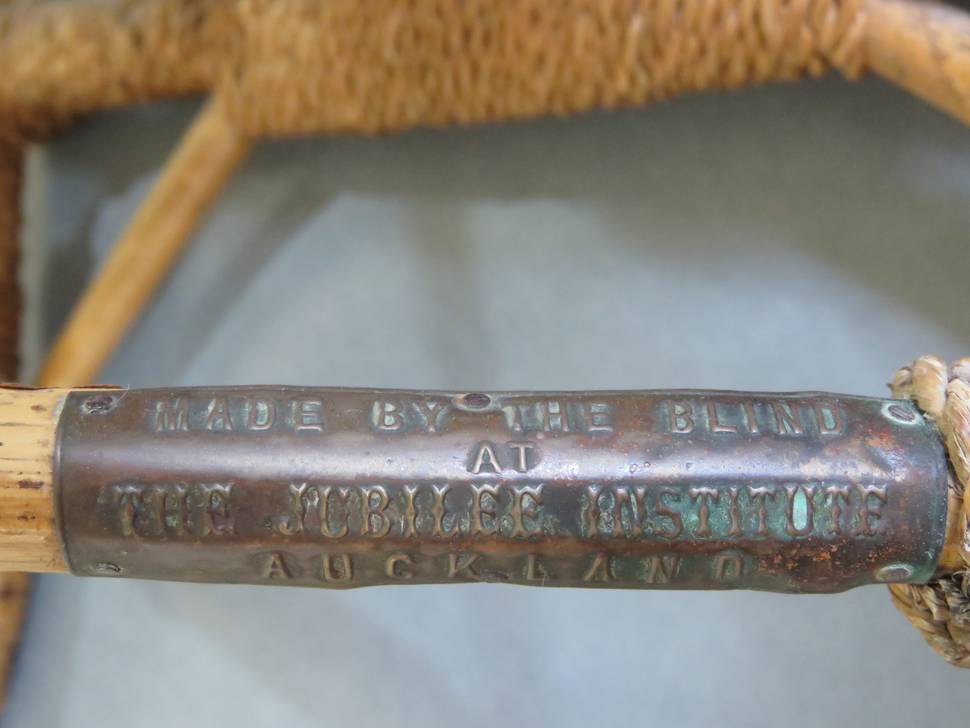 All facilities were equipped with modern apparatus suited to the needs of those visually impaired. The home provided residential care and skills to enable individuals to increase their independence and earn a living through sheltered employment and residential programmes.
Adult instruction, in addition to scholastic subjects included training in the manufacture of baskets, mats, halters, netting, palliasses, hammocks and fruit boxes and as services developed, enlarged workshops were built.
It was in these workshops under direct tutelage that Margaret's wicker chair would have been crafted, along with alternative wares created by the Jubilee Institute's residents, many of which were sold from the Institute's retail shop established in 1926, fronting Parnell Rd.
To meet the increasing demand for wickerwork, the Institute established their own willow farm on land near Drury and by 1940 more than five tons of willow was being harvested annually. The smooth supple stems of the willow grown were woven at the Institute's workshops, mainly in basket-making which was one of the first crafts taught at the Foundation.
For many years the shop where Margaret's chair was probably procured, was a successful operation strongly patronised by locals and internationals alike, but by the late 1970s with a significant reduction in staff and workshop workers, production fell and the store was eventually closed.
Throughout New Zealand today, tucked away in the corner of many homes is probably an old wicker sewing basket, picnic hamper or seagrass chair, like that in the Museum, a product of the former Institute.
■ Natalie Brookland is collection registrar, Whangārei Museum at Kiwi North.