It isn't often that a ship is named Sailor of the Year - but then the R Tucker Thompson is no ordinary ship.
The Bay of Islands-based tall ship, or rather the charitable trust that operates it as a youth training vessel, has been awarded the Northland Regional Council's Sailor of the Year trophy for 2017.
Council chairman Bill Shepherd said the trophy typically went to an individual but it could be awarded for any acts or services which promoted, advanced or bettered the sport of yachting.
"In that regard the trust is an absolutely deserving candidate," Mr Shepherd said.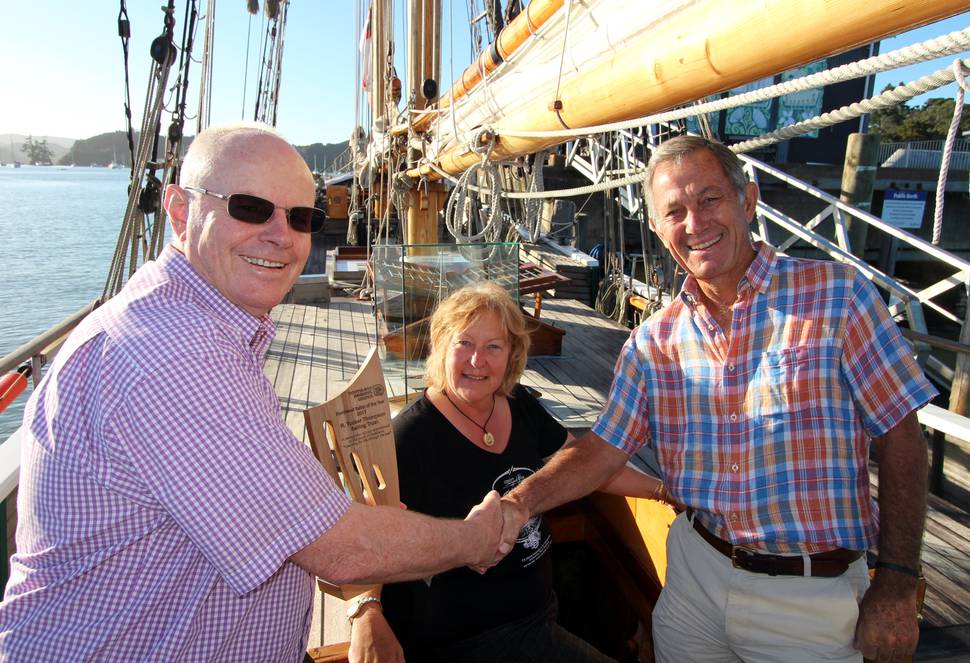 Over the past decade the R Tucker Thompson Sail Training Trust had offered more than 1300 young Northlanders the chance to learn life and sailing skills aboard its 26-metre vessel.
The ship, built in the style of a gaff-rigged North American Halibut schooner and launched in 1985, is used for tourism excursions during summer. Those trips then help pay for week-long life skills training voyages for Northlanders aged 13-18 for the rest of the year.
"The trust promotes confidence, leadership and teamwork as its key outcomes and it's a real honour for my fellow councillors and I to be able to publicly recognise it in this way," Mr Shepherd said.
The trophy was presented to trust representatives in a ceremony at the schooner's Opua base on Wednesday.
It was last awarded in 2012 to Far North master waka builder and traditional navigator Hekenukumai Puhipi (Hector Busby). Originally known as the Northland Blue Water Trophy, the award was first presented in 1964 by the now defunct Whangarei Harbour Board. It was renamed the Northland Sailor of the Year award in 1995.
The trophy is a model yacht in a heavy glass case which is passed from winner to winner. Recipients also receive a smaller wooden trophy to keep.