An historic Whanganui building has been destroyed after an early-morning blaze ripped through the two-storey structure leaving it in need of urgent demolition.
The fire started just before 3am on Monday and produced a glow in the sky which firefighters could see as they left Whanganui Fire Station for the scene.
It was all hands on deck as every available firefighter in Whanganui was called in to help fight the blaze along with eight appliances, including one from Palmerston North.
The building, opposite Plymouth St on Victoria Ave, is owned by the Tupoho trust, has been unoccupied for several years and was already slated for demolition.
Fire and Emergency Whanganui senior station officer Jes Sorensen said the fire was surrounded and brought under control but took a couple of hours to extinguish.
"Because the roof had collapsed, it meant it was difficult to get to the fire underneath it," he said.
The fire had to be tackled aerially using a pontoon ladder.
Tupoho bought the building in 2014 for the land which is next to another building it owned.
Chairman Ken Mair said while the trust had already got quotes for the building's demolition, it was a sad end.
"It's not quite how we would've done it," he said.
"It doesn't change anything in that context but it means it's been fast-tracked a little bit."
Mair said the trust was working with authorities and the remaining structure would likely be pulled down within 24 hours.
"Our first priority is the safety of the community. As the owners it's the right thing to do."
Mair said squatters had been an ongoing problem since the building had been vacant.
It was not clear if anyone had been living in the building.
A police spokesperson said it was currently being made safe to enter.
"An investigation will begin once that is complete. It is unclear at this stage if the circumstances are suspicious."
Whanganui architect Bruce Dickson owned the building for just over three decades from 1983.
"We had our office in there and we had other tenants," he said.
He said it was originally built in the late 1920s as a doctors' residence with two doctors living upstairs and surgeries downstairs.
It was constructed with a timber frame and had a parting wall down the middle.
Dickson said it was an interesting building which "had some style".
Its loss was sad but it never had a heritage classification.
"A lot of it had been altered by the time we got there," he said,
Police and fire risk management were on site yesterday.
Sorensen was too early to determine the cause or where it started.
Victoria Ave was blocked off for several hours while the fire was fought but re-opened in the morning.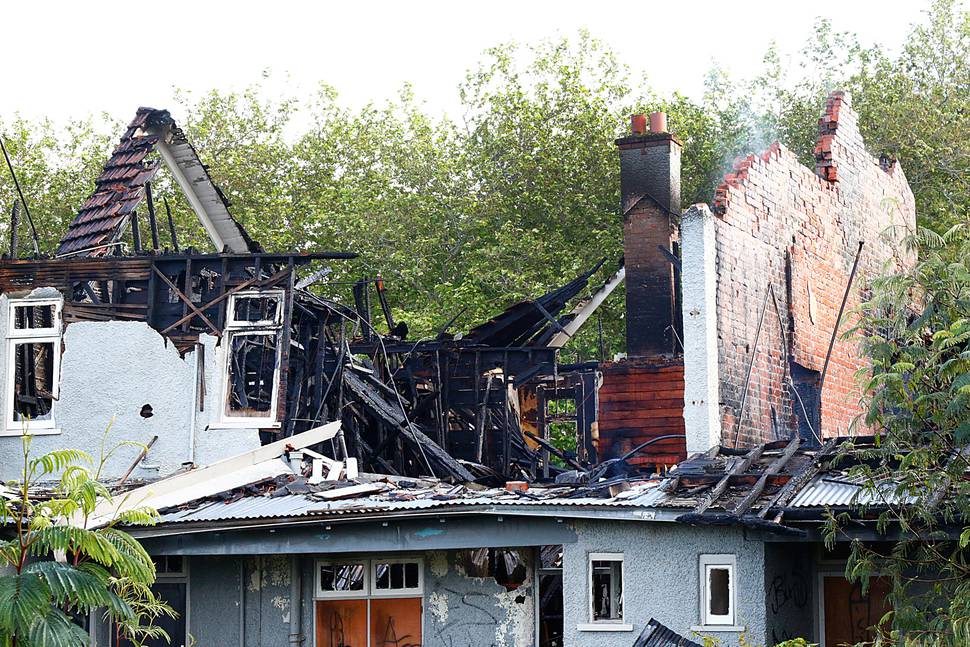 A nearby resident said he and his wife were woken shortly after 3am.
"It was well alight - a big fire for sure.
"It certainly looks suspicious. How can a fire start if the building was empty?"