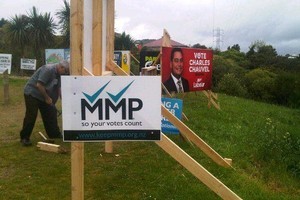 MMP is still clinging to its lead in the referendum race.
A Herald DigiPoll survey showed 47.3 per cent of people would vote to keep the electoral system, while 41.9 per cent said they would vote for a change.
A recent poll indicated a slight thinning of support for MMP, 43.3 per cent voting to keep it and 39.6 per cent to drop it, but polls have continually shown a voter preference to stick with the status quo.
Should NZ stick with MMP? Here is the latest selection of Your Views:
Note: Scroll down the page to read your comments below the response box.