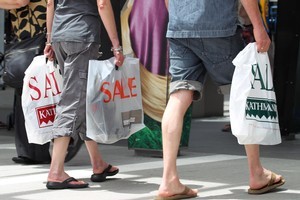 Australian consumers are becoming immune to promotional sales and discounts, a study has found, and a New Zealand analyst says the situation is becoming similar on this side of the Tasman.
The Business of Retail 2011 Report - conducted by business magazine BRW and AMP Capital Shopping Centres - said Australian retailers were becoming increasingly pessimistic in the face of "sales fatigue", which reduced the impact of promotions.
Australian retail spending fell 0.1 per cent in June, according to official figures released yesterday.
But New Zealand Retailers Association spokesman Barry Hellberg said that despite a challenging retail environment in this country, discounts were still an effective revenue-driving tool for some companies.
Are you becoming 'immune' to sales? Here is the latest selection of Your Views: