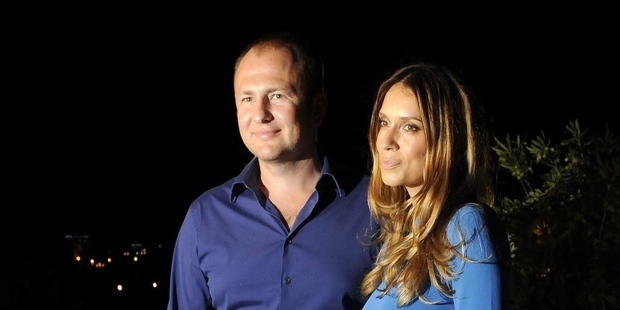 The megayacht "A" that slipped into Auckland yesterday is believed to be the biggest to berth in New Zealand, with interior space almost 15 times the size of an average house.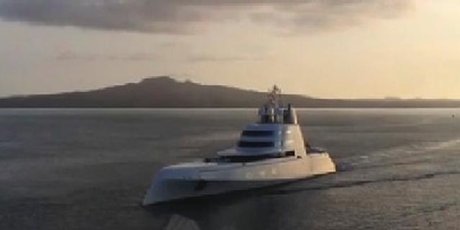 The distinctive vessel is owned by Russian Andrey Melnichenko, who has a fortune estimated to at $17.2 billion, and is in Auckland for maintenance ahead of cruising in summer.
It is believed Melnichenko, 41, will cruise around the coast in summer with his wife Aleksandra, a Serbian model whom he married eight years ago in a ceremony on the French Riviera that Forbes reported cost $36 million. The couple were not aboard yesterday.
The vessel needed a Ports of Auckland pilot to bring it into the city and is berthed under tight security at Auckland's Silo Park Super Yacht Marina.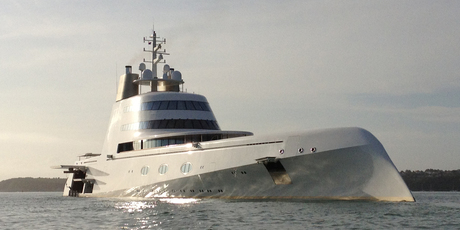 Designed by Philippe Starck, the 119m megayacht features many mirrored rooms and one guest suite is lined with white stingray skins.
The feature stairwell is coated with silver leaf and has $70,000 hand-carved banisters. A is packed with security features and is fitted with numerous security cameras with motion detection systems. Its 240sq m master suite incorporates bomb-proof glass and is opened only by a fingerprint pad and accessible to four or five people, according to the the Wall Street Journal.
It is not known where A will cruise, but other superyachts have travelled around the Hauraki Gulf, Northland and then as far south as Stewart Island.
Lars Herweijer, technical manager for A, said the vessel attracts a lot of attention wherever it goes, meaning security had to be extremely tight.
"We have a very good security protocol and we've minimised local access."
Asia Pacific Superyachts NZ is providing support for A and the company's founder Jeanette Tobin said getting such a remarkable vessel here would be a huge boost to the boat support industry and luxury tourism in New Zealand.
"To get a boat this size into New Zealand is a really big coup for New Zealand tourism because it tells every other megayacht owner that whatever needs to get done here can get done.
"For the tourism market in New Zealand at the high end it's huge - others will follow," she said.
While it's in the top 15 megayachts in the world, besides the master bedroom there is room for just 14 guests who are tended by 37 crew.
Who is Andrey Melnichenko?
Andrey Melnichenko is a Belarusian who made his fortune first in banking then in energy, steel and fertiliser companies after the collapse of the Soviet Union.
The 41-year-old owns most of EuroChem, Russia's biggest fertiliser firm, and is said to have played a role in building some of the country's biggest corporations. Reports say his net worth dipped after the global financial crisis but has recovered to a fortune of between $16.6 billion according to Bloomberg and $17.2 billion. He is ranked by Forbes as the 56th wealthiest person in the world.
He met his wife, Serbian model and pop singer Aleksandra Nikolic who is in her mid-30s, in the South of France in 2003.
They married two years later in a ceremony on the French Riviera with performances by Whitney Houston, Christina Aguilera, and Julio Iglesias, each of whom was paid an estimated $4.1 million for the gig.