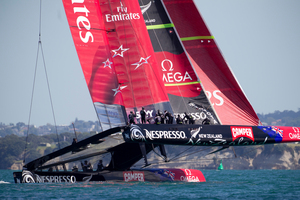 San Francisco is literally counting the cost of hosting the America's Cup. Fundraising supposed to safeguard against using public funds is coming up short - at the moment by US$18 million ($21.5 million).
It's the latest setback in an America's Cup regatta foreshadowed - in one of those excruciatingly optimistic and ultimately unproveable economic forecasts - as bringing in US$1 billion and creating 8,000 jobs.
That was highlighted when Cup holders Oracle, led by the CEO of the vast computer technology company, billionaire Larry Ellison, chose San Francisco as the venue.
A private fundraising body, the America's Cup Organizing Committee, was set up to raise the US$32 million required to host the event without dipping into the public purse.
They have managed to raise only US$14 million, with US$8 million coming from an agreement with the America's Cup Event Authority. Under that agreement, the committee sold its rights to solicit sponsors within the local market to the event authority, the business arm of the Cup racing group headed by Ellison, with both bodies combining their efforts into one campaign.
There are also suggestions San Francisco's bill will top US$40 million, meaning that the total shortfall could be US$30 million.
All of this has begun some sniping at Ellison (in spite of the fact he has spent a reputed US$400m on winning and holding the Cup) and one local politician, John Avalos, really spat the civic dummy this week.
"I was f****** played. All the members of the Board of Supervisors were f****** played. There was a full-court press [a basketball term meaning a full-on defensive manoeuvre designed to choke the attacking side] on us from the America's Cup Organizing Committee to play us ... I am totally f******* ashamed."
Avalos' loss of humour was connected to wording in the committee's brief that it had to "endeavour" to raise the funds, as opposed to actually deliver it.
The regatta has already suffered from:
• A lack of challengers - only Emirates Team New Zealand, Sweden's Artemis and Italy's Luna Rossa have signed up for a regatta said to be costing $100 million for competitive teams.
• An admission from Sir Russell Coutts, head of Oracle's sailing team, that he may have made a mistake in plumping for the giant, 72-foot AC72 catamarans, instead of the AC45s - the smaller, cheaper cats used in the America's Cup World series devised by Oracle to give Cup sponsors more exposure.
• Cutbacks, including reneging on building team base areas with hospitality space on San Francisco's Piers 30 and 32 - requiring teams, including an indignant Emirates Team NZ, to commit to "a concrete slab with absolutely nothing on it" instead of access for the public to watch all the teams preparing and launching their boats and which now needs unforeseen budget to complete.
That was tied to the decision to abandon original plans to spend US$55 million to repair Piers 30 and 32 for operations and spectators. Estimated repair costs swelled to more than US$100 million last year and organisers backed off, leading Ellison's America's Cup Event Authority to lay off a quarter of its staff, 28 employees.
Now there is doubt television coverage of the Louis Vuitton round-robin (part of the racing designed to find the sole challenger to take on Oracle for the Cup) will be broadcast live if there is not enough interest from potential buyers.
That would be a further setback for part of Ellison's and Coutts' vision - racing close enough to shore to allow spectators to line San Francisco Bay and revolutionary TV coverage to galvanise broadcasters traditionally reluctant to take feeds often interrupted by weather or wind.
Ironically, even though the event may be limping to a start in July, the omens look good for Team NZ. The 72-foot catamarans are stunning yachts and ETNZ's second version of the boat is apparently trialling well; yachting gossip has it that it is ahead of anything Artemis or Luna Rossa are doing.
There has also been footage of Oracle's reconstituted first boat after its stunning capsize late last year. With changes made, the Oracle AC72 seems to be going fast, employing much of the same foiling skills previously only demonstrated by Team NZ - leading many to surmise that the Cup could come down to an ETNZ-Oracle showdown.