Members of the New Zealand Order of Merit, for services to sailing.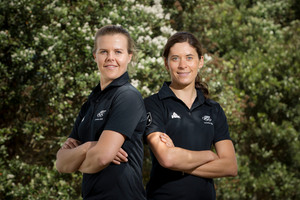 Winning Olympic gold was significant for Jo Aleh and Olivia Powrie, but the pair are only just realising how important it was for their country.
Aleh and Powrie have been recognised for services to sailing after winning gold in the women's 470 at the London Olympics. It has capped, in Aleh's words, a "pretty epic" year.
"It was a surprise," Aleh said. "We just went to the Olympics and did well and came home and suddenly everything else happens. You get this one award and suddenly you get all these extras, which is pretty strange but also pretty cool.
"I probably still don't realise what it means to have won the gold and this makes it even more confusing. I guess it shows what it means to the country.
"You wouldn't think you would get it for sport.
"We just do our thing and that's it but it's a cool ending to the year. To me, the big thing was the Olympics so everything else is an extra topping."
Aleh, 26, and Powrie, 25, went into the final race at Weymouth level on points with British pair Saskia Clark and Hannah Mills but dominated the medal race to claim New Zealand's first sailing gold in anything other than windsurfing since 1984. On top of that, it was the first gold won by New Zealand women in a boat.
They also won the International 470 Spring Cup and pre-Olympic Sail for Gold regatta in Weymouth and finished third at last year's world championships in Perth. APNZ
- APNZ