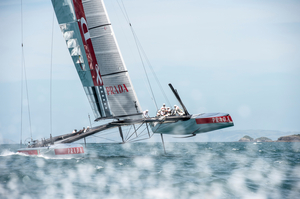 America's Cup observers are waiting curiously to see just how strongly holders Oracle are punished for spying.
The complaint by Italian syndicate Luna Rossa earlier this month - as revealed by the Herald on Sunday - has been upheld by the America's Cup international jury.
Now interested parties are being canvassed to see what penalty they recommend.
This approach has been considered necessary as Oracle spy boats strayed too close to Luna Rossa's trials in their giant, 72-foot AC72 catamaran in Auckland. The Oracle "snoops" were found to have come inside the 200m circle outlined as sacrosanct by the America's Cup protocol - written by Oracle themselves.
Calling for submissions on penalties is needed, as this is the first time the 200m protocol has been breached and it is a rare instance of a team member accused of spying - as opposed to third parties.
Punishment could range anywhere from a monetary fine (at the benevolent end of the scale) to points deducted from racing in the regatta at San Francisco next year.
This jury, also thanks to Oracle's Cup protocol, is truly independent.
It has already turned down two attempts by Swedish syndicate Artemis to have Team NZ's high-performing dagger boards banned, a move popularly supposed to have been inspired by Oracle - the sort of internecine warfare that has marked previous America's Cups.
Luna Rossa's complaint against Matthew Mason, a former Emirates Team New Zealand crew member who now works for Oracle, was upheld even though Oracle attempted to argue that the boats had been stationary on the water before the Italian yacht went past; a semantic argument based on the protocol wording that syndicates were not allowed to "navigate" within the 200m limit. The contention was that placing oneself in the path of the AC72 and allowing it to go past was not navigating - but that was thrown out.
Apart from Mason, former Kiwi stalwarts observed watching for Oracle but not named in the alleged breach included Murray Jones and Simon Daubney. Team NZ may have been spied on, too, but did not make a protest.
Interest in the Italian and Kiwi teams' progress has been heightened by the speed they have attained in their giant AC72 America's Cup catamarans. Oracle and challenger of record Artemis have both been prevented from gaining invaluable training on the new, difficult boats by accidents that have caused major damage to their big cats.
All syndicates are now building their second boats - the ones that will actually be used for racing - using information gained from the first.
That is why some suspect that the jury might not take a gentle view of Oracle's spying, as plenty of data on the Italian and New Zealand boats will have been gained and it is a strong basis of America's Cup (and other) regattas that competitors should not gain an advantage from such measures.
The jury instructed Oracle to hand over to Luna Rossa and the jury itself all photographic material taken within 200m - not that that will reduce any of the knowledge gained.