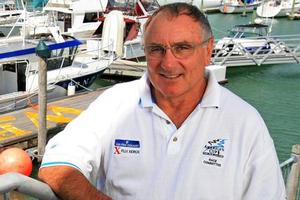 This is Harold Bennett. He is the Kiwi in the hot seat - the man in between warring America's Cup billionaires Larry Ellison and Ernesto Bertarelli - at this week's 33rd America's Cup regatta in Valencia between holders Alinghi and BMW Oracle.
Bennett, one of New Zealand yachting's best known coaches, characters and controllers is the principal race officer for the regatta which will decide (for the time being anyway) whether Alinghi retains the Cup or Oracle takes it away.
Two and a half years of legal action have been plonked firmly in Bennett's experienced lap. What the lawyers and courts could not decide, Bennett will have to.
Yet he is not immune to the sharp-edged politics that swirl around the America's Cup. Technically, he is appointed by the International Sailing Federation (ISAF). But he was recommended by Alinghi.
This is important because one of his main tasks will be to decide whether there can be racing every day - a task potentially laced with political poison. Last week, the latest round of America's Cup legal action saw the courts decide that Bennett would have sole discretion in deciding wind speed and wave heights for safe racing.
Alinghi had tried to impose limits on windspeed and wave height that would have advantaged a catamaran which will perform better in light airs and flat seas. If they had succeeded, wind and sea conditions favouring BMW Oracle's trimaran - said to be better in stronger breezes - would have been outlawed.
Meanwhile, BMW Oracle and Sir Russell Coutts will be pressing hard for racing to take part at the upper end of the scale, disadvantaging Alinghi.
Every day, Bennett will be lobbied by Coutts and by [Alinghi skipper] Brad Butterworth. If the pre-race reports are right, both will have opposing views on satisfactory racing conditions. Being in between strong personalities like Bertarelli and Ellison; Coutts and Butterworth is not for the faint-hearted.
"He is an Alinghi appointment," said Emirates Team NZ boss Grant Dalton. "Things like wind speed will be a quandary and everyone knows he was appointed by Alinghi because of historical things - and the eyes of the yachting world will very much be on that guy.
"I think, in the end, the question provides its own answer, though. If he felt he was being seen as favouring Alinghi, he would want to prevent that. I believe he will be fair to both teams equally."
Bennett seems to have the strength of character - and knowledge of the sport and main players - to withstand the political pressure.
He has coached sailors of all levels for more than 35 years including coaching and preparing sailors for five Olympic Games. He has coached and consulted to Coutts and Chris Dickson and established and directed the Royal NZ Yacht Squadron youth training programme, which is still churning out young sailing stars.
He has had a direct input into many of New Zealand sailing's sharp-end projects, including the Olympics (he coached the Sydney 2000 and 1996 Atlanta Olympic teams); the Volvo Ocean Race; and the America's Cup - and he has helped produce the high profile and many successes of NZ sailors on the world stage.
"He knows Coutts and Butterworth really well and he is not intimidated by them," said one yachting source. "He was race officer at the last America's Cup regattas here in New Zealand and he is a very, very special person."
In Valencia 2007, race officer Peter Reggio had the job but was passed over by Alinghi in favour of Bennett.
"I don't think he [Reggio] was seen as being too close to us specifically," said Dalton. "More like he was seen as not being close enough to them [Alinghi]". Reggio is now principal race officer for the entire Louis Vuitton series and performed that function in the prototype event in Auckland last summer.
Perhaps the last word should go to Bennett himself, interviewed on the official America's Cup website: "My relationship with Russell and Brad, and in fact a lot of the other guys out there on the boats, goes back something like 30 years, when a lot of them were sailing junior boats. How do I deal with that? I have a job to do. They have a job to do and on any given day, I'll guarantee that three of us do not agree. If that is the case then we will beg to differ on those occasions. But once it is all over, it's done. That's it.
"And although the three of us are all on different sides of the fence, we will do the jobs the best we can, we will look for the best solution... If either one of them don't like it, well, they will tell me... and we will get back to the friendships we have had in the past. I don't think that is an issue."