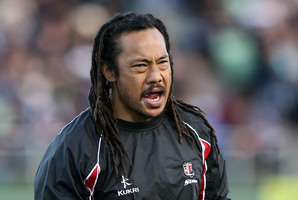 On every count the Tana Umaga decision is wrong.
It suggested all the things we find infuriating about the New Zealand Rugby Union.
When it came to a hard call, they fluffed their lines. They stared at the issue and melted - it was too hard.
A former All Black captain was in the dock, accused of verbally confronting referee Glen Jackson about decisions he felt did not go Counties Manukau's way in their ITM Cup game with Auckland.
The spray started down the tunnel and later moved into the referees' room as Umaga and physio Dan Halliday continued to berate Jackson until the pair were ushered out by another witness.
All sorts of piffling poppycock reasons were given for allowing Umaga some leniency.
He was an icon in the region; he was at the helm of their rugby renaissance and recent Ranfurly Shield win; he was passionate; he had apologised; the players respected him; yada yada yada...
That was code for the NZRU turning to water as they struggled to work out how to discipline the former All Black captain, the first Pacific Island leader who was leading the Counties revival.
The NZRU has been a strong critic of sideline abuse and they started up an Applaud programme several months ago to foster those beliefs in younger children and spectators.
Now a high-profile coach has let rip at a referee and been let off with a caution. Here's your wet bus ticket, off you go now to Counties' first Shield defence tomorrow against Taranaki.
What could the NZRU have done?
Dealt with the issue rapidly and convincingly for a start.
When Counties won the Shield, the NZRU obviously began to twitch about their strategy: how could they draw a curtain across Counties' finest moment in Shield history?
Umaga was remorseful and had apologised. They could fudge the situation by calling for time to interview all those involved and then mulling over the situation and appropriate reaction.
The outcome: Umaga was censured and given a two-game ban, suspended until October 31 which would only be activated if the coach reoffended.
Big deal.
Umaga can make his feelings known in a variety of ways through a number of platforms - media conferences or referee summaries to the NZRU.
Imagine his reaction if Jackson barged into Counties' dressing room and berated them for the way they had played and the attitude or indiscipline they had brought to set-pieces or the breakdown.
That would go down well, wouldn't it, and would endear Jackson to the appointments committee for further ITM Cup work next round.