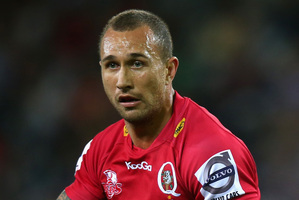 Asking the Super 15 coaches for their All Black squads would be absorbing.
There is some potential for misadventure, too, as Wallaby coach Robbie Deans discovered when he asked his franchise leaders for their thoughts on a squad to face the Lions.
That group will be announced tomorrow with interest in whether Quade Cooper, Israel Folau, Liam Gill and Hugh McMenamin make the cut.
The appointment of either James Horwill or Will Genia as captain will also be a focal point.
We got a gauge on some of the franchise coaches' ideas when their ideas trickled into the mainstream media earlier in the week.
It was all a touch embarrassing for the technical security of the ARU. Nothing else. Every coach will have different thoughts on who should make a test squad and why. It will depend on the style they want to play, fitness, the sort of game the opposition will bring, and form.
Ideas about form vary considerably, depending on whom you speak to. Those of us on the sidelines see very different qualities in players than selectors, who spend hours going through videotapes, crunching numbers, looking at technique, discussing plans and talking tactics.
Years ago, one All Black who liked to duke it out in discussion and loved a verbal rumble came up with an idea about giving the hacks the game plan so we could then assess players against the concepts. It was a fascinating idea which of course was never going to fly.
How could either side trust the other for a start? Coaches and players were wary of information becoming as public as it has for Deans.
The concept did not account for weather and match fluctuations which forced on-field switches or for those who thought it was all double-bluff, smoke 'n' mirrors baloney anyway.
An additional argument was that the coaches and players had a job to do and we were paid to give our views on the outcome. Most of us argued that a separation of powers was healthier for the game.
We are heading towards the cull for the All Black squad, probably Kieran Read as an interim captain and the June tests with France.
A few may be wounded before then but the form of a few players away from the twin training camps should also affect the test choice.