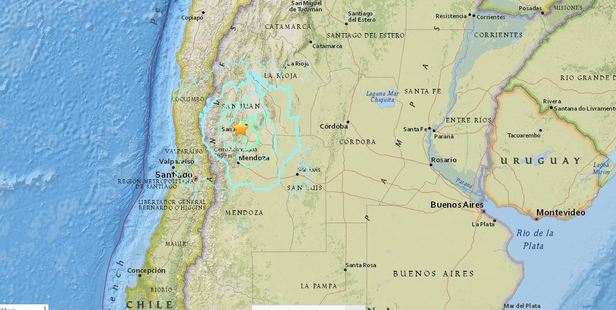 A 6.4 magnitude earthquake has hit Argentina, according to the US Geological Survey.
The quake struck 5.57pm local time on Sunday (today 9.57am) and was felt as far away as Chile's capital Santiago. There is no word yet on casualties or damage.
It is the second quake to strike the region in eight days, according to the Independent.
The centre of the quake was 25 kilometres southwest of San Juan, the north western region of the country and close to Chile.
Sismo fuerte pero profundo en Argentina M6.4
- 10km al SSW de Zonda, Nov 20/17:57h Pf 115.8 kmhttps://t.co/85w2SS1ESQ pic.twitter.com/gkxBetwzyD

— Geól. Sergio Almazán (@chematierra) November 20, 2016
Chile's seismological agency put the preliminary magnitude of the earthquake at 6.5, while the US Geological Survey (USGS) put the magnitude at 6.4. The USGS said there was a low likelihood of damage or casualties.
It was measured as fairly deep below ground, striking more than 115 kilometres below the Earth's surface, which lessens the effects.
On 13 November a 6.2 magnitude earthquake struck northwestern Argentina around 8am local time, at a depth of about 99 kilometres, and no serious injuries were reported.