They survived Boko Haram. Now many of them are on the brink of starvation.
Across the northeastern corner of this country, more than three million people displaced and isolated by the militants are facing one of the world's biggest humanitarian disasters. Every day, more children are dying because there isn't enough food. Curable illnesses are killing others. Even polio has returned.
About a million and a half of the victims have fled the Islamist extremists and are living in makeshift camps, bombed-out buildings and host communities, receiving minimal supplies from international organisations. An additional two million people, according to the United Nations, are still inaccessible because of the Boko Haram fighters, who control their villages or patrol the surrounding areas.
"We will see, I think, a famine unlike any we have ever seen anywhere," unless immediate assistance is provided, said Toby Lanzer, the top UN official focused on humanitarian aid for the region.
The staggering hunger crisis created by the insurgents has been largely hidden from view, partly because it has been extremely dangerous for aid groups and journalists to visit the area. But institutional failures have exacerbated the situation: For over a year, the United Nations and humanitarian groups dramatically underestimated the size of the disaster, and the Nigerian government refused to acknowledge the huge number of people going hungry in Africa's second-richest nation. Thousands of people have already died because of the inaction, aid experts say.
"It's just a complete failure of the system," said Natalie Roberts, an emergency programme manager with Doctors Without Borders, an international aid group.
It took over a year for UN humanitarian teams to arrive in cities that were "liberated" from the rebels by the Nigerian military in a major offensive starting in early 2015. Until recently, the United Nations had only tiny staffs working in the northeast. The world body had deferred to Nigeria's woefully unprepared government agencies to provide assistance, not realising, UN officials said, the scale of the disaster.
Even now, the United Nations admits that it is distributing food to only a fraction of those who need it. It says its mission in Borno state, the focus of the crisis, is dramatically underfunded. UNICEF warned recently that as many as 75,000 children will die in famine-like conditions in Borno and two adjacent states over the next year unless more assistance arrives.
The rising toll of the crisis is evident in such places as Banki, a city of about 15,000 near the Cameroonian border that was controlled by Boko Haram until a year ago. On a recent morning, four malnourished children writhed in beds in a clinic run by Doctors Without Borders.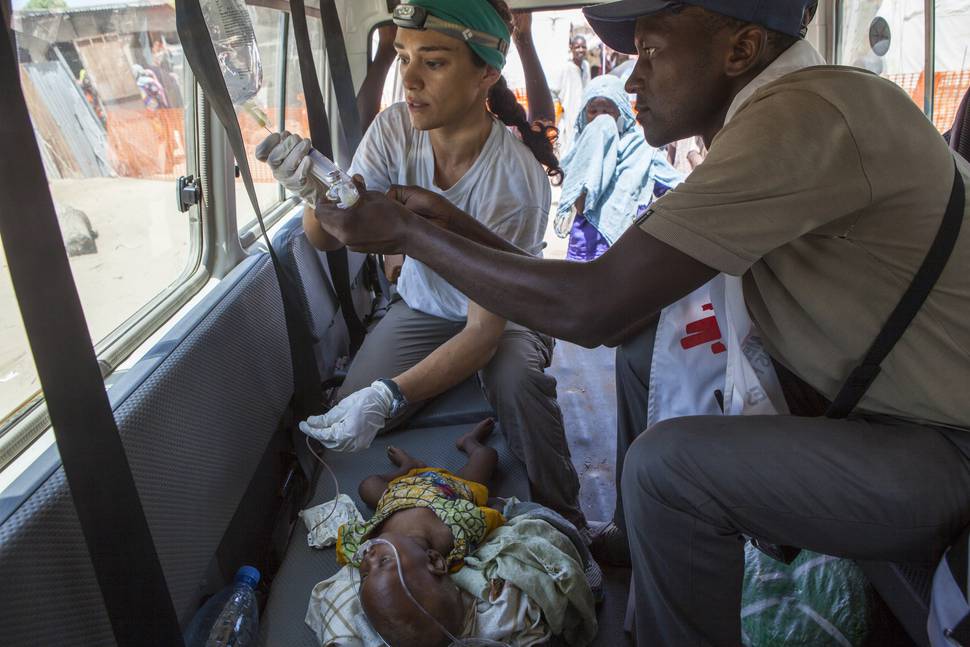 One of them, Fana Ali, was 6 months old but weighed only 12 pounds (5kg), her skeletal frame convulsing with each breath. She wore a tiny, bright yellow dress and she had big brown eyes. A doctor fed her sugar water through a syringe. She locked her lips around it.
Less than an hour after she arrived at the clinic, health workers decided Fana needed to be evacuated to a hospital with electricity and more medicine. Xavier Henry, the local coordinator for Doctors Without Borders, called the Cameroonian military for an escort. This is still a war zone, and access to roads is largely dictated by the armed forces in the region.
But the request was rejected without explanation. Thirty minutes later, Fana died. She had malaria and severe acute malnutrition.
The baby's aunt carried the body back to their two-room home. Fana's mother, Adama Adam, wept, the tears streaking onto the blue headscarf wrapped under her chin. She was only 15, her skinny arms mostly hidden under flowing clothes.
"We never have enough food," said Jeme Bukar, Adam's cousin, who lives in the same house.
Male relatives washed Fana's tiny body and placed it in a wheelbarrow. Then they picked up shovels and axes, walking toward the packed cemetery just outside the town.
"I tried to call for the escort," said Henry, shaking his head, his voice cracking.
His last posting was in Yemen, where yet another hunger crisis was unfolding. But the desperation and the scale of the problem in Nigeria have leveled him.
"I've never seen anything this bad," he said.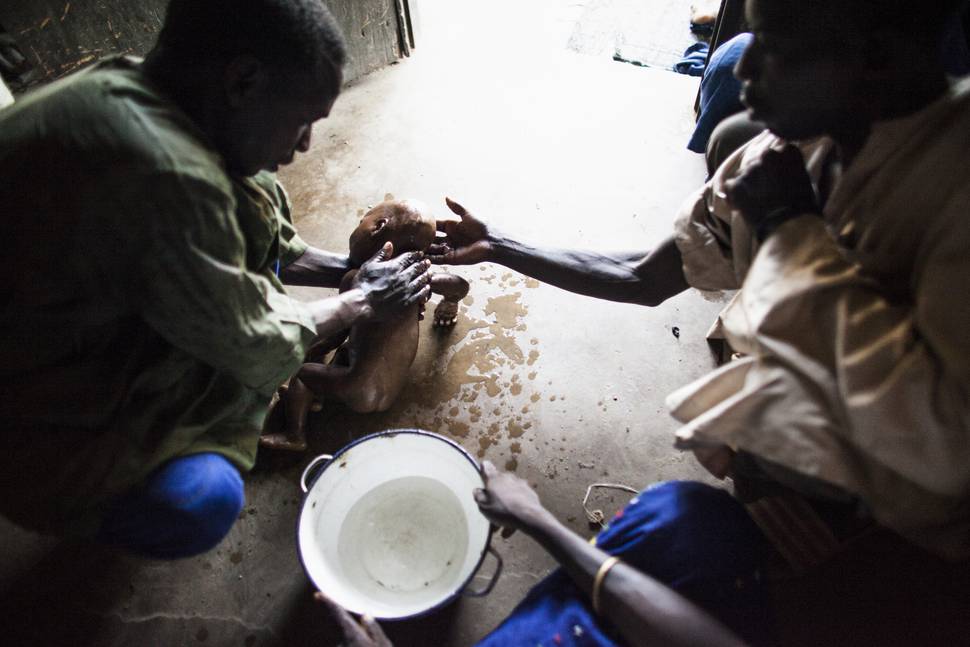 "Every time I think I know how bad it is, we get more data and it's worse," said Arjan de Wagt, the head of nutrition at UNICEF in Nigeria.
In parts of Maiduguri, the relatively safe capital of Borno, where more than a million people fled and where aid groups have been working for two years, many are still dying of malnutrition. There is not enough food being distributed in enough places to sustain them. The mortality rate in some camps and informal settlements is five times what is considered an emergency, according to Doctors Without Borders.
"Each time we hear of these [gaps in aid] we try and verify and, if we can, begin a distribution," said Mutinta Chimuka, the head of field operations for the World Food Program in northeastern Nigeria.
The government still does not publicly acknowledge how dangerous the state remains. Last month, President Muhammadu Buhari said in a speech that residents in Borno and neighboring Yobe and Adamawa states lived in relative safety. "Commuters can travel between cities, towns and villages without fear," he said.
But in July, a UN convoy was attacked by Boko Haram gunmen outside the city of Bama, which is east of Maiduguri. The vehicles were armoured and no one was injured.
In August, the United Nations sent two helicopters to Maiduguri, to fly humanitarian workers to reclaimed cities across Borno. Late last month, a Washington Post reporter and photographer traveled with aid workers to three newly accessible cities across the state.
But a huge portion of the state is still off-limits, too dangerous for the helicopters to land.
"You look out the window and you wonder: How bad are things down there? We just don't know," said Carmen Yip, an emergency health coordinator with the International Rescue Committee.
'Barely surviving'
The city of Gwoza, the former headquarters of Boko Haram, is still scarred by the years insurgents ran it. Hundreds of buildings are charred, missing roofs and crumbling from rocket-inflicted damage.
Now, the city is controlled by Nigerian forces. Days after they seized the town in March 2015, Gen. Chris Olukolade, a military spokesman, visited from the capital with a group of journalists, telling residents, "Everything you have gone through is very bad, but this is the end."
But more than a year later, many of those living here are barely surviving.
Ramatu Musa, 22, and her extended family live in a bombed-out house near the center of the city. They fled from nearby Hambada village over a year ago, after Boko Haram fighters overran it.
They have enough food to eat only one meal a day, and Musa has struggled to feed her baby daughter.
"The breast isn't bringing milk," she said.
In many cases across Borno, mothers are eating so little that they are unable to breast-feed - a major cause of child malnutrition. At a UNICEF clinic in Gwoza, one doctor reported seeing as many as 70 malnourished children a day.
"We need more food, oxygen, a blood bank, IVs, an ultrasound," said Ernest Okoli, a doctor, standing outside his clinic in a former courthouse, where patients were being treated on the floor. "Should I go on?
Many of the hungry are hidden away in war-ravaged neighbourhoods and haven't been included in any rough population count. The United Nations estimates that there are about 36,000 displaced people in Gwoza. But the top military commander there put the figure at 80,000.
More are coming every day.
When they arrive here, escapees tell of villages under Boko Haram control, some of them taken recently.
"They destroyed everything," said Alima Auza, 30, who escaped as her village of Bura Manga was attacked by insurgents last month.
The Nigerian military has formulated its own strategy to end the war: starve the enemy. It is now blocking all food, including from regional markets, from entering parts of Borno where Boko Haram might be lurking.
That has contributed to the possibility that hundreds of thousands of civilians held or isolated by insurgents could starve alongside fighters.
"We know when we get there, we are going to see some scenes that will disturb us greatly," Taylor said.
Kevin Sieff has been The Washington Post's Africa bureau chief since 2014.