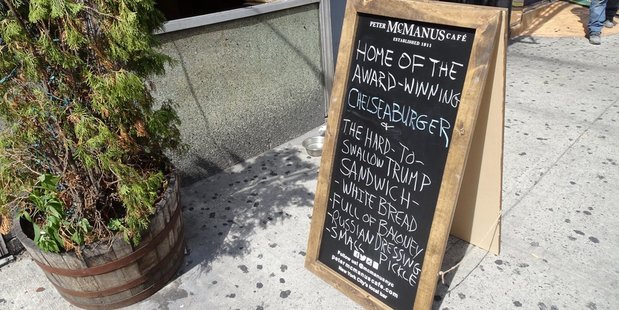 Cafes across the world are serving a very topical lunch - the Donald Trump sandwich.
On boards outside the venues, they advertise it as having "white bread, full of baloney, with Russian dressing and a small pickle".
A board outside the Harlem Cafe in Belfast was retweeted by over one hundred people - but it appears the food isn't an Irish delicacy.
.@Harlembelfast offering a "Trump sandwich" this lunch time . pic.twitter.com/yx2C4a2RqM

— Niall McCracken (@Niall_TheDetail) September 23, 2016
In New York...
Trump sandwich in @NYC. pic.twitter.com/NW86ZVKhxv

— Matt G (@meteoronomist) July 30, 2016
In New York again...
McManus Cafe's new Trump Sandwich says it all - thank you to John Koester for the photo pic.twitter.com/mUa2SgPoOS

— Paul DiMaggio (@paul_dimaggio) September 19, 2016
Oh look, it's in Canada too:
Trump Sandwich... pic.twitter.com/FuLaMkinfF

— Nouriel Roubini (@Nouriel) September 27, 2016
And it's in San Francisco
Trump Sandwich: full of baloney, small pickle. pic.twitter.com/efTVuVMPq9

— Paul Supawanich (@tweetsupa) September 24, 2016
And Florida...
This restaurant knows how to capitalize on the times #TrumpSandwich pic.twitter.com/hpGGnIpapL

— Harrison Korb (@HouseOHysteria) September 11, 2016
And even in Sweden
Now serving in central Stockholm! @realDonaldTrump #Trump #TrumpSandwich pic.twitter.com/zMpFgXkjNt

— Samir (Sam) Madani (@Samir_Madani) August 30, 2016