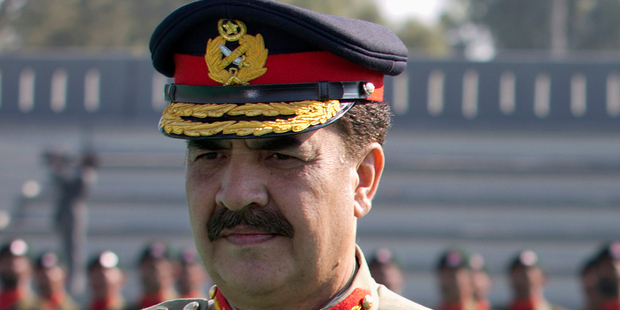 The head of Pakistan's armed forces is this morning due to meet with senior commanders after the clashes in the capital city that left three people dead and hundreds injured.
In a move that at the very least raises the prospect of the military taking a more central role in the stand-off between protesters and the government that has seen parts of Islamabad brought to a halt for two and a half weeks, General Raheel Sharif brought forward a meeting of his so-called corps commanders.
The announcement came after a weekend that saw protesters clashing with police, as the demonstrators tried to march on the Prime Minister Nawaz Sharif's official residence. Police responded by firing tear gas and hitting protesters will bamboo sticks.
The 20,000 or so demonstrators who have besieged Islamabad are part of two different protest groups. One is led by the cricketer-turned-politician Imran Khan, who has claimed that last year's election, which Mr Sharif won handsomely, was rigged.
The other group is led by a Muslim cleric Tahir ul-Qadri, who also claims Mr Sharif is corrupt.
Both groups have said they will not leave until the government stands down. "I am prepared to die here." Mr Khan said yesterday evening, according to Reuters.
The protesters have been holding demonstrations since they assembled in Islamabad in mid-August. When they tried on Saturday evening to march on the Prime Minister's house, police used tear gas and batons to repel the protesters, many of whom were armed with sticks and sling shots. Officials confirmed that three people had been killed and hundreds needed treatment.
Mr Sharif was elected to his third term as Prime Minister in May last year, with Mr Khan's Pakistan Tehreek-e-Insaf (PTI) party coming second in many major cities. Mr Khan accepted the results, but called for a probe into alleged vote rigging. He launched his so-called freedom protest after claiming the government and the election commission had failed to follow up on its agreement to launch an inquiry.
Yesterday, Mr Khan also faced claims from his own senior party members that he had allowed the protesters to go too far. Veteran Pakistani politician Javed Hashmi claimed the party had agreed protesters would not march on the PM's house but that had been overturned by Mr Khan.
"No distance has been left between martial law and us," said Mr Hashmi, who said he could not support protesters marching to the PM's home.
Mr Sharif has insisted he will not stand down and has accepted the protesters' demands for a court-appointed inquiry of a number of disputed constituencies.
- The Independent