Rescue of trapped Yazidis could involve limited military operation.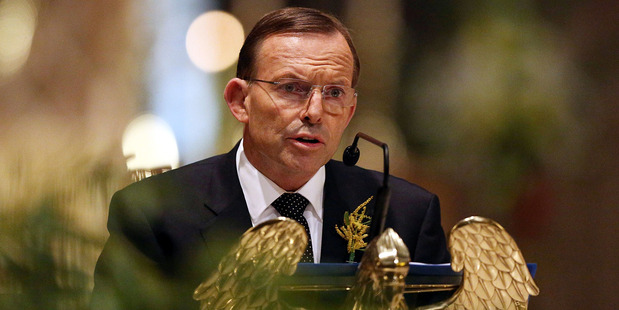 Australia is considering joining the United States in a limited military operation to rescue as many as 30,000 Iraqi refugees trapped on a barren mountain in the north who face massacre by extremist Isis (Islamic State) forces.
Although both the US and Australia have rejected the return of combat troops to Iraq, American defence officials are reportedly working on a plan to launch a mission to prevent "potential genocide".
Prime Minister Tony Abbott has confirmed options are being considered by allied nations.
Australia has joined the US in dropping relief supplies to the besieged Yazidi refugees on Mt Sinjar. Both say the operation is confined to humanitarian relief.
"There will be no reintroduction of American combat forces into Iraq," US Secretary of State John Kerry said after the annual Ausmin foreign affairs and defence talks with Australian counterparts in Sydney. "That is the beginning of the discussion."
But the US has sent a further 130 special forces soldiers and marines to the city of Erbil, in the Sinjar area. A defence official told Associated Press their mission was to "assess the situation in the Sinjar area and to develop additional humanitarian assistance options beyond current US efforts there".
The Wall Street Journal reported that the Obama Administration was considering an operation to rescue thousands of Yazidi refugees on Mt Sinjar. US officials said the proposal was one of several options being considered and had not been signed off by President Barack Obama.
"People are looking at ways to do something more than just drop water and supplies," one senior US official told the newspaper. "You can only do that for so long."
Tens of thousands of Iraqis have fled into areas held by Kurdish forces as Isis approached. The group has slaughtered thousands of civilians and captured Iraqi soldiers in the large areas it has conquered in Syria and Iraq. In London, after meeting senior British ministers and intelligence officers, Abbott said Australia's role at this stage would remain purely humanitarian.
Read more:
*More US special operations troops arrive in Iraq
*Britain to help Kurdish forces in Iraq
"At this stage I want to stress that this is very much a humanitarian mission to try to ensure that tens of thousands of people are not exposed to the murderous zealotry of the Islamic State," he said.
But he also said military action was not being ruled out in options being developed by a number of allied countries.
Defence Minister David Johnston said the military had so far committed to sending two unarmed C-130 Hercules transport planes for humanitarian aid air drops to begin within two or three days.
Australian combat forces were pulled out of Iraq in 2008. While Labor and the Greens support relief operations, both main Opposition parties are opposed to the return of troops to Iraq, although Labor is cautious in its response.
"Let the Government be crystal clear about their intentions and we would then respond after receiving full briefings," said shadow treasurer Chris Bowen. "We would need to see what President Obama's next steps are and how the Australian Government intended to respond."
Abbott said Iraq's problems could be solved only by the Iraqis themselves and not by foreign military intervention. "Australia will provide what assistance we reasonably can to protect the people who are at risk not just from the elements, from starvation, from dehydration, from exposure on Mt Sinjar, but also who are at risk from [Isis] forces.
Abbott said he would "certainly not rule out" limited military operations. "We are talking to our partners and our partners, in this instance, are certainly much wider than simply the United States and United Kingdom, but we are talking to our security partners about what we can usefully do to help. So I am not going to go into detail about precisely what was discussed ... Australia is not without capacity and we want to use the capacity we have for good."
Watch: US Airstrike targets Militants in Iraq
Aid for Iraq
A helicopter carrying aid to trapped people on Mt Sinjar crashed during takeoff in the north, killing a pilot and injuring Yazidi MP Vian Dakhil.
United States
Conducted a sixth airdrop of 108 bundles of food and water for thousands of Iraqis on Mt Sinjar. Also 130 more military advisers sent to northern Iraq. US drones fired on an Isis mortar position to protect Kurdish forces.
Britain
Promised to send a small number of Chinook helicopters for humanitarian relief operations. Downing St also said it was planning with the US and Kurdish leaders to get those trapped on Mt Sinjar to safety. Agreed to transport military supplies for the Kurdish forces "from other contributing states" to protect refugees. Also fast-tracked 3 million pounds assistance.
France
Has dropped water, tents and medicine to Yazidis sheltering on the mountain. France pressed the EU to arm outgunned Kurdish fighters.
Germany
Planned to send vehicles, night-vision gear and bomb detectors to the Iraqi Government, which could then pass them to the Kurds.
European Union
The European Commission pledged 5 million Euros to help aid organisations across northern Iraq. Hungary and Poland also announced more financial assistance.
Australia
Joining humanitarian airdrops and may at some stage have greater military involvement.
- additional reporting AP, AFP