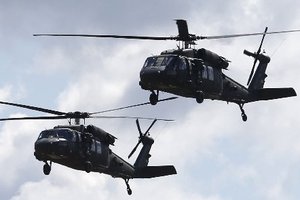 Another 130 US troops have arrived in Iraq on what the Pentagon described as a temporary mission to assess the scope of the humanitarian crisis facing thousands of displaced Iraqi civilians trapped on Sinjar Mountain.
Defense Secretary Chuck Hagel announced the deployment in remarks to Marines at Camp Pendleton, California.
Watch: US Airstrike targets Militants in Iraq

"This is not a combat boots on the ground kind of operation," Hagel said. "We're not going back into Iraq in any of the same combat mission dimensions that we once were in in Iraq," he added, referring to the eight-year war that cost more than 4400 US lives and soured the American public on military involvement in Iraq.
Another defence official, speaking on condition of anonymity to provide additional details on the sensitive mission, said the extra troops are Marines and special operations forces whose mission is to assess the situation in the Sinjar area and to develop additional humanitarian assistance options beyond current US efforts there.
Still another official said the mission for the 130 troops could last less than one week.
Hagel referred to the 130 as "assessors."
Read more:
* Britain to help Kurdish forces in Iraq
* US had no choice but to act against Islamic State - Editorial
* Iraq's Yazidi refugees exhausted and starving
* US action against Isis in Iraq boosts Kurdish morale
The additional troops arrived yesterday in the city of Irbil, well east of Sinjar. They are to work with representatives of the State Department and the US Agency for International Development to coordinate plans with international partners and non-government organisations to help the trapped Yazidi civilians on Sinjar Mountain.
The move shows the Obama administration is weighing the impact and implications of several days of targeted airstrikes on the Islamic State fighters and how that has affected US-backed Kurdish forces opposing them in northern Iraq.
President Barack Obama has said repeatedly he will not send ground combat forces back into Iraq.
One immediate dilemma is the fate of thousands of displaced Yazidis in the Sinjar area who have been provided with food and water delivered by US cargo planes in recent days. Washington also is considering how to increase its military assistance to the Kurds, whose militia is outgunned by the militants.
Watch: Iraqi Airstrikes Target ISIS Outposts

The 130 are in addition to 90 US military advisers already in Baghdad and 160 in a pair of operations centres - one in Irbil and one in Baghdad - working with Iraqi security forces. They are in addition to about 455 US security forces and 100 military personnel working in the Office of Security Cooperation in the US Embassy in Baghdad.
Meanwhile, Britain says it will transport military supplies from other states to the Kurdish forces battling jihadist militants in northern Iraq, and will send Chinook helicopters to assist its aid mission.
"We are sending a small number of Chinook helicopters to the region for use if we decide we need further humanitarian relief options," said a statement from Prime Minister David Cameron's office.
"We have also agreed to transport from other contributing states some critical military re-supplies for the Kurdish forces."
Downing Street could not immediately comment on which states would be providing the supplies.
The statement was issued after British Foreign Secretary Philip Hammond had chaired a meeting of the emergency response committee COBR and following a telephone conversation between Cameron and Australian counterpart Tony Abbott.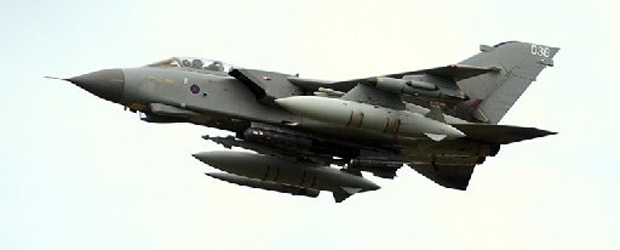 A British RAF Tornado. Photo / AFP
British Tornado fighter jets were launched to provide surveillance support for its humanitarian aid effort to help refugees fleeing jihadist Islamic State (IS) fighters in northern Iraq, soon after making a second airdrop.
Britain's Ministry of Defence (MoD) confirmed that the Royal Air Force (RAF) had sent Tornado aircraft from RAF Marham in south east England, fitted with reconnaissance pods.
The planes were bound for RAF Akrotiri in Cyprus, where they would be ready "to provide vital intelligence".
The MoD would not confirm how many aircraft had been sent, but the BBC reported three jets had taken off at 2pm (3am Wednesday NZT).
Downing Street stressed that Britain's "focus remains the humanitarian situation", particularly the Yazidi refugees trapped on Mount Sinjar. Three UK aid drops have now taken place, with RAF planes delivering 3180 re-usable water containers, filled with a total of 15,900 litres of clean water, and 816 solar lanterns.
"Meanwhile urgent planning to get those trapped on the mountainside to safety will continue in the coming days between ourselves and US, the Kurdish authorities and other partners," added a Downing Street spokesperson.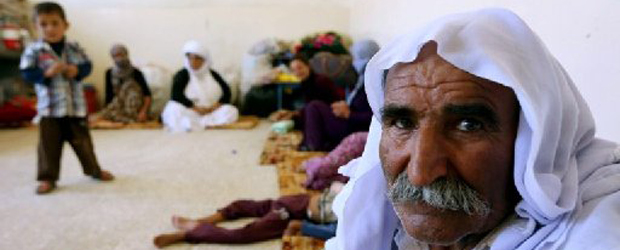 Yazidi families are in grave danger. Photo / AFP
An Iraqi lawmaker who helped bring attention to the plight of besieged members of her Yazidi community was wounded yesterday in the crash of a helicopter delivering aid, officers said.
The Iraqi pilot was killed when the chopper, packed with rescued Yazidis, crashed during takeoff after delivering aid to Mount Sinjar. The crash happened because too many people tried to climb aboard, an army spokesman said.
Yazidi MP Vian Dakhil, whose emotional appeal in parliament on the plight of people stranded on the mountain made her the public voice of her community, was injured in the crash.
A New York Times journalist also sustained non-life threatening injuries in the crash, the paper said. There was no immediate report of any Yazidis aboard being injured.
Watch: Couple channel grief into soldiers' retreat

Thousands of members of the Yazidi minority are trapped on the mountain in northwestern Iraq with little food or water by jihadists from IS who overran the region.
The UN refuge agency put the number of people on the mountain at 20,000-30,000, while UN minority rights expert Rita Izsak warned they face "a mass atrocity and potential genocide within days or hours."
Insurgents led by IS jihadists launched a sweeping offensive in June that has overrun large areas of five Iraqi provinces and displaced hundreds of thousands of people.
The US military is carrying out air strikes against militants in north Iraq, including yesterday on a mortar position it said was firing on Kurdish forces attempting to defend Yazidis north of Sinjar.
- AP / AFP