Rent-a-womb trade in spotlight after convicted sex offender leaves Down baby with surrogate mum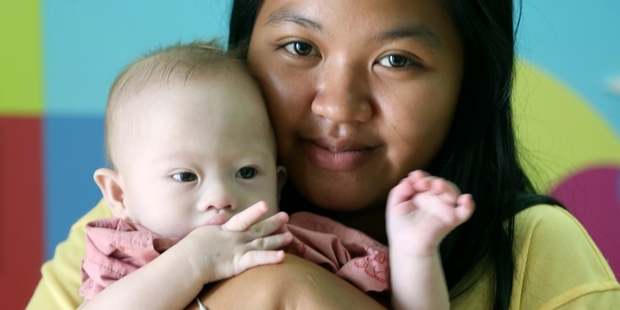 He's the convicted sex offender who met his wife through a mail-order bride agency.
She's the surrogate mum who gave birth to their twin babies and was left holding the one with Down syndrome.
This week little Gammy became the heart-wrenching symbol of a burgeoning rent-a-womb trade that cashes in on the most vulnerable.
For some desperate wannabe parents, commercial surrogacy delivers the previously inconceivable. For a poverty-stricken host, the nine-month gig can generate life-changing bounty.
But the disabled infant's plight has highlighted the dark side of so-called fertility tourism in developing countries where a lack of regulation provides fertile ground for emotional, ethical and legal turmoil.
In Thailand, Gammy's case appears to have hardened the stance of authorities now cracking down on a growing number of IVF clinics and agencies offering commercial surrogacy and gender selection services.
For years authorities turned a blind eye to lucrative womb-for-hire arrangements, but foreign couples who thought they had secured a reliable passport to parenthood now risk prosecution under human trafficking laws.
"Families with a current pregnancy there are in something of a limbo," says advocate Sam Everingham.
He says an increasing number of New Zealanders are seeking surrogacy services in Thailand, making up around 5 per cent of an estimated 250 Australasian couples who pay for Thai women to carry their babies each year. Around 20 are in the country at any one time.
"The changes will increase the dangers significantly for any couples who try and flout the rules in the future," he says.
Ten days after first coming to the Thai public's attention, Gammy has prompted a global outcry and fundraising campaign that's raised well over $200,000 to help with his long-term care.
The money flowed after surrogate mother Pattaramon Chanbua claimed the biological parents returned home to Australia with the healthy twin sister, but didn't want anything to do with their son because he had Down syndrome.
When the heartless couple discovered his condition, she said, they asked her to have an abortion.
Until this week Pattaramon had no idea the father, David Farnell, was a convicted paedophile who served time in prison for child sex offences against three young girls.
It has, say friends, been the worst week of his life.
Farnell even felt the wrath of animal lovers. In fleeing his house in Bunbury, 170km south of Perth, to avoid a media pack camped outside, he also left the family dog unattended in the backyard. It paced and barked for three days before RSPCA officers came to the rescue.
Yesterday there was still no sign of the 56-year-old, his Chinese wife, Wendy, or their 7-month-old daughter.
West Australian child protection officers who have contacted the couple by phone are considering their options, including the possibility of taking the baby girl into care.
One of Farnell's three grown-up children from his first marriage said their dad was "awesome and amazing".
"He's just got a massive heart," the son, who did not want to be named, told Fairfax Media. "He's made mistakes, we've accepted it ... he's made up for them."
He said Farnell retained a strong relationship with his ex-wife.
"We are all real tight. He's taken 10 years to get his life back on track, and he did, and he has done so well and this has been shattering."
The electrician was jailed in 1997 after pleading guilty to molesting a 7-year-old and a 10-year-old girl at his home. The crimes dated back to the early 1980s, but only came to light when the victims came forward as adults years later.
While in jail, police charged Farnell with more offences against another girl in the mid-1990s. Despite his denials, a jury found him guilty.
Justice Michael O'Sullivan said the girls had been "robbed of their childhood" and suffered emotional problems.
In early 2004 Farnell is thought to have met second wife Wendy Li through a Qpid Network matchmaking website, ChnLove.com.
They were introduced by the Zhanjiang Happy Marriage Agency, a company that markets mail-order brides.
According to the website, Farnell travelled to China to meet Li, popped the question soon afterwards and the couple married that October.
Their union is billed as one of the network's success stories. "From the day they met to the day they got married ... David and Miss Li were very responsible and sincere to their marriage," says the Qpid site.
A decade on, the couple's experience with another agency Bangkok-based IVF Parenting looks unlikely to be the subject of glowing testimonials.
Their twins were born two months premature and remained in a Thai hospital for a month.
Shortly after the story broke in Australia last weekend, the ABC quoted Farnell, at that point not publicly identified, denying any knowledge of the little boy. He said the clinic doctor had only mentioned the girl.
Later, an unnamed family friend told the local Bunbury Mail newspaper the parents did know about Gammy and his condition, but were told he was very sick.
"The biological parents were told he would not survive and he had a day, at best, to live and to say goodbye," added the friend, who said the Farnells were "traumatised" by the ordeal and had to leave Thailand because of the military coup.
"[They] were heartbroken that they couldn't take their boy with them and never wanted to give him up. But to stay would risk them losing their daughter also."
Everingham, who runs Sydney-based Families Through Surrogacy, finds the parents' version of events implausible. "Given what I know of hundreds of cases of westerners engaged in Thailand, I think the surrogate's story is more credible than the intended parents," he says.
The surrogate mother says Gammy's disability was discovered four months into the pregnancy. Although doctors told the parents, she was kept in the dark until shortly before he was born.
She said the parents told agent Kamonthip Musikawong they couldn't take the boy because they were too old to look after twins.
"[The father] did not buy milk for Gammy," the surrogate mum told the ABC. "He only bought milk for the girl.
"The twins stayed next to each other but the father never looked at Gammy ... I could say he never touched Gammy at all."
The agent disputes that account. She claimed that while abortion was discussed, the couple later pleaded to take Gammy back to Australia.
Eventually, the surrogate mum volunteered to raise the boy. "She said, 'I will take the Down baby. I will take the boy. Nobody need to worry'," Kamonthip told the ABC.
The agent and surrogate are also in dispute over payment. Pattaramon claims she has yet to receive all of the 500,000 baht ($18,350) fee, but Kamonthip insists the full amount was paid in instalments.
It's an agonising experience that didn't stop Pattaramon, a 21-year-old married mother-of-two, from later trying to recruit new surrogates and donor eggs for other agencies.
"We want people who really want to do this work," she reportedly said on Facebook posts that have since been deleted. "You will have the thanks for devoting your body to the people who want your baby."
Everingham believes the confusion and conflict that surrounds so many aspects of the case highlight a need for greater counselling and education of would-be parents and surrogates.
He says the prospect of a disability - and what to do about it - should have been discussed and agreed in advance by the Farnells and Pattaramon.
"These are very important topics to be discussing up front and how each party would deal with it," says Everingham.
"Surrogates and intended parents should talk about all kinds of issues, from what the surrogate will be eating to termination, before they proceed, and have a clear understanding of each other's views.
"If they're not on the same page they shouldn't be engaging together."
Surrogacy supporters argue that most arrangements result in thrilled parents returning home with a healthy child they never expected to have.
For critics, it's a booming industry wide open to exploitation of surrogate mothers in developing nations, and desperate couples willing to often pay tens of thousands of dollars to realise a long-held dream.
David and Wendy Farnell had to go overseas because, like New Zealand and many other countries, commercial surrogacy is illegal in Australia.
As residents of Western Australia, they were able to enter into an agreement abroad, but state laws prevent people in Queensland, NSW and the ACT from doing the same thing.
Thailand has become an increasingly popular destination for Australians since Indian authorities tightened regulations in 2012.
Parts of the United States and Mexico, and countries like Ukraine and Georgia, also allow surrogates to be paid to bear the children of other couples.
The fallout from Gammy's plight could be far-reaching.
Although the legal position in Thailand remains unclear, authorities are reported to be fast-tracking a draft bill which will outlaw commercial arrangements and only permit surrogacy when couples who cannot conceive use a blood relative to carry their child.
Health officials also raided a Bangkok IVF clinic, and there is talk of possible prosecutions against two doctors who performed procedures relating to Gammy's birth.
In WA, child protection officers are investigating the wellbeing of his twin sister. Farnell's son said his father would soon release a statement that will "clear everything up".
The baby at the centre of the affair continues to recover from a serious lung infection in a Bangkok hospital.
"He was in my tummy for nine months," the surrogate mum told Fairfax. "It is like my child. I love him like my own."