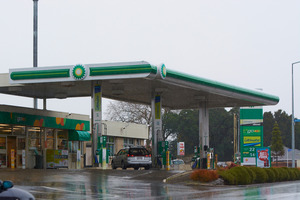 A "small number" of BP New Zealand's trucks have been recalled for inspection following an incident in Australia in which three people died.
A 4-year-old boy and two women, aged 67 and 33, were killed when their cars were crushed by a BP trailer which had detached from the tanker on Wodonga-Yakandandah Rd, south of Wodonga, Victoria, yesterday morning.
It is believed the trailer detached from the tanker as it went around a bend, drifted onto the other side of the road and collided with two oncoming vehicles, Australian media reported.
BP Australia president Andy Holmes announced it would begin an inspection programme and recall its entire fleet in Victoria. Other trucks in Australia with a similar configuration as the one involved in the incident would also be checked.
BP New Zealand has since confirmed that it would follow suit.
A "small number" of its 43 fuel distribution trucks -- the ones with a similar truck and trailer configuration as the truck involved in the Australian incident -- had been pulled off the roads for inspection, the company said in a statement.
"While the cause of the incident is as yet unknown, as a precautionary measure all are currently being inspected," the statement said.
"BP remains confident that all our trucks are operationally safe, due to our rigorous and regular maintenance and testing programmes."
Earlier, a spokesman said BP had an "excellent safety record in New Zealand", but the incident had highlighted the need for extra vigilance.
- APNZ