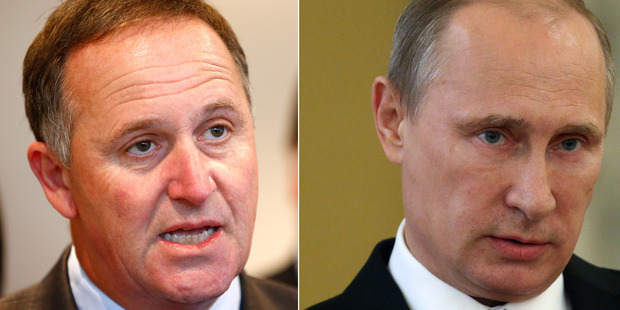 Prime Minister John Key says he is "deeply concerned" by the lack of access to the MH17 crash site.
At his first press conference since a pre-election break in Hawaii, Mr Key said the Government called on Russian President Vladimir Putin to show leadership.
"He now needs to stand up and tell the rebels to back off to ensure that there's access [to the crash site] and a full corridor of access, so that all information can be gathered.
"This is a time of enormous trauma and stress for the families involved and when we see reports of passports and other information being removed, that is simply adding to the stress," Mr Key said.
"Those families absolutely at the bare minimum deserve access to the black box, to all of the information and for all of those who are responsible to be held to account.
"International leadership is required - President Putin has to show that leadership and we are deeply concerned that a 24-hour organised ceasefire's failing to deliver the results - and we feel deeply for the New Zealanders involved."
Mr Key said he had spoken to Australian Prime Minister Tony Abbott and Malaysian Prime Minister Najib Razak about the tragedy and would be talking to Netherlands Prime Minister Mark Rutte later today.
"Together we have been very I think shocked, stunned and very saddened by what's taken place.
"I think, outside of all of this, it actually adds to the stress of international travellers generally, this is now a time where people will be concerned and that is now another worrying factor.
"The international community has to step up and it has to demand of President Putin - as the only person who can really make this happen - to ensure that those rebels back off and that a proper, thorough and full investigation can take place.
"We can't sit back in what is a totally unacceptable situation," Mr Key said.
"I think every international leader is now concerned by what they see...a commercial airline has been shot out of the sky, 298 people have lost their lives and we're now in the ridiculous situation where a proper investigation can't take place because the right people are not stepping up to the plate and doing something about it."
A free trade deal with Russia was now "the furthest thing from our mind", Mr Key said.
"At the end of the day what we are concerned about is justice for those families that lost a loved one."
Read more:
•MH17: 'We take comfort that they were together'
• MH17: Friends mourn former Queenstown man
• MH17: Mum of victim has no anger
• MH17: Family who lost two members on flight MH370 have lost two more on MH17
In the latest developments today, Ukrainian officials have accused the rebel militias that they blame for the downing of the Malaysia Airlines jet of moving bodies and tampering with evidence, steps that could make determining the exact circumstances of the disaster far more difficult.
Almost two days after Flight 17 from the Netherlands was downed by a missile over rebel-held territory in the east of Ukraine, representatives from the Kiev government had still not been allowed access to the mammoth crash site, and rebels were preventing local emergency services personnel from gathering evidence, Ukrainian officials said.
"They're playing a game with the state. They behave as an independent country. The reason is to make all the procedures illegitimate," said Konstantin Batozsky, an adviser to Serhiy Taruta, governor of the Donetsk region.
He said that during the night, rebels had removed 37 bodies to a hospital in the rebel-held city of Donetsk, where they were apparently planning to do their own medical investigation.
Dutch Prime Minister Mark Rutte said he told Russian President Vladmir Putin "that the opportunity is fading to quickly show the world that he is serious about wanting to help."
Watch: MH17: Kiev 'bears responsibility' for Malaysian plane crash - Putin

Rutte lashed out at the rebels, saying he was "shocked by the images of completely disrespectful behavior" at the crash site, including looting and moving of bodies. Most of the people on board the plane were Dutch citizens.
"Against all rules of a thorough investigation there appear to be people who amidst the wreckage are messing around with the personal and recognizable effects of the victims. This is outright disgusting," Rutte said. "It's very serious, too, that this makes the investigation into the reconstruction of the facts more difficult."
Ukrainian officials say the plane was targeted by separatist fighters using a surface-to-air missile, possibly with direct Russian aid. "Russian-led terrorists are preventing access of the international community and foreign governments to the location where MH17 crashed," Ukrainian Prime Minister Arseniy Yatsenyuk wrote on Twitter.
Both Russia and the rebels have denied any involvement in the attack on the Boeing 777-200, which killed 298 passengers and crew, including 192 Dutch citizens, 44 Malaysians, 27 Australians, 12 Indonesians, 10 Britons, four Germans, four Belgians, three Filipinos, one Canadian and one person from New Zealand. One of the Dutch citizens held dual Dutch-U.S. citizenship.
A top rebel leader, Andrei Purgin, said that the crash site was "under the reliable protection of the armed forces of the Donetsk People's Republic." Purgin's statement did not address the question of what was being done with bodies.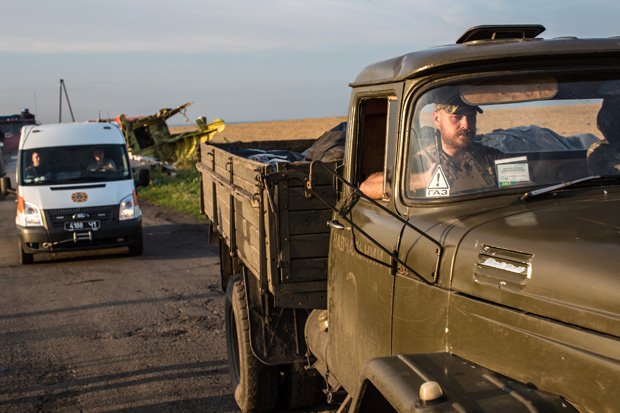 A truck carrying the bodies of some of the passengers of Malaysia Airlines flight MH 17 leaves the scene of the crash after pro-Russia separatist fighters established control of the site. Photo / Getty
Pro-Russian separatists had said Friday that they would allow the victims' bodies to be transported out of rebel-held territory in the east of the country because they did not have enough refrigerated facilities for all the bodies. But Ukrainian officials said Saturday that they were still trying to negotiate safe passage for teams of investigators and international observers.
"The people who are working for our side in the place of the tragedy do not have free movement," said Andriy Lysenko, a spokesman for Ukraine's National Security and Defense Council. "They are under control of the terrorists, who are taking all the evidence away from them."
He said that Ukrainian officials still did not have access to crucial flight data recorders, the fate of which remained unclear on Saturday. The recorders could provide important clues about the final moments of the flight. Rebels first said they had the recorders and planned to ship them to Russia, then said they were mistaken about having the equipment in their possession.
A spokesman for the Organization for Security and Cooperation in Europe said a team of 24 international observers had seen people moving bodies and putting them in body bags. The team was sharply restricted in what it could do and see, he said.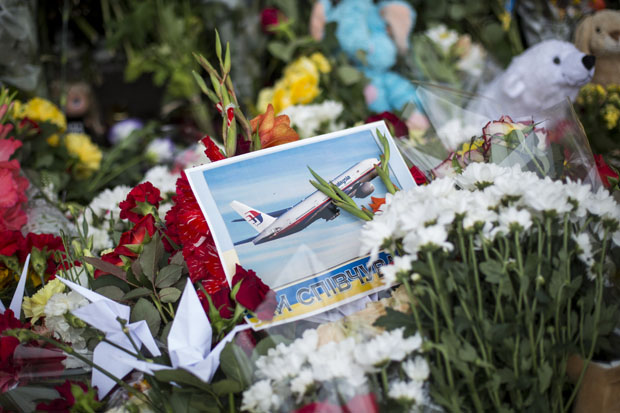 Flowers, candles and other tributes in front of the Netherlands Embassy in memory of the victims of Malaysia Airlines flight MH17. Photo / Getty
Rebels "have what they describe as experts, so-called experts here," OSCE spokesman Michael Bociurkiw said. "They've brought body bags and they're moving the bodies to the side of the road, as far as we can tell."
"We don't know who they are," Bociurkiw said of the people moving the bodies. "We've explained who we are and what we need to do, but we're basically, our movements are being quite controlled at the moment."
Also lost in the crash, according to the Malaysia Airlines cargo manifest released Friday, were two dogs, two shipments of birds, including pigeons, and hundreds of pounds of fresh-cut flowers.
Watch: Videographic: Malaysia Airlines MH17 crash

A top Ukrainian intelligence official said Ukraine had evidence of the movement of three Buk M-1 antiaircraft missile systems from rebel-held territory into Russian territory early Friday, less than 12 hours after the plane was downed.
"Three Buk M-1 launchers have left the territory of Ukraine," said Vitaly Nayda, counterintelligence chief of Ukraine's security service, offering photographs of what appeared to be launchers.
Two of the antiaircraft systems were spotted entering Russia from Ukraine at 2 a.m. Friday, he said. One had its full complement of four missiles, but the other was missing a missile, he said. Two hours later, he said, a convoy of three vehicles that included one of the launchers and a control truck again crossed into Russia.
The claims were impossible to confirm.
Watch: MH17: Officials fear MH17 site tampered by rebels

Nayda said that Ukrainian military services had not left any operational Buk M-1 launchers in territory where the rebels could have seized them when the rebels took over bases and territory in eastern Ukraine earlier this year. He suggested they must have come from Russia. Rebels have denied possessing the launchers, although social media profiles linked to a rebel leader, Igor Girkin, appeared to boast of having the systems before the claims were deleted earlier this week.
Liow Tiong Lai, Malaysia's minister of transportation, said his government is "deeply concerned the crash site not been properly secured and the integrity of the site has been compromised." Blocking access to the site "cannot be tolerated," he said.
Liow reiterated the government's insistence that the plane's path over the rebel-held area was safe, and said that 75 other planes had also flown that way in the two days before Thursday's crash. He said that the approved flight plan before the journey had a flying level of 35,000 feet, a safer altitude, but that the air traffic controllers in Ukraine directed them to fly at 33,000 feet once the plane had entered Ukrainian airspace.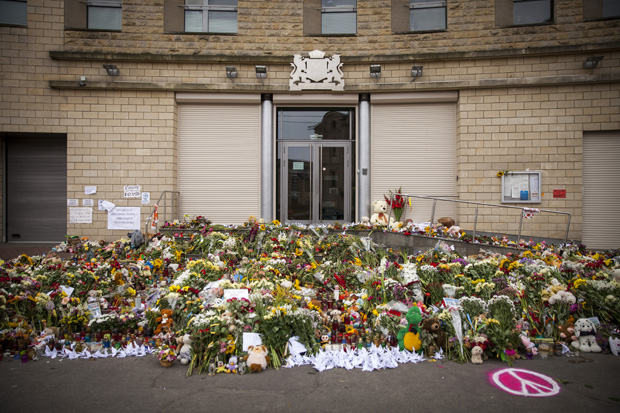 Flowers, candles and other tributes in front of the Netherlands Embassy in memory of the victims of Malaysia Airlines flight MH17 in Kiev, Ukraine. Photo / Getty
Malaysia is still grappling to absorb its second airline tragedy in five months, he said. "It's painful. We are sad. We're angry over this madness."
On Friday, President Obama said U.S. intelligence indicates that a Russian-made missile downed the plane from rebel territory, but he stopped short of saying who pulled the trigger. "Nearly 300 innocent lives were taken - men, women, children, infants who had nothing to do with the crisis in Ukraine," Obama said at the White House. "Their deaths are [an] outrage of unspeakable proportions."
Yatsenyuk echoed that sentiment in a highly emotional address posted to his Web site on Friday. "This is a crime against humanity. All red lines have already been crossed," he said. "This is a war against the world."
Russian Foreign Minister Sergei Lavrov said Friday that Ukrainian authorities bore broad responsibility for creating conditions in which citizens were moved to rebellion. He did not suggest that the Ukrainian military had shot down the plane.
"What happened with the aircraft should make us stop, look back and reflect," Lavrov said, on the situation that began when Russia-friendly President Viktor Yanukovych was ousted in February.
The extensive debris zone includes not only the wheat field where most of the plane was found but also nearby villages. Witnesses described looking across beautiful fields of sunflowers only to be jolted by the discovery of body parts on the ground.
The recovery efforts were moving slowly amid the civil conflict, and each step forward brought new tensions among the parties, many of whom are heavily armed.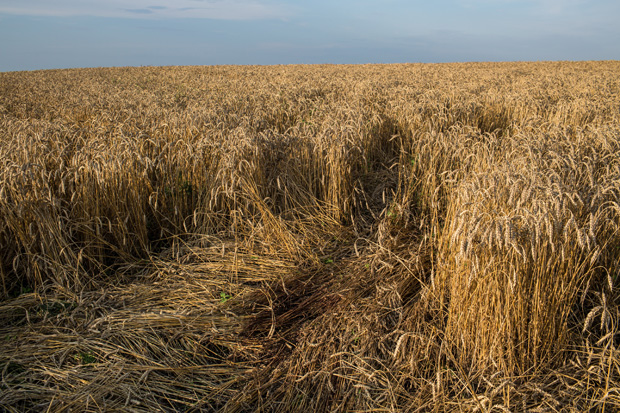 Blood stains the spot in a wheat field where the body of a passenger on Malaysia Airlines flight MH 17 landed and was later removed. Photo / Getty
The observation team from OSCE, the Vienna-based organization coordinating a dialogue in the Ukraine conflict, is negotiating on a day-to-day basis for time at the site. Its job is to secure the scene until independent investigators arrive to help with the transfer of bodies. As of Friday evening, 181 bodies had been found, according to a Ukrainian foreign ministry official, Andrii Sybiga.
The international investigative team, which includes FBI personnel and a National Transportation Safety Board investigator from the United States, was expected to reenter the area later Friday or Saturday morning.
The rebel leaders, who often argue among themselves, were divided over whether to agree to a cease-fire to allow for a fuller international presence at the scene.
"We're highly interested in an unbiased and full investigation and are prepared to give unrestricted access to the spot of the crash for experts of the CIS Interstate Aviation Committee," said separatist leader Alexander Borodai, according to the Russian news agency ITAR-TASS. Borodai was referring to the Commonwealth of Independent States, a group of former Soviet republics. Access for the committee would give Russian investigators on the scene a major role.
By day's end, Borodai said no truce talks were being held, and another rebel leader, Denis Pushilin, announced from Moscow that he was resigning from leadership, the Interfax news agency reported.
Rebels have "allowed emergency access, but it's not sufficient," said Batozsky, the adviser to the Kiev-appointed governor of Donetsk. Only local representatives from the regional government were present at the scene, he said. Those included about 30 regional police officers, 150 officials from the Donetsk office of the State Emergency Service of Ukraine, and two or three regional prosecutors, he said.
Gallery: The faces behind the tragedy of flight MH17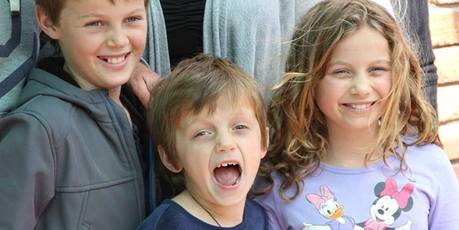 - APNZ / Washington Post