Charles Taylor, a brutal leader who once tried to seduce one of the world's most beautiful women, is upset at being held in a British prison. Andrew Malone looks back at his life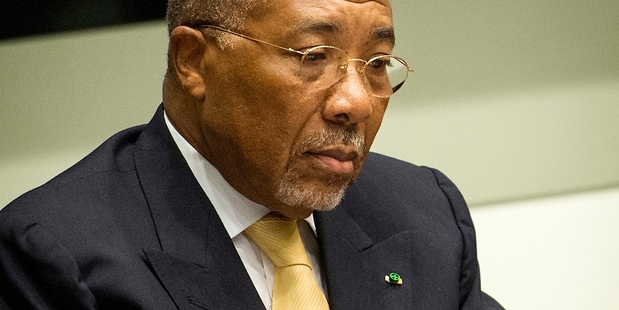 A pouch of "dirty little stones" led to the downfall of Charles Taylor, a billionaire cannibal dictator with a fondness for the company of supermodels.
Educated in America, and with a taste for Italian suits, Taylor had his helpers deliver these uncut diamonds to Naomi Campbell after a flirtatious dinner in South Africa.
As the supermodel dozed in her bedroom with her woman agent, there was a tap at the bedroom door. The women let in two or three men who handed five or six stones to Campbell and left.
This bizarre encounter in 1997 — after a gala dinner in honour of Nelson Mandela — emerged during Taylor's trial.
Crucially, it transpired that the diamonds (Campbell has always insisted she had no idea who gave her what she called the "dirty little stones") were part of a much larger batch.
These were used by her admirer to buy weapons for a war in Sierra Leone — hence the phrase "blood diamonds". Indeed, war crimes prosecutors later used the existence of gems from the same batch as proof that Taylor was behind the carnage.
Now Taylor, the former Liberian President who reportedly ate the hearts of his enemies, is suing Britain for denying him the right to a family life. He says his incarceration in a jail in County Durham keeps him from his wife and 15 children in Africa.
Britain agreed to imprison Taylor, 66, after he was convicted in 2012 of 11 counts of war crimes and crimes against humanity, including terrorism, murder, rape and using child soldiers during a civil war in Sierra Leone in the 1990s that left tens of thousands of people dead.
He has now lodged legal papers with the United Nations' Special Court for Sierra Leone in The Hague, claiming that his detention in Britain breaches his human rights.
He wrote: "My position is that serving my sentence in Rwanda, in my home continent of Africa, would be substantially more humane not only on my own account, but also on account of the impact on my family."
Taylor aided rebels in Sierra Leone during the brutal civil war in the 1990s.
At the time Campbell was given the diamonds, Taylor was President for life of Liberia — a tiny West African country created for freed American slaves — and feted at events that he attended by private jet all over the continent.
Yet, for all the dapper suits and friendships with the famous, Taylor was a sadist who masterminded one of the most macabre, blood-spattered episodes in Africa's history.
He drew up plans - codenamed Operation No Living Thing — to slaughter the entire population of neighbouring Sierra Leone, enabling him to make billions from the country's diamonds.
Helped by his American-born son "Chuckie", he orchestrated the death of at least 250,000, many of whom were tortured and raped. Others were cooked and eaten by his troops.
Dazzled by stories of his neighbouring country's spectacular diamond finds, Taylor had fomented a bloody rebellion in Sierra Leone, sending men and weapons.
As a front, he used a proxy army called the Revolutionary United Front, a rag-tag collection of rebels and child soldiers recruited at gunpoint. They were plied with "brown-brown" — a mixture of heroin and gunpowder — so they could murder and rape without emotion.
In an orgy of terror, these drug-crazed fighters were ordered to hack off arms and legs with machetes, offering their victims the option of "short sleeves or long sleeves" — a cut at the wrist, or the shoulder.
Sierra Leone became Africa's new Heart Of Darkness and was reduced to ruin as forces backed by Taylor, some dressed in women's clothes in the bizarre belief this would protect them from bullets, ran amok.
His child soldiers have told how they were forced to rape elderly women at gunpoint, and torture anyone suspected of collaborating with government forces.
The aim was to drive everyone away from the diamond fields, leaving Taylor's forces in undisputed control of the mines. Thousands of women were kept as sex slaves by his marauders — after the tendons in their feet were slashed with machetes so they couldn't flee.
Pregnant women had their stomachs hacked open and their unborn children killed in the womb.
As a member of the Poro Society, an ancient West African cult of demon-worshippers, Taylor believed that eating the organs of his enemies gave him their strength.
Born in a remote Liberian village in 1948, Taylor excelled at school and earned a university place in Boston. After gaining an economics degree in 1977, he returned home to take a government job in Liberia — only to flee back to the United States in 1985 after embezzling more than US$1.5 million ($1.72 million) from state coffers.
But he was arrested on his arrival in America for crimes committed in Liberia and jailed pending trial. Mysteriously, Taylor escaped a year later — reputedly with the help of the CIA — and was next spotted in Libya.
There, he underwent guerrilla warfare training and — helped by his friend Muammar Gaddafi — he fought his way back into Liberia, all while intervening in Sierra Leone.
When Liberia's leader, Samuel Doe, was killed by a rival warlord in 1997, Taylor, whose forces already controlled vast swathes of territory, seized total control. He installed his son as head of his secret police and began killing opponents and diverting state money to his private bank accounts.
"Chuckie", meanwhile, buried victims alive. He tortured others with red-hot irons and electric shocks. A favourite method was to drip hot oil into the eyes of prisoners.
Both Liberia and Sierra Leone descended into anarchy, forcing United Nations troops and Britain's SAS to intervene. Taylor fled to Nigeria where he was later arrested.

- Daily Mail