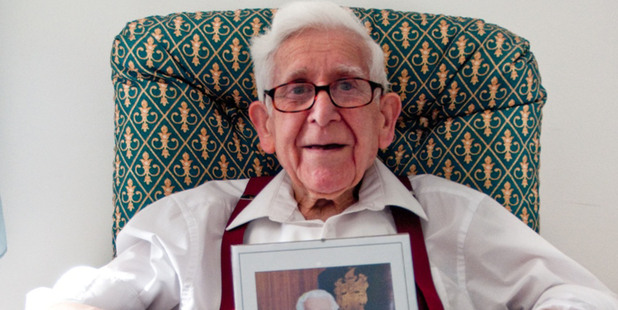 Grounded by staff at his care home, Bernard Jordan faced missing out on an emotional return to the D-Day beaches.
So, summoning up the spirit and determination of June 6, 1944, he hatched a cunning plan to join his old comrades in honouring the fallen.
With his medals hidden under his coat, the 89-year-old told his carers he was off for a walk. Instead he boarded a coach for France.
By the time staff realised he was missing the Royal Navy veteran was already in Normandy.
And, thanks to his great escape, Mr Jordan was yesterday able to stand proudly among world leaders and old soldiers in marking the audacious assault 70 years ago that cost more than 4,000 Allied lives.

He had left Hove in East Sussex on Thursday morning and checked in to a hotel in Ouistreham, near Arromanches, that night.
The alarm was raised at 7.15pm and police began searching the area around his home and checked with hospitals, bus firms and taxi companies.
The mystery was solved when the care home received a phone call from another veteran saying he had met Mr Jordan on a coach on the way to France.
The caller said Mr Jordan would be coming home when he was ready. Police found the story highly amusing and Brighton commander Nev Kemp tweeted: 'Love this: 89-yr-old veteran reported missing by care home who said he can't go to Normandy for D-Day70 remembrance. We've found him there!'
The former Royal Navy officer told ITV tonight that he hoped he would not be in trouble when he returned.
Speaking in Normandy, he told the broadcaster: 'Because I wanted to go to this show here that was on today, that was the main reason I came over here.
"It's a first class show because I have been here last year and I have been here obviously this time and I'm going to - touch wood I'm still with us - and I will be 91 then, but if I am still about I shall try next year's as well."
Asked if he would be in trouble with the care home he added: "I might be, but I hope not."
Mr Jordan was on his way back to Portsmouth on a cross-Channel ferry from Ouistreham surrounded by burly troops from the 2nd and 3rd Battalions of the Parachute Regiment who declared: "He's our new best mate."
As he sat sipping tea and laughing with the men out on deck, he admitted he might be in trouble for not telling staff at his nursing home that he had decided to go to Normandy.
"I shall walk in backwards ready to go out quick," he said.
Asked why he didn't tell staff that he was going, he said: "I thought they wouldn't be very pleased about that. I'll just clear off."
He told how he got a friend to drive him to Brighton station and then took a train to Portsmouth. "I got down to the dockside and I saw someone I knew and asked if I could go on the trip. They said yes."
When he arrived in the port of Ouistreham, France, he found a hotel near to the site of the international ceremony at Sword Beach and stayed there on his own.
"I've had a really good time," he said, as the Paras, who declined to give their names, teased him that he was going to be in trouble.
They had recognised him from news stories and took him under their wing at the ferry port.
The care home was at pains to stress that Mr Jordan had not been banned from attending the commemorations.
A spokesman for the Pines, which has been named as one of the best in the UK, said their "wilful and determined" resident had been spurred in to action after staff had failed to get him on to the accredited trip with the Royal British Legion.
The spokesman said he had moved to the home in January when his wife Irene was admitted and was able to come and go as he pleased. He added: "Bernard is quite a character and certainly knows his own mind. We fully celebrate his participation in the D-Day commemorations."
A Brittany Ferries spokesman said Mr Jordan had been given a cabin and would be invited onto the bridge with the ferry's captain after breakfast this morning for its homecoming into Portsmouth.
He added: "We're delighted to be able to make a bit of a fuss over Mr Jordan. He's a lovely old boy."
Brittany Ferries Ship's liaison officer Sonia Pittam, who met Mr Jordan on his outward journey, added: "I knew he was a game old boy. He certainly has his wits about him.
"He didn't say much about the landings, just how pleased he was to be on board and he couldn't believe how everyone was looking after them [the Veterans] and all the people waving on the route to the harbour entrance.
"He kept saying "all this for us"."
Mr Jordan, who turns 90 next week, was the Conservative mayor of Hove in 1995-1996, during a colourful 34-year career as a leading councillor.
He has spent all of his life in the town, returning there to marry his sweetheart Irene at the end of the war.
In a newsletter in April, Mr Jordan talked fondly of being able to "serve the people of my town and do a job I loved".
Pictured holding a photograph of himself as mayor, he warned anybody with designs on becoming a mayor that "you must be prepared to work hard".
The proudest moment of his working life, he said, was meeting Margaret Thatcher, even though he had defected to Labour in 2000.
The former company director added: "It was definitely one of my favourite memories. She was an amazingly strong lady.
"When she visited Brighton I got the chance to meet her and it was a very proud moment for me."
Garry Dunn, a fellow councillor and friend, said: "He was always very modest about the war. I know he was involved in D-Day but he would never talk about it.
"He is the perfect example of a generation who did their duty, but didn't feel they had to tell people what they had done. It makes me proud to be British because he is a proud Briton. He put his town and his country first, before him.
"Rather than himself, people are more important to Bernie."
A spokesman for Sussex police said: "We have spoken to the veteran who called the home and are satisfied that the pensioner is fine and that his friends are going to ensure he gets back to Hove safely over the next couple of days after the D-Day celebrations finish."
The care home yesterday tweeted "now and then" pictures showing Mr Jordan in his wartime naval uniform, and also posing with his medals in an armchair before he travelled to France.
Peter Curtis, chief executive officer of Gracewell Healthcare, which runs the home, said: "At no stage was Bernard banned from going to the commemorations.
We are in awe of the part Mr Jordan played in the D-Day invasion 70 years ago."
Earlier this year, the Pines was judged one of the top 20 homes in the UK in the carehome.co.uk awards, which are based on 20,000 recommendations for homes from residents and their families.
- The Daily Mail