California will consider a proposal for tighter gun controls following the murder of six students in a quiet university town.
The state already has some of the strictest gun laws in America but that failed to prevent Elliot Rodger, 22, legally buying three semi-automatic handguns and more than 400 rounds of ammunition.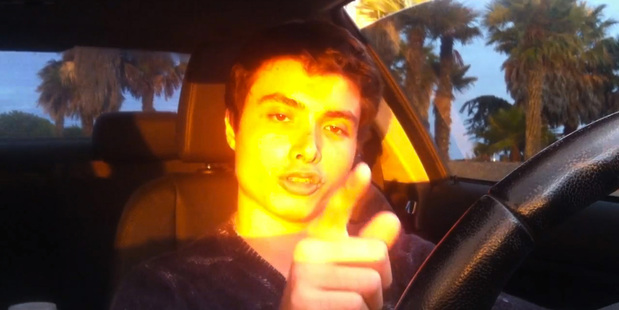 Elliot Rodger. Photo / AP
People with mental health issues are currently barred from buying firearms in California only if they have been involuntarily committed.
Read more
• US shooting: Victims murdered in 'personal killing chamber'
• US shooting: Girl devastated by link to massacre
• Seth Rogen: My movies didn't inspire mass murder
Although Rodger had been seeing therapists regularly since the age of eight and was described as "odd" and "disturbed" by those who knew him, he had never been institutionalised.
A new Bill introduced in the state legislature, if it becomes law, would allow families to contact police if they have concerns about a relation.
Police would then be able to ask a judge for a "gun violence restraining order" to stop them buying weapons.
Pro-firearms groups immediately denounced the proposed measure as a "knee-jerk reaction" and promised to fight against it.
Nancy Skinner, the Democrat, who is sponsoring the Bill in the state senate, said: "When someone is in crisis, the people closest to them are often the first to spot the warning signs, but almost nothing can now be done to get back their guns or prevent them from buying more."
Police had visited Rodger three weeks before the massacre when his mother alerted them to threatening videos he had posted on the internet. But police said they believed Rodger when he told them it was a misunderstanding.
Video: Killer's YouTube video
Mrs Skinner said: "Here we had a situation where a mother was aware that her son was a danger to himself and others. She tried to intervene."
Rodger first stabbed to death three room-mates in the town of Isla Vista before driving around firing guns, killing three more victims and injuring 13. He then shot himself dead.
About 20,000 students, university staff and local residents gathered in a sports stadium for a memorial service and chanted "Not one more" in reference to the series of gun massacres that have taken place in America in recent years.
Next story: Blessie's family - 'We will be lost in darkness'