Egypt's political instability has left local guides and stall-holders struggling to make a living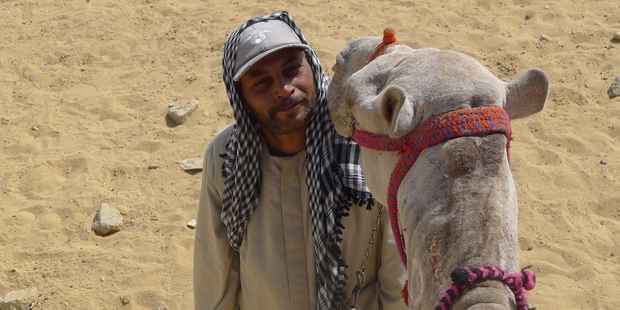 Salam Abdullah repeats a single English phrase while leading tourists across the sandy, sun-blasted slopes above Cairo's Giza pyramids.
"You happy, I'm happy," says the 40-year-old camel driver as he guides his clients up to a photographic vantage point.
But Abdullah is putting on a brave face. Egypt's tourism industry - which he relies on to feed his six children - has hit tough times.
Things have got so bad that Abdullah had to sell one of his three camels recently.
Visitor numbers have plunged in the three years of political instability Egypt has endured since former President Hosni Mubarak was overthrown during the Arab Spring.
Western Governments have slapped travel warnings on the country as clashes continue between the police and supporters of the Muslim Brotherhood, whose candidate Mohamad Morsi won Egypt's 2012 presidential election and was then deposed by the military in July.
New Zealand's Ministry of Foreign Affairs and Trade advises against all tourist and non-essential travel "due to the unpredictable political situation, civil unrest and threat from terrorism".
Egypt's tourism revenue shrank by 41 per cent to US$5.9 billion ($6.8 billion) last year from US$10 billion in 2012, Reuters reported, and hotel occupancy rates have fallen as low as 10 per cent.
Rooms at the five-star Sheraton Luxor Resort, in southern Egypt, are going for as little as US$35 a night, while shopkeepers in Cairo's tourist-dependent souks are selling goods below cost just to keep cashflow going.
The Weekend Herald saw fewer than 30 tourists in the entire Giza complex during a visit to the site last week, when it was possible to make a full circuit of the Great Pyramid of Khufu without running into any other foreigners.
Eslam Ibrahim, a trinket seller and occasional tourist guide, cut a lonely figure at the base of Khufu.
The 22-year-old has been working at the pyramids since he was 7 and has never seen things this bad.
Ibrahim says the archaeological site attracted more than 10,000 daily visitors before the revolution.
Now 200 will arrive on a good day, he says. "It's empty."
Like many Egyptians, Ibrahim blames the media for over-dramatising the situation in the country.
"Small problems become huge problems on TV," he says.
Omar Awany, whose family owns El Omda, a traditional perfume retailer in Giza's Sphinx Square, says 10 to 20 tourist buses used to visit his store every day.
"Now we get one bus, or two cars each day," he says.
Awany says the business was badly affected in 1997 after 62 people, mostly tourists, were massacred by Islamist gunmen in Luxor.
But tourist numbers picked up three months after the attack, he says, while trading conditions have been abysmal for three years since the January 2011 revolution.
"Three years is too long."
Awany hopes the situation in Egypt will improve following next month's presidential election, which is widely expected to be won by former military chief Abdulfattah al-Sisi, who led Egypt's second revolution last year that removed Morsi from power.
Sisi, who resigned from his military post last month to stand for the presidency, has garnered widespread support from Egyptians who see him as the saviour to stop the country slipping into further turmoil.
Awany says business should improve when Egypt's tourist season begins later this year following the Northern Hemisphere summer.
"When the new president comes everything will be okay."
Ibrahim, however, reckons it will be at least two years before things return to normal at the Giza pyramids.
"It's very difficult," he says. "Life is too hard for the people here."